It's only natural that Michael Bradley has slipped a bit under our radar during his time at Chievo Verona, despite his indisputable and unprecedented success.
After all, in the sea of soccer news, sometimes it takes a little bit of controversy, a little bit of turmoil, or at least a few goals here and there to surface above the waves.
And Bradley has provided precious little of that since his transfer to Italy's Serie A in late August. All he's done is step into Chievo's starting lineup and grab firm hold of that spot, and despite his lack of goals and altercations, it's something that deserves to be talked about.
In Chievo's third Serie A game of the season against Napoli, Bradley became the first American to start a match in Italy's top-flight since Alexi Lalas did it for Padova in 1994. Chievo won the match 1-0, and Bradley has not left the field since.
Literally.
In Chievo's 16 subsequent Serie A matches since the Napoli victory, Bradley has started every game and has not been substituted once. He's up to 17 league starts in a row, going the full match in each and every one.
Halfway through the season, unfancied Chievo is tied for 8th in Serie A, only trailing a who's who of Italian soccer: Juventus, Milan, Udinese, Inter, Lazio, Roma and Napoli.
Bradley's spell at Chievo has flown a bit under the radar, not just because he has no goals and only one assist from a holding midfield role, but also because it has lacked the drama that was a fixture during tenures at his most-recent teams.
During his time at German side Borussia Monchengladbach, he frequently clashed with managers Michael Frontzeck and Lucien Favre, which eventually led him to a loan spell at English club Aston Villa for the second half of last season. At Villa, Bradley only managed three league appearances, all as a sub, leading some to question whether the 24-year-old had reached the ceiling of his footballing career.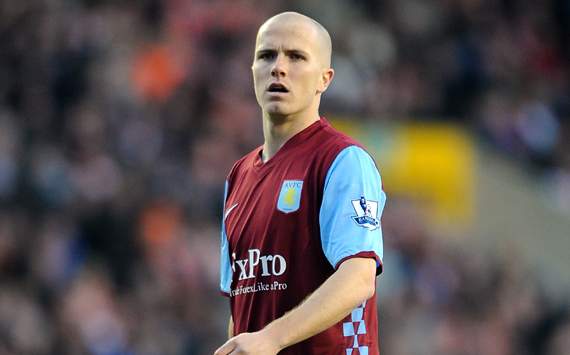 Rough Patch | Bradley hardly saw the field during his half-season loan at Aston Villa
And lest we forget his time with the U.S. national team, where the majority of his 63 caps were earned while playing for his father, former coach Bob Bradley. As the coach's kid, Bradley was always disproportionately under the microscope, and any poor performances he turned in were inevitably greeted with cries of nepotism (which in Bradley's case, were wholly unjustified).
All of which has made Bradley something of a rarity: A young American who has established himself as a key performer in some of the best leagues in the world, yet has managed to stay relatively underrated.
Clint Dempsey is bagging goals and headlines left and right this season, but what Bradley has done in Italy is just as much of an accomplishment, albeit with a bit more pragmatism than panache.
Remember though: With 15 goals this season, Dempsey has a great chance to break the all-time record for single-season scoring by an American in a top-flight European league. The holder of that record? None other than Michael Bradley, who scored 20 in 2007-08 with Heerenveen of the Netherlands - a testament to his versatility, and a reminder that although he's in a holding midfield role now, there are goals in his game.
It's hard to believe, but Bradley is now in his seventh season in Europe, after being the youngest player ever sold by MLS at the age of 18 in 2006. He's proved he can cut it in some of the best leagues in the world, and has plenty of room to grow at just 24 years-old. Outside of Dempsey, there isn't a more accomplished outfield player amongst the Americans plying their trade abroad.
Yet, despite all of this, there has been something of a muted sense of appreciation for Bradley's career thus far.
According to a recent AP article, when Bradley was a kid, he and his father would watch Serie A together each week, and he became a fan of AC Milan. His favorite player wasn't prolific striker George Weah, or defensive stalwart Paolo Maldini, but instead, holding midfielder Demetrio Albertini.
Bradley is in the first year of a two-year deal with Chievo, which surely would like to keep him around if he keeps performing. Perhaps though, if he continues playing the way he has, his old favorite team would come calling, hoping he could fill the role once held by his favorite player.
It's only hypothetical at this point of course, but if Michael Bradley were to start at the San Siro, then we'd all have no choice but to take notice.
Follow SETH VERTELNEY on

or shoot him an

email