After a turbulent 12 months, Michael Bradley is finally able to enjoy what he does best, playing soccer.
Once considered a talent on the rise for the United States national team, Bradley's career was almost in limbo after he was told by Borussia Mönchengladbach that he would no longer feature for the club.
Bradley on his father's move to coach Egypt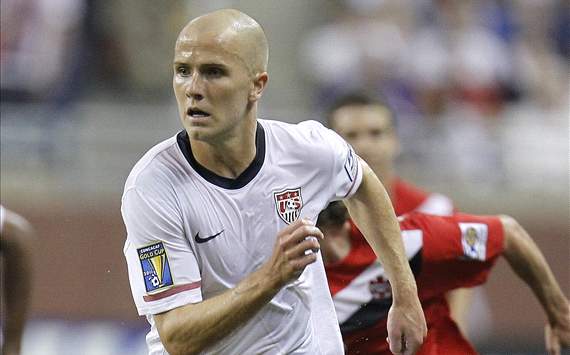 "I believe that it will be a great opportunity for him. Egypt is a national team full of great players, and I am convinced that he can do very well. I am very happy for him."
- Michael Bradley

His father, Bob Bradley, was relieved of his duties as the national team manager after an inconsistent showing in the Gold Cup. Michael featured prominently in his father's system and there was speculation that his role and possibly playing time could be affected under new U.S. boss Jurgen Klinsmann.
Yet after an uncertain summer filled with different reports of where he would play, Bradley had an opportunity that he couldn't refuse - a chance to play in Serie A, a league he has followed since his childhood. Joining a small club like Chievo has given Bradley a chance to focus on improving as a player and he has responded well.
The 24-year-old midfielder became only the second American to start in Italy's top division after Alexi Lalas, who started for Pandova in 1994.
His inclusion in the lineup has boosted Chievo's fortunes. The club has picked up seven of its eight points since the midfielder slid into the team and currently sits eighth in the table, with Bradley having set up the winner in a 2-1 victory over Genoa.
Bradley took time to reflect on his move to Italy, his father's new job, his former club and new USA boss Jurgen Klinsmann in an exclusive interview with Goal.com.
Goal.com: How has your transition to Serie A been compared to the other leagues that you have played in?
Bradley: Changing leagues is difficult because you have to get used to it. But the biggest thing from my point of view is the language. I am trying to learn quickly and I am taking Italian lessons. Hopefully, I'll understand it soon and maybe begin speaking a few words.
You have said in interviews in the past that Serie A was always your first choice. Why was joining Italy such a priority for you?
Because we are talking about a league of the highest level, with many champions and that is important from a technical point of view. I also knew that here I would become better from a tactical point of view.
When I found out that Chievo was interested, I had no doubts about joining and I immediately told my agent to close the deal.

It was reported that Roma was very interested in signing you, why didn't that move happen?
I don't want to talk about this because it wouldn't be right for me to do so. I am now at Chievo, a club that really wanted me and really welcomed me. So I just thank them and I am trying to play well for the team.
There are a lot of people that believe that the Serie A is declining as a league. For example, the Bundesliga has taken away one of its Champions League spots. Can you give your opinion on whether or not that assessment is accurate?
I don't agree with it personally. I believe that 90 percent of the people who say that, (it is) only because they see old stadiums that are a little empty. This gives observers a false perspective on the league. If you pay attention to the game being played on the pitch as opposed to the stands, then Serie A is, in fact, not inferior to anyone. The matches are hard-fought and above all are of a very high technical and tactical level.

Your father, Bob, has accepted a ground breaking opportunity to coach Egypt. What are your thoughts on his move?
I believe that it will be a great opportunity for him. Egypt is a national team full of great players, and I am convinced that he can do very well. I am very happy for him.
What is your opinion of the new USA coach Jurgen Klinsmann?
I have really had very little time to work with him, but from what I've experienced so far, he is a coach of a very high level who can give us a lot of help thanks to his experience.
Considering how it all ended at Gladbach, is there any part of you that misses playing for that club and what do you think of its recent success?
I was very happy there but the time had come to test myself and try a new adventure. I am grateful for the opportunity [of playing for Gladbach], but now I am only thinking of Chiveo, and I am really happy here.
I am not surprised that the club is playing well this season because I knew that they had a group composed of great footballers, who have been playing together for a long time. Sooner or later, that factor was going to pay off.
What did you expect the experience of playing in Serie A with Chievo would be like before your arrival and has it met your expectations so far?
I knew a lot about Italian football as I have always liked it. Here they have always had great footballers and it is still one of the most highly contested, intense and spectacular leagues. I knew Chievo well, also because they have recently played in Europe and, as a result, they have become known across the world. In addition, it was a very appealing team because they always play well against the big sides.
Playing for the club, I have found what I expected: a very difficult but interesting championship. Chievo is a very strong squad, with a perfect mix of young and experienced players capable of playing at a high level.
What do you like and dislike most about Italy?
I like everything. I found the people to be very nice, and they are very jovial, and obviously I adore the food. How could I not (laughs)? Joking aside, I adapted quickly to the Italian way of life, which is really exciting.
You are often described as someone who likes to keep to himself. What is something people don't know about Michael Bradley?
I prefer that others talk about me, I don't like to do so myself. I will only say that I am happy when it is said I give everything on the pitch and I play for the team. This for me is the most important thing.
Sergio Stanco of
Goal.com Italy conducted the interview with Michael Bradley
prior to the international break.
Follow ALEX LABIDOU on