Croatian-American Dzenan Catic has been on trial in Europe for just over a month as he explores professional opportunities at various clubs. The midfielder's latest stop was with Swiss club, FC Basel. He featured for the club in their
3-2 friendly loss
against SV Muttenz last week and left the club the next day without a contract, the club's press officer, Josef Zindel, revealed to
Goal.com
via email.
The 18-year-old comes from the noted Michigan Development Academy club,
Derby County Wolves
, which also produced U.S. U20 star Josh Gatt, who is currently with Molde FK in Norway.
"We knew he was leaving [to go to Europe]," Derby County Wolves U-18 Academy coach, Gary Parsons, said to
Goal.com
in a phone interview on Tuesday about Catic's trials in Europe.
"[Catic] is a very technical guy," Parsons said about the youngster's playing style. "He sees the game well, [is] strong on the ball, and has a good first touch. He is a very good attacking player."
In February, Catic was named Mr. Soccer and Gatorade Player of the Year for the state of Michigan, an honor bestowed on the best high school player in the Wolverine state. The prolific attacker notched 103 goals and 45 assists in his four years at East Kentwood High School, including 45 tallies in his senior season.
He had previously verbally committed to play at Michigan State in the fall, but was not on their list of student-athletes who signed letters of intent when it was announced in March. His absence from the list suggested the wunderkind had different ideas about his future beyond college soccer.
Catic's last appearance for his Development Academy club came in December at the Winter Showcase in Phoenix, Ariz., where he scored three goals in three games. Since then, he stopped off for some time with his high school before departing for Europe.
Although his player provided profile on the Development Academy website lists Catic's country of citizenship as the United States, the details are clouded. He has yet to make an appearance with any youth national team and his club coach was not certain of his eligibility. FC Basel referred to him as a Croatian-American in their press release, and Catic listed his nationality as Bosnia-Herzegovina on the D.A. website.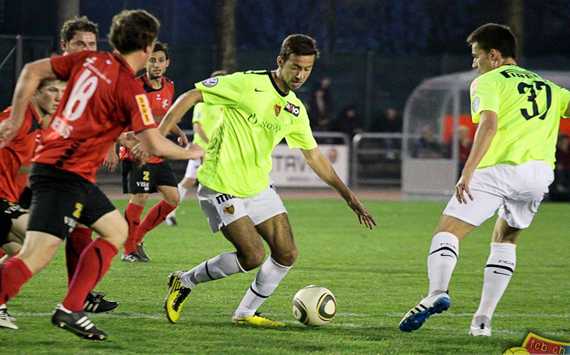 Catic | The youngster in a reserve match with FC Basel
Catic is not the only member from the Derby County Wolves U-18 academy team in the midst of exploring a professional career. Forward Nermin Crnkic has also piqued the interest of a few professional clubs, including some MLS teams according to
Goal.com
sources.
"I think he is looking to play [professionally] somewhere," Parsons said. "Right now, he is trying to get himself exposed to see what is available when he graduates from high school [in June]."
The 18-year-old striker leads the team in scoring with seven goals in 10 games. He also paired with Catic on their high school team, with the duo combining for three state titles in four years.
The attacking twosome's aspiration for professional contracts immediately out of the Development Academy may have been inspired by former teammate Sean Cunningham. Cunningham joined Gatt at Molde FK earlier this year after the left back turned 18 years old.
"Having these kids move on to professional opportunities is what this development academy is about," Parsons said about the high number of potential professional players on this team. "We are real happy about the kids that are taking advantage of it."
Parsons went on to state that he thinks there are two pieces to the puzzle: talented, hard-working players and a good professional system.
"You have to give credit to the players - working on their game to the standpoint where they have these opportunities," the former Oakland University coach said. "Just going to practice is not going to get it done. You have to work out on your own."
J.R. Eskilson is the Youth Soccer Editor at Goal.com. You can follow him on Twitter @NCAAsoccer

Follow Goal.com on

to get the latest soccer news directly. Check out Goal.com's

page; be part of the best soccer fan community in the world!