Saint-Etienne defender Carlos Bocanegra has pinpointed the team's collective work ethic as being the secret to what has led les Verts to the top of the Ligue 1 tree ahead of Saturday evening's Derby du Rhone against Olympique Lyonnais on Saturday night.
The American international has played an important role as Sainte have shrugged off an opening day loss to Paris Saint-Germain to claim 13 points from a possible 15 before the weekend trip to Stade Gerland, where they will find an OL side short of confidence.
"It feels good... really good," the former Fulham man responded when asked by
Ligue1.com
about his emotions when looking at the league table. "But we're not really focussing on that at the moment. We're just trying to take it game by game.
"We've been playing pretty well and we've been solid defensively and we've been finishing off our chances too, we've been very efficient in front of goal so we want to continue like that."
Asked why Sainte have been successful, Bocanegra stated his belief that it's because star attackers such as Dimitri Payet and Bakary Sako have been so willing to lend a defensive hand.
"The big thing at the moment in our success has been that it's a real team effort," he said. "We've been lucky enough to score first in a lot of matches and then we've got a really solid block, not just the defenders, but everyone working hard. Our midfielders, some really athletic guys, they cover a lot of ground. Our attackers as well.
"Take a guy like Dimitri Payet who has scored six goals already this season, but he's been doing a fantastic job in getting back to help the defending."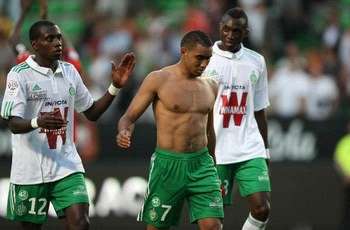 With Lyon coming at the weekend, the 31-year-old is not about to get carried away. "The biggest thing for us is to go out there and play our game and not worry about all the extra stuff that comes with the derby - the fanfare and the media attention - because at the moment, we're playing well and we need to stick with what we're doing," he explained. "Stay solid at the back and keep taking our chances up front. Lyon are still a very tough team to play against and in the derby, emotions are going to be running high on both sides. It's going to be a tough game, but we're heading into it full of confidence."
Saturday's encounter is a landmark affair as it will be the 100th derby match, and it's les Verts who carry the historical edge as they lead in wins 38 to 31.
For more on Americans abroad, visit Goal.com's dedicated page and join Goal.com USA's Facebook fan page!