Last season, the Portland Timbers didn't win any of their first four games. They then went on to win three of their next four, lost just four games the rest of the season, and finished the 2013 season as the top seed in Major League Soccer's Western Conference.
So maybe it shouldn't be a huge concern that the Timbers have started off 2014 0-1-2. But it might be more worrying that the Timbers can't really seem to score. In that four-game winless start last season, Portland still managed an impressive seven goals. This season, it has two goals poached by Gaston Fernandez and ... that's it. Two goals, both unmarked and inside the 6-yard box. None of the intricate, incisive passing moves that were expected, no slick, cutting balls through the defense. And while quality of goals doesn't count toward winning games, quantity sure does.
PLAYER SPOTLIGHT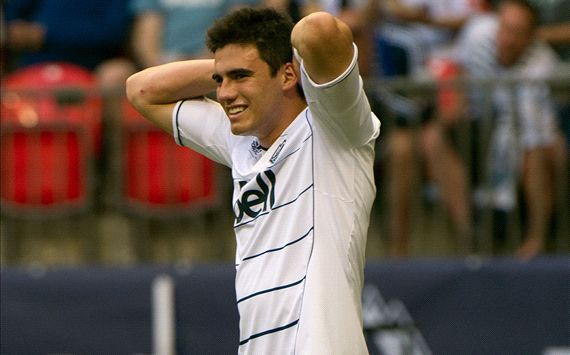 Vancouver Whitecaps striker Omar Salgado is on loan to the Charleston Battery after coming back from a series of foot injuries, determined not to let his soccer career become just a footnote in MLS history.

Goal Canada's Martin MacMahon talked with the 20-year-old.

Read the Player Spotlight here
In 2013, the Timbers' scoring success derived largely in part from a number of players having breakout seasons. Captain Will Johnson went from a solid player at Real Salt Lake to an All-Star, tripling his career-record mark for goals with nine. Darlington Nagbe also had nine, beating his previous record of six. Rodney Wallace, previously the scorer of six goals in four seasons, found the net seven times.
With the exit of Ryan Johnson and his nine goals and Wallace sidelined by injury, that's a lot of potential for offensive dropoff, and Portland's reecent signings may not be enough to cover the gap. Maximiliano Urruti has looked below par, and has yet to show he's capable of leading the line for an MLS contender. Steve Zakuani may be reunited with his college coach, but after a series of injuries and surgeries, it remains to be seen if he can recapture the form of four or five years ago.
Fernandez is the most promising new face, having both of the team's tallies this season, but he's more suited for a deeper role, which unfortunately leads to him occupying the space where the team's other Argentine playmaker, Diego Valeri, tends to shine.
With Fernandez in the team, playing through the middle behind the striker, the Portland midfield gets crowded. Diego Chara and Johnson do the heavy lifting in the central areas and Nagbe often operates in that space as well. Valeri, who led the team in goals and assists last season, has been forced to play wider, be less involved and see less of the ball. The relative marginalization of Valeri isn't wholly responsible for Portland's drought, but when the rest of the team is struggling to produce, it hurts to have your most dangerous attacking player isolated.
It's still early in the Timbers' season, and there are encouraging signs. Against the Philadelphia Union and Chicago Fire, the Timbers had more of the ball and completed more passes than their opponents. They created more chances, and put in more crosses. In four games, the closest they've come to giving up a goal from open play is Deshorn Brown following up a blocked penalty kick.
Coach Caleb Porter isn't especially worried. His team is getting the process right.
"You got to keep doing what you're doing," he said after the 1-1 draw against Chicago two weeks ago. "We're getting in positions ... Some of (our chances) were harder to miss than make, we've just got to pass the ball in the goal."
What's it going to take to convert domance into points?
"It'll take the ball going in the goal."
#HotSportsTakes
Portland -
The Timbers fell to their first loss of the season against the Colorado Rapids. That'll happen when you give up two penalties in three minutes.
Coming up: Who's ready for some more Andrew Weber? With Donovan Ricketts suspended, the former "Amazing Race" contestant is set to make his 10th career MLS appearance in goal against Oscar Pareja's FC Dallas, a side with a lot of speed on the wings, and one that has gotten off to a flying start. Saturday, March 29 - 5:30 p.m. PT, Root Sports.
Seattle -
Designated players are expected to perform, so it might have begun to frustrate a bit if Obafemi Martins had gone a third straight game without a goal. Fortunately for him and the Sounders fan base, he opened his 2014 account with a powerful close-range header against Montreal.
Coming up: Sounders coach Sigi Schmid faces his former club when the so-far perfect Columbus Crew visit CenturyLink. The Ohioans look soft in central defense, but Federico Higuain is one of the most dangerous forwards in the league. Making things worse, Clint Dempsey is still suspended, although Brad Evans should be fit after missing last week's 2-0 win over Montreal. Saturday, March 29 - 7 p.m. PT, MLS Live.
Vancouver
-
That opening-week thrashing of New York looks like something of a false dawn after draws against the worst defensive team in MLS (Chivas) and the worst offensive team in MLS (New England). It was expected before the season that the 'Caps could struggle without Camilo's goals, and they've not done a fantastic job of convincing certain columnists otherwise.
Coming up: The Houston Dynamo bring their perfect record to BC Place, with striker Will Bruin's three goals tied for the MLS lead. Saturday, March 29 - 4 p.m. PT, MLS Live.