SEATTLE — There was a fancy white suit hung neatly in the locker, just above a pair of gaudy brown suede shoes covered in what appeared to be shiny black stones.
DeAndre Yedlin
put on his outfit one piece at a time, all the while navigating a steady stream of interview requests. He left the shoes for last, fully acknowledging their flashiness.
"I wanted something that would pop with the white suit," Yedlin said when asked about the shoes. As he stood sporting easily the most impressive outfit in the
Seattle Sounders
locker room, Clint Dempsey quietly came over and shook the young defender's hand. He looked at Yedlin and said with a sly grin, "All right Pitbull, take it easy."
Yedlin may dress like a pop star and sport a hairstyle that makes him stand out in a crowd, but the reason he has captured the imagination of fans in and out of Seattle is his bundles of ability. His blazing speed and confidence getting forward into the attack from his right back position have helped make him one of the most exciting young prospects in MLS.
U.S. SOCCER LATEST

Don't let the flashy suits or bleached-blond hairdos fool you though. He may be an extrovert in the style department, but he is very much a paradox in that his personality is more grounded and humble than cocky and boastful. Those are impressive traits to hold on to despite having the kind of year that could make any young player's head swell.
Consider that a year ago he was a rookie who came into Major League Soccer with fairly little fanfare. A highly rated college player, Yedlin wasn't really expected to step in and start on a veteran Sounders side. But he did just that, and managed to turn heads while doing it. His speed and ability to contribute to the attack at the tender age of 19 quickly made him a fan favorite, not only in Seattle but in a country that loves a young talent. His impressive showing at the Under-20 World Cup only added to his profile, increasing expectations from fans and interest from European scouts.
That crazy first year as a pro and even the U.S. national team camp call-up that followed in January haven't overwhelmed him or made him lose focus. Neither have the increased expectations that come with making the transition from rookie sensation to second-year pro.
"Honestly, I'm just having fun with it and even if I start to feel (the pressure) I just need to remind myself to have fun," Yedlin told
Goal USA
after Saturday's 1-0 win against Sporting Kansas City. "It's what I love to do so I don't think there's any reason to feel pressure."
Yedlin's 2014 Sounders debut showed us a confident player who looks ready to improve on his impressive rookie season. He defended well and surged forward with confidence, playing like a player much older than his 20 years of age.
As if playing 37 matches as a rookie for Seattle wasn't enough to expedite his learning curve, Yedlin spent the better part of January in U.S. national team camp playing with and against the best American players in MLS.
A first foray with the national team would be enough to make most 20-year-olds quake in their boots, but Yedlin was able to hold his own and impress the veterans in camp.
"(Yedlin) had a really good camp," Landon Donovan told
Goal USA
. "A lot of times guys come in sort of bright eyed and overwhelmed. He was respectful and did a good job with that stuff, but he was also confident. You can tell he has potential to be very good.
"Now he needs more games. He needs to continue to improve and gain confidence, but he certainly has potential."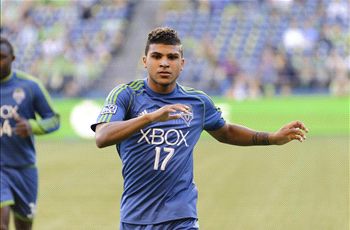 DeAndre Yedlin played 37 matches as a rookie.
Yedlin played well enough in camp to earn his first national team cap, playing 16 minutes in the February friendly against South Korea. His stint with the national team, which included time training in Brazil, was an eye-opening one for a player who sees playing for the national team as one of his ultimate goals.

"It kind of humbled me," Yedlin said of the January national team camp experience. "It taught me where I need to be at, and that's a January camp, not a full national team camp.

"It taught me a lot about how to play, and how Jurgen likes to play," Yedlin added. "Jurgen's style is a little bit more similar to Caleb (Porter)'s style back at Akron, so if I get in with the national team it's almost like transitioning back to my Akron playing style, where in Seattle it's a bit more conservative."
Yedlin did endure some struggles during his rookie season, which saw him log twice as many matches as he had ever played in one year. The heavy workload took its toll, but Yedlin rallied.

"I feel like after I came back from the U-20 World Cup I hit a little bit of a wall during trainings and stuff, but I got it together during games," Yedlin said. "There was a little bit where something wasn't feeling right, but I got it together."

As he embarks on the second year of his professional career, Yedlin faces heightened expectations, but he's not running away from them. Yedlin may be humble and grounded, but he's also ambitious.

"I want to keep getting better," Yedlin said. "That motivates me, and everything that happened last year helped give me confidence, but I know none of that matters if I don't keep getting better."

Yedlin's combination of style and potential have made him one of the most marketable players in the league despite being one of the youngest. Sources tell Goal USA that endorsement opportunities continue to roll in and Yedlin should be at the center of a number of campaigns in 2014.

With his profile growing and expectations reaching dizzying proportions, Yedlin has done well to keep himself grounded. As much as he is dressed for success and looks like a young pop star, Yedlin knows that his looks won't matter much if his play on the field doesn't continue to impress even more than his style off the field.

That knowledge is enough to help keep Yedlin grounded, no matter how fancy his suits are and no matter how great the expectations might become.