Four games, four points.
While they are hardly world-beating numbers, Toronto FC's start to the 2013 season is already leaps and bounds ahead of last year's disastrous opening third of the campaign, where the team limped out of the gates to an 0-9 record and prompted striker Danny Koevermans to famously lament his inclusion on "the worst team in the world."
The injured Dutchman has been forced to watch from the sidelines as the revamped Reds battled on in his absence, and though he hasn't been near a camera or voice recorder during his recovery, one would imagine that he'd have an improved outlook on TFC so far this year.
The fact of the matter is Toronto has been decidedly average through it's first four games. Maybe even slightly worse than average, if the early standings are anything to go by.
At 1-2-1 (W-L-D), TFC currently sits in seventh in the Eastern Conference. The Reds are one point behind the New York Red Bulls (who have played one more game), and two points behind Philadelphia, which holds the final playoff spot.
Of course it's far too early to even consider the postseason, but at the same junction in 2012, TFC had already all but kissed its playoff aspirations goodbye. Realistically, the move up to where Toronto
wants to be
from where it has
historically been
will involve stops in mediocrity and average before it can even think about being good.
TFC is, as it stands, a slightly worse than average MLS team, and -- given the starting point -- that's not a bad thing. Especially when considering the kind of competition the Reds have been facing to begin their hopeful transformation.
"We have to put into perspective who we're playing," head coach Ryan Nelsen told reporters after training on Tuesday. "The first five games of our season are against top 10 teams, so it's a good kind of evaluation to see where we are."
Indeed, TFC has faced an unexpectedly tough opening set of matches in March and has come out looking relatively okay. The month of April promises more challenges, as Toronto faces a surprisingly good FC Dallas side, followed by a trip to Philly, and then a pair of home dates against Houston and New York, respectively.
It all adds up to a pretty harrowing first couple of months on the job for Nelsen, but if he can get his team relatively unscathed through the end of April, the schedule looks to be a lot kinder for late spring and early summer.
WHO STAYS AND WHO GOES WHEN THE CAVALRY ARRIVES?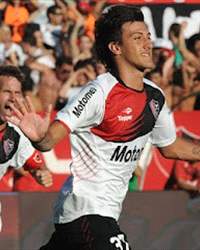 With word coming this week that TFC is
on the verge of announcing the signing of Argentine attacker Maximiliano Urruti
and and unnamed midfielder from the same country, the numbers game becomes that much trickier for Kevin Payne and Ryan Nelsen.
Toronto is reportedly sitting on nine international spots for 2013, with seven already in use. Add in the Argentine duo, plus recovering striker Danny Koevermans, and the club could suddenly see itself with 10 foreigners vying for a place on the roster.
Six of the current international players -- Richard Eckersley, Robert Earnshaw, John Bostock, Hogan Ephraim, Reggie Lambe and Darren O'Dea -- have been automatic starters so far this season, with Taylor Morgan the only one who occupies a non-domestic spot while not seeing much of the field.
Taken as a depth signing in the fourth round of the 2013 supplemental draft, it's hard to see how Morgan keeps his place in the team given the sudden premium on international spots. The young Brit has struggled to make the bench in the earlygoing, so it would not be too much of a surprise to see him become the first casualty of a ever-expanding roster.