Blackburn Rovers manager Steve Kean has admitted that he will find it very difficult to keep prolific midfielder Junior Hoilett at the club.
The Canadian has been turning heads with recent performances, emerging as a central figure in Blackburn's upturn in form of late.
The 21-year-old scored in Tuesday night's 2-0 victory over Sunderland at Ewood Park which lifted Blackburn six points clear of the relegation zone and, according to Kean, he is demonstrating the kind of potential that will almost certainly attract bids from more illustrious clubs.
"We want him to stay here," the Scot insisted to reporters. "He is playing out [of] his skin. If he goes to another club will he play week in, week out? I don't know."
The forward's contract expires in the summer, but the club will be owed compensation due to the player being under the age of 24.
"If someone is out of contract, with the way he is playing,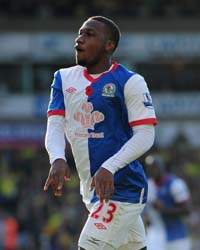 week-on-week there will be more teams," the Rovers boss conceded.
"I don't think we can prevent that. We hope we can get ourselves to a position of safety and make him an offer."
Hoilett is currently being deployed behind striker Yakubu and Kean believes that this partnership will be crucial to the club's continued hopes of survival.
"I think he is excited about playing that position," the 44-year-old added. "He likes playing wide, especially on the left when he can cut in on his right foot. But when he is playing just off the front he has got good feet, good movement and can provide service for Yak and score himself.
"Yakubu and Hoilett are causing all sorts of problems for center backs. I think it will be hard not to play that partnership because they are scoring goals and putting each other in."
Follow GOAL.COM USA on