On the outside looking in, Dwayne De Rosario's first two years at Toronto FC were outstanding - failure to qualify for the playoffs aside. In De Rosario's short time at TFC he scored 27 goals in 57 appearances, won two Canadian Championships and was listed in MLS Best XI both years.
However, the relationship between player and club has been steadily deteriorating, leading to a move to the New York Red Bulls on April Fools' Day, in a story that turned out to be no joke.
Goal.com
examines DeRo's tenure in Toronto and the key moments that eventually led to a transfer back to the U.S.
June 2009:
The Ontario native proved his clutch status shortly after arriving in Toronto by scoring a hat trick and leading Toronto to a 6-1 win over the Montreal Impact. Toronto needed a four goal differential to clinch the 2009 Canadian Championship.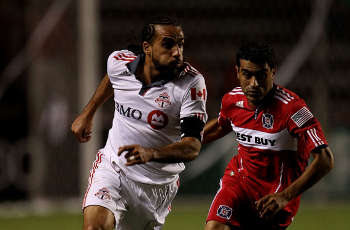 July 2010:
Halfway through the 2010 season, problems that plagued the relationship between Toronto management and De Rosario started bubbling to the surface. When TFC's hopes of making the playoffs started to fade away, it was reported that De Rosario was one of the leaders in the mutiny against then-head coach Preki.
September 2010:
After the firing of Toronto Coach Preki and GM Mo Johnston, and the playoffs slipping further and further away, many wrote off Toronto. De Rosario was unwavering, however, as he stepped up in a do-or-die game against the Houston Dynamo, scoring two free kick goals in the second half to keep the playoff dream alive.
Of course, De Rosario marred the moment by miming a check signing in a public demand for a new contract.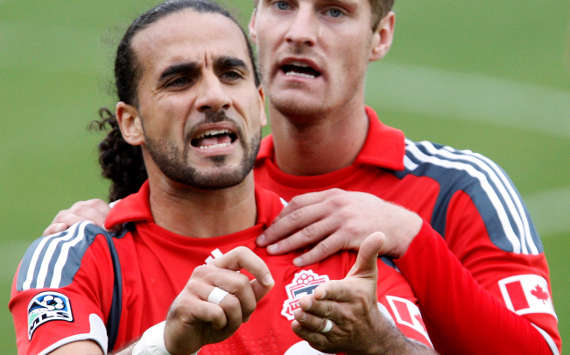 December 2010:
At the very end of 2010, before the current TFC management staff was put into place, the long rumored trial of De Rosario at Celtic was confirmed by head coach Neil Lennon to
ESPN
. The cap on the relationship between TFC and De Rosario blew open in a battle of
'we said, they said
.' De Rosario claimed that he was given written consent to go on trial and Toronto said they had no prior knowledge of the training stint.
January 2011:
When Aron Winter was hired as head coach, one of his first statements on team matters was that De Rosario was Toronto's captain and that the attacker would be returning to Toronto for the 2011 season. After an extended trial at Celtic, De Rosario did return for the beginning of preseason.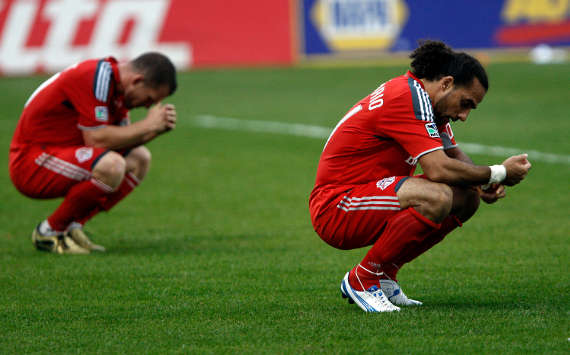 March 2011:
Before Toronto's first game this season De Rosario made comments suggesting that he planned on sitting out until he was awarded a new contract, one that he was apparently promised when he first signed in 2009.
De Rosario eventually started the first game of the 2011 season for Toronto and scored the team's first goal of 2011.
April 2011:
A day before Toronto's third game of the season, the club officially announced that De Rosario had been traded to New York. He marked his debut against another former club - the Houston Dynamo - with a clever assist.
Check out Goal.com's newfangled Canada page for full-fledged CONCACAF coverage and join Goal.com USA's Facebook fan page.