Controversy continues
To add further murkiness to Dwayne De Rosario's controversial training sessions with Celtic FC, the player's representatives now claim that Toronto FC and MLS had knowledge of the Canadian's stint in Scotland.
Earlier in the week, Toronto issued a statement saying DeRo had not sought prior permission to train with Celtic, but that the club would work with Celtic to retroactively allow it. Now, that assertion is being called into doubt.
Mark De Rosario, the player's brother and business partner, insisted that there was no wrongdoing, telling the Scottish Sun, "My brother would not just jump on a plane on Boxing Day and go over on a whim. Obviously Toronto have given him their consent."
This is in stark contrast to Toronto's official position.
"We were unaware of Dwayne's plan to train with Celtic and we will contact them," the club said in a statement. "If there is interest in a short-term loan arrangement by either him or Celtic, they will need to approach us and the league formally."
Toronto FC general manager Earl Cochrane insisted that although he was willing to consider a trial or loan for De Rosario in the offseason, he had never approved a move.
"I was contacted a little more than a month ago by Dwayne and his representative—asking if we would entertain a loan or training stint," Cochrane said to MLSsoccer.com. "We said we would but would need assurances and final sign off on it—that an agreement would need to be in place that we were comfortable with."
Dave Baldwin, De Rosario's agent, argued that he and his client had done noting wrong in traveling to Scotland to train with Celtic.
"One thing that has to be stressed here is that Dwayne is NOT on trial at Celtic as has been stated in some quarters," the agent who helped the New England Revolution's Andy Borman land a deal in Scotland with St. Mirren told the Scottish Sun. "This was a chance to train with a top club like Celtic and see how they operate, one Dwayne was desperate to take.
"He didn't want to lie idle in the MLS off-season. He wanted to stay in shape and keep learning as a footballer and we will see what develops from here."
While the difference between a trial and attending training sessions is cloudy, The Glasgow Evening Times reported on Tuesday that De Rosario had joined Celtic for training at their Lennoxtown training facility
along with former Chicago Fire winger Freddie Ljungberg
.
"[De Rosario] is in today," Celtic manager Neil Lennon told the media on Tuesday. "He's a similar player to Shaun Maloney, he likes to play off the left and come inside. He is a skillful, sharp and intelligent player. Again it's an opportunity for us to have a look and see what he can offer us."
This is not the first dispute between De Rosario and the Toronto management. In September, De Rosario celebrated a goal against the San Jose Earthquakes by signing a fake check in front of the Toronto management's boxes at BMO Field, a public demand for a new contract.
Though De Rosario played at a high level throughout the season, scoring 15 league goals, the incident was representative of the team's ugly season that saw them finish well outside the playoff places for the fourth straight year.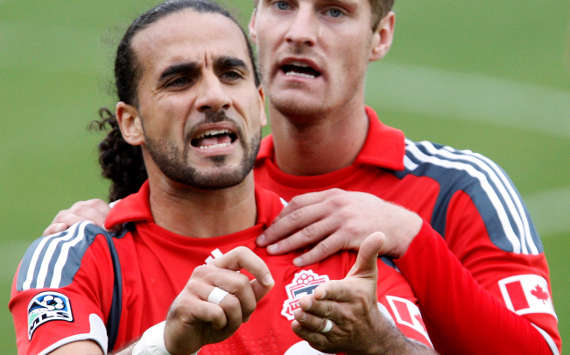 Check out Goal.com's newfangled Canada page for full-fledged CONCACAF coverage and join Goal.com USA's Facebook fan page.