Editor's Note: CONCACAF hipster Jon Arnold brings Goal readers stories and opinions from around the region in a weekly column.
Tim Howard made an announcement this week. The long-time United States goalkeeper isn't hanging it up internationally. He isn't taking time off from the game. He has no spat with manager Jurgen Klinsmann. But he won't be wearing the Stars and Stripes again until September 2015.
MORE: Alex Morgan upset at 159-degree temps | Transfer photos
It doesn't take more than a glance at the calendar to see that the only meaningful matches he'll miss will be the 2015 Gold Cup, which raises questions about the value placed on the biennial tournament. The continental championship has taken place every two years since it was put on its current cycle in 2003 and has been won by either the U.S. or Mexico every time, with the exception of a Canadian triumph in 2000.
On one hand, having the tournament twice a World Cup cycle seems unnecessary. Will the U.S. lose anything if it doesn't have Howard and a few of its other best players in the tournament? Will fans call for Klinsmann's job if the Americans don't repeat as Gold Cup winners? It's unlikely.
But on the other you have the smaller nations. These federations make up the bulk of the confederation and are the ones for which the Gold Cup is the pinnacle of achievement. For some, like Belize or Haiti, World Cup qualification is a long shot. Other CONCACAF members like Martinique or Bonaire aren't able to join FIFA and compete for the World Cup at all.
CONCACAF isn't the most demanding federation when it comes to its regional tournament. Africa not only conducts its championship every two years but also does so at the beginning of the year, when most leagues are still in session. It's also not the least demanding. The Copa America, and, of course, the European Championship take place every four years.
Asia, rarely the confederation setting the model in international play, hosts the Asian Cup every four years but supplements it with tournaments such as the Challenge Cup, giving smaller nations a chance at competitive matches with the potential payoff of qualifying for a spot with the big boys.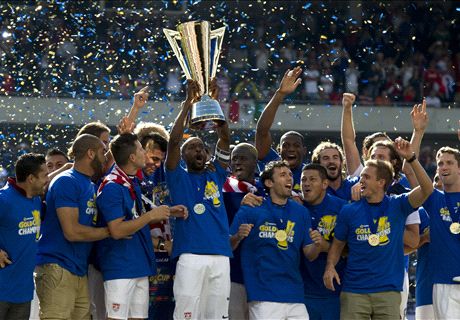 For the local confederation's part, more significance has been added to the Gold Cup as the 2013 and 2015 winners will square off for CONCACAF's 2017 Confederations Cup spot (with the U.S. advancing automatically if it can replicate the title it won in 2013). But for a player like Howard, or even a star for Mexico or Costa Rica, is that really the incentive needed to join up with the team for the 2015 Gold Cup? It appears not.
In addition to more and more club matches, marquee players are also being asked to play more international games than ever before. A rising star like DeAndre Yedlin, Hector Herrera, or Joel Campbell has a full club schedule and played in the 2014 World Cup then will be asked to play the 2015 Gold Cup, 2016's Copa America Centenario, qualification matches and another Gold Cup in 2017 plus a potential Confederations Cup and then the World Cup in Russia.
Time off? Not likely. Even throwing out the higher risk of injury with the number of games being played, one forgets that athletes are humans too with families and interests outside the game.
That's not to say CONCACAF should completely scrap what it's doing, but it is worth evaluating how frequently competitions take place and what teams participate. If there's no modification, don't be surprised if more players follow Howard's lead and duck out when they see the opportunity.

Quickly
taken
-
CCL Recap -
Cruz Azul has no excuse for dropping three points to Chorrillo. The side the reigning champion started was hardly weakened, but the attack certainly didn't show any strength. A 2-1 league win Saturday gives fans of La Maquina hope that Luis Fernando Tena can get his house in order before the next CCL match when Cruz Azul hosts, yes, Chorrillo. Montreal avoided the Central American trap it fell into last year and beat FAS in a match that lacked quite a bit. In the end, though, the Impact overcame the adversity it faced from a number of sources, which while a bit cliche is truly key in this tournament.

- CCL Preview -
Will we see any more big-time upsets? It's always a possibility but seems unlikey this week. The New York Red Bulls get a bit of a break, opening the competition against already-eliminated FAS. Comunicaciones will host Club America, which even without Raul Jimenez looks capable of winning silverware. Both of Panama's entrants have something to prove Thursday with Tauro under new management and looking to avenge a loss to Waterhouse and Chorrillo looking to follow up its upset of Cruz Azul by tipping Alajuelense in Costa Rica.
- Costa Rica roster -
Much more to come about the Copa Centroamericana next week on CONCACAF Watch, but Paulo Wanchope has made his cuts and clearly plans to take the tournament seriously. Joel Campbell, Celso Borges and Oscar Duarte headline the squad, while AZ goalkeeper Esteban Alvarado makes his return after being estranged from the team. He and/or Patrick Pemberton will have to fill Keylor Navas' boots while the World Cup star settles in at Real Madrid. The Ticos have the talent to lift the trophy - they just need to make sure they put it together on the tournament's four matchdays.


- Central America friendlies -
Teams continue their prep work for the Copa Centroamericana. Saturday sees El Salvador welcome the Dominican Republic, which will be a nice opportunity for two promising sides to measure themselves.
-
Women's Caribbean Cup -
Jamaica faces Trinidad and Tobago in Tuesday's final while Haiti and Martinique square off for third place. All four are into October's CONCACAF Women's Championship, which will determine which teams will join host Canada at the 2015 World Cup.