GUADALAJARA - If you were to bet your most prized possession on which Guadalajara club will next be crowned champion of the Liga MX, you'd probably slide it down on Atlas.
That sentence should sound wrong in many ways if you have any background in Mexican soccer.
After all, the Rojinegros – founded in 1916 – have won only one title in their history (in 1951). The club's fans call themselves La Fiel (loyal or faithful) as a source of pride and being an Atlas supporter is almost irrational; it's condemnation to guaranteed suffering.
An Atlas Fan Song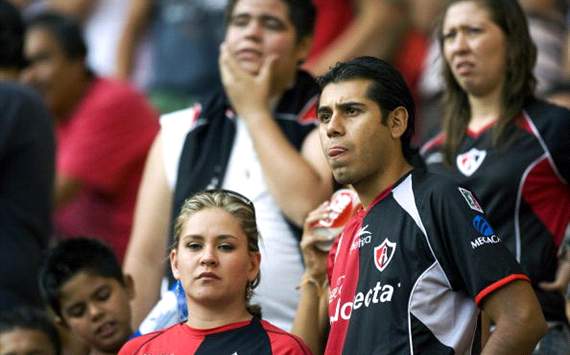 "I know I have never seen you crowned champion, that doesn't change my heart.
The directors have stolen our dreams, prestige and money.
Feel the colors like me, play with all your heart.
Go out onto the field and don't forget your people.
I carry you in my mind because I love you, I love you.
I'm Rojinegro, I'm in love with Atlas."
On top of that, any family, friends or neighbors around town that are Chivas fans will not hesitate in constantly reminding them that the Rebano Sagrado (Chivas) lead the Mexican first division title charts with 11, along with America.
They might even mention the game from April 1955, when Chivas goalkeeper Jaime "Tubo" Gomez was so bored of not seeing any action as his team dominated Atlas that he sat down to read a cartoon strip a fan had passed him at 3-0 up.
In other words, Atlas is the Manchester City of Guadalajara.
Both have had to put up with historically bigger and more successful neighbors for long periods of time.
Like Manchester United, Chivas have fans all over their home country and beyond, whereas the Atlas and City fanbase is more localized. And both City and Atlas fans claim to be the authentic representatives of their City.
"Guadalajara is Atlas's (GDL es de Atlas)," pronounces graffiti around town, while fan banners with the same words can be seen regularly inside the Estadio Jalisco.
"You're not from Manchester," sing away fans when they visit Old Trafford.
But as Chivas have stumbled from project to project, coach to coach and sporting director to sporting director, Atlas is slowly but surely being transformed from a club that was in real danger of disappearing nine months ago into one that is potentially set to challenge at the top of the Mexican game in coming years.
The deal last November that saw TV Azteca (owned by Grupo Salinas) swoop in and buy the club from the 124 partners was a watershed moment in the institution's history. The Manchester City comparison is again valid, even if TV Azteca wealth isn't exactly that of Sheikh Mansour's.
The initial reaction was one of skepticism, not necessarily from the club's fans – who were simply glad that the institution's future had been guaranteed – but from those who saw contradiction in the Liga MX attempting to eliminate multi-ownership and yet allow Morelia's owners to take over Atlas as well.
It's still a sore point, but there seems little doubt which of the two is getting the better end of the deal.
The Guadalajara club brought over Mexico international Enrique Perez, Federico Vilar and Colombian international Aldo Leao, ripping three keys players out of Morelia (who hasn't scored a goal in its first three games of the Apertura).
On top of that, 39-year-old sporting director Heriberto Morales moved down the 15D highway from Morelia to Guadalajara to head the new project at Atlas, after having put together a side at Monarcas that regularly made the playoffs on a much more frugal budget than at other clubs in the Liga MX.
The club's owners are also investing in a new central offices, is hiring a host of people in various departments throughout the institution and, in short, look to be in it for the long haul with an eye on seriously creating something that can last, rather than the intermittent flickers of hope in Atlas' recent history, which included Ricardo La Volpe's 1999 side and Marcelo Bielsa's mammoth scouting program that led to the discovery of talents like Oswaldo Sanchez, Pavel Pardo, Jared Borgetti and Rafa Marquez. All were sold without playing many games for the club.
Even in terms of social networks, Atlas has a newer, fresher feel and
newspaper Record has it top of its rankings
after three weeks of the new season.
On the field, the purchases these past two offseasons have improved the squad in a rational way and there's already a buzz amongst the faithful. The team is in second place after the first three games of the Apertura 2014.
Overseeing the new project on the field is Tomas Boy, a fiery coach who was vocally disappointed not be given the Mexico job when Miguel Herrera was installed and has been involved in a running war of words with the former America manager.
The main argument from Herrera is that Boy couldn't be El Tri's coach because he has never guided a team to the Liga MX championship.
Boy, just like Atlas, has something to prove and needs silverware.
But despite the solid work behind the scenes and on the field, the theory goes that Atlas' bubble is going to burst and things will go back to normal; their fans will suffer once again.
They said the same about Manchester City not too long ago.