There is more than a heavy dose of irony — or perhaps dark comedy, depending on how you look at it — in Rafa Marquez making his second move to Europe on Monday, while Mexico's younger players are chomping at the bit to be given a shot in one of Europe's big leagues.
On the same day that Marquez, 35, made his shock move to Hellas Verona in Serie A, Chivas owner Jorge Vergara told
ESPN
that Stuttgart's offer for Marco Fabian was "ridiculous" and the player would have to stay in Mexico.
Vergara added in a separate interview with
MedioTiempo.com
that Chivas had reduced the price of Fabian by 40 percent, but that Stuttgart's offer was almost 80 percent less than the owner had hoped for.
Fabian — currently on loan at Cruz Azul — has stated his preference is to leave for Europe, although the situation is further complicated by La Maquina having an $8.5 million option to buy the forward this winter, according to
El Universal
.
But it is unfair to call out Vergara.
Raul Jimenez at Club America has been adamant he'd like to make the leap to Europe this summer and signaled he is ready with a hat trick performance Saturday against Puebla.
MORE: Biggest summer transfers | Soccer's beautiful fans | WAGs
"If the offer is good, the boy will go — that's what happened with Diego Reyes," America sporting president Ricardo Pelaez said Monday, indicating that Porto's offer is nowhere near what the club wants — widely reported in Mexico as $10 million — for the 23-year-old.
Then there is Pachuca and Jurgen Damm. Pachuca vice president Andres Fassi acknowledged the club had rejected an offer from Chelsea this transfer window, but the time wasn't right for him to leave.
Striker Alan Pulido's story is complicated and will likely be decided via the legal route, with the player saying his contract is over and the club adamant that the opposite it true.
It all contrasts sharply with the case of Marquez. Leon president Jesus Martinez
Murguia
made it clear that it wasn't Verona's mega-millions that twisted his club's hand.
AQUINO ON THE MOVE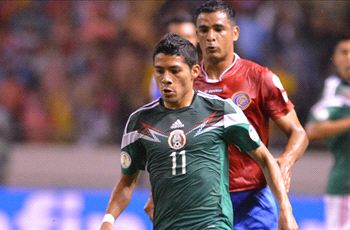 By Tom Marshall

Mexico international Javier Aquino is set to play for Rayo Vallecano in Spain's La Liga next season.

The speedy winger has been loaned out by Villarreal for the 2014-15 season in La Liga, pending a medical, according to a brief statement on Rayo Vallecano's website.

The move could be an attempt by Villarreal to free up one of its three available spots for non-European Union nationals.

READ MORE
"For a European club to make a good offer for a 35-year-old is very difficult, that's the truth," Martinez told
MedioTiempo.com
on Monday. "For us, it was more seeing the human side."
"It was more for all he has done for Leon, for his professionalism and his human quality that we decided to let him go," he continued.
On one hand, you can't completely blame the clubs holding out for more money for their youngsters (perhaps aside from the Pulido case, but judgment on that will have to wait until the legal ruling). Soccer transfer dealings don't run on good will.
In most cases, the Liga MX club has invested in a youth system, gone out and scouted the youngster (or held trials), paid for the player's development, eased him into the first team and has had a large hand in what he is today.
That should be encouraged within Mexico.
But there are other factors that lead to Mexican players being overvalued.
The domestic market in Mexico appears to be inflated. Respected newspaper
El Universal
quoted sources close to Oribe Peralta's move to Club America earlier this summer, stating the fee for the 30-year-old was $10 million and his salary is $2.5 million per year.
Obviously those aren't official figures and shouldn't be taken as fact, but they do make some sense from an America and Mexico perspective because Peralta is popular, sells shirts and puts bums on seats in the Azteca.
Aldo de Nigris' move from Monterrey to Chivas was widely reported at $6 million the previous summer, but it seems highly unlikely a Europe-based club would have matched either deal economically.
America, Chivas, Tigres and Pachuca are naturally going to be influenced by prices in the domestic market. Let's not forget that there is a lot of money floating around the Mexican game and some huge companies or institutions behind a lot of the clubs.
If America bought Peralta for somewhere close to $10 million, then it would seem natural to ask a similar fee for a much younger Jimenez, in a Mexican context.
The situation isn't helped by there being no Bosman-ruling type system whereby players looking to go to Europe could wind down their contracts and move as free agents. Instead, the secretive and unwritten Pacto de Caballeros (Gentlemen's Pact) is in place, the workings of which are surely very alien to clubs and agents on the other side of the pond dealing with Mexican institutions.
From the European clubs' point of view, Mexico is still not an altogether trusted market and none of Jimenez, Pulido, Fabian or Damm has yet managed to cement a place in the national team. Plus, they are entirely untested in Europe and therefore represent a risk.
There seems to be no easy solution to the current standoff between players' desire to play in Europe and clubs' financial demands, and it appears Mexicans moving abroad are largely dependent on the benevolence of their club in accepting offers that may not meet their original expectations.
It may mean a better quality Liga MX in the short term, but the quality of the national team is affected, with less Mexicans testing and bettering themselves at the very top of the world game.