It has taken a while and looked at times like it might not happen, but there is now sufficient evidence to suggest that
Efrain Juarez
is back.
"I feel closer and closer to the level that took me to the national team and to play in Europe," Juarez told Goal recently. "The truth is I'm very happy."
The versatile Monterrey player is still only 25, has a stint in Europe already behind him and is hoping to help propel Los Rayados to a deep run in the Club World Cup in Morocco later this month.
"We know that it will be complicated, there are important teams, but our objective is the highest: to be champions," said Juarez, stressing that each game will be difficult.
Juarez was arguably Mexico's best player at the 2010 World Cup at just 22 years old and moved to Celtic in Scotland's top division straight after. Many thought the combative Juarez, who principally plays at right back or in central midfield, would be a roaring success, but it didn't go as planned.
The Mexico City native started just five league games for the Scottish giants, who he describes as a club "you don't truly understand what they mean until you are on the inside."
After a season at Celtic, Juarez then moved on to Real Zaragoza in Spain, where he got the continuity he sought for the first half of the 2011-12 season in La Liga, but fell out of favor after Javier Aguirre was removed as coach in January 2012.
The jovial and open Juarez said he had options to continue in different European leagues after his Zaragoza adventure and that he wasn't homesick or daunted by leaving Mexico at an early age. In fact, when he left his homeland, Juarez already spoke English and had a European wife, which he says made the integration progress fairly easy on the other side of the Atlantic.
"I wanted to return to Mexico to get continuity (on the field), to be able to try to stay in the national team," he explained. "They are decisions one takes."
Tt
TWITTER MAVEN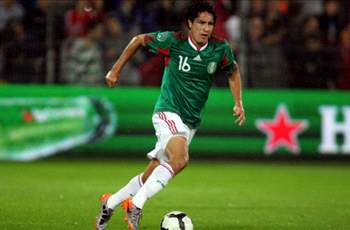 Efrain Juarez's Twitter account - @EfraJuarez – is one of the must-follows in Mexican soccer, for those who understand Spanish. The player is consistently hilarious, honest almost to a fault and gives you a great insight into one of Mexico's highest profile players – he has over 400,000 followers.

In his own words, Juarez believes social networks are important for players, "so people know that you too are a person that laughs, cries, that has fears, hopes and dreams like anyone else. I believe social networks help you get close (to others) in a more human way."
That doesn't mean it is the end of Juarez in Europe, who is adamant he will go back.
"It is an objective to return," Juarez said.
The Pumas youth product is in a good position to judge the level of the Liga MX in comparison with European leagues and believes "the differences are not great."
"Mexico is on an upward trajectory to compete with Europe in every way," stated Juarez, who struggled for playing time with Club America after he did head back to Mexico.
A move to Monterrey in the offseason, after becoming champion with Las Aguilas, was a major positive for Juarez, who has finally started to get regular playing time with Los Rayados and has been getting rave reviews.
At the national team level, Juarez was fined and suspended from El Tri for six months along with Carlos Vela following an incident after a friendly game against Colombia in Monterrey back in September 2010.
The duo are good friends and while Juarez says Vela "will have his reasons" for not wanting to play for Mexico at present, the former America players says he "will always give everything until his last breath" for the national team and is desperate to return.
"Today I can say without fear and vanity that I've been at a good level for some time. I'm that Efrain, I'm returning to the basics, to what took me to the national team and to play in Europe and I don't count out any possibility of a return to the national team," said Juarez.
The truth is that Mexico could really do with that old Efrain back, preferably ahead of Brazil 2014, but first up is the Club World Cup, where Monterrey faces Raja Casablanca or Auckland City first, followed by Brazil's Atletico Mineiro and, if it can get past Ronaldinho's side, most likely Bayern Munich.
If Juarez wants to really prove he is back and deserving of a place in Miguel Herrera's national team squad, the tournament in Morocco would be as good a place as any to really nail the point home.