Following the World Cup draw in Costa da Sauipe we now know exactly what lies ahead next summer when the 32 participants converge for football's greatest spectacle. But while the balls fell kindly for some countries, others have been left fearing the worst as they look ahead to a tough task in six months time.
The draw also threw up some questions as to whether the World Cup itself will be a better or a worse competition after the draw brought together some huge names.
Below we look at the biggest winners and losers from the final draw.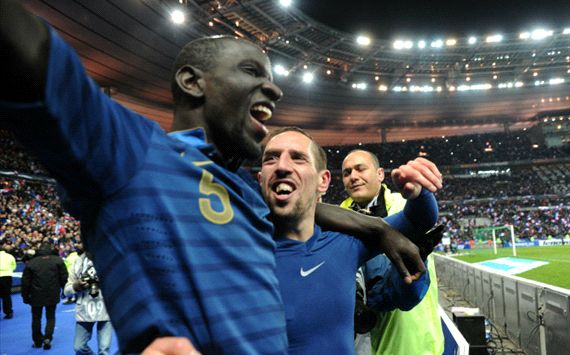 With each ball that was revealed from the various pots, Group E looked like a more and more appealing prospect for the remaining European nations. And it was France, which so nearly failed to even reach the finals and then was expected to be pre-drawn in a difficult pot, which will now fancy its chances of reaching the quarterfinals at the very least.
Honduras will be the first opponent in Porto Alegre, while the second match sees the team come up against Switzerland - one of the weaker seeded sides - in Salvador before finishing off the group campaign against Ecuador at the Maracana in Rio.
The good fortune doesn't end there. A relatively weak Group F draw means that Les Bleus will likely face Bosnia-Herzegovina or Nigeria in the round of 16, leaving Didier Deschamps and his men with a reasonably clear sight of a last-eight spot.
That dramatic second-leg comeback against Ukraine earned France a huge stack of luck.
In 2006, the team was thrown into a group with Netherlands and Argentina. Last time out, it was forced to compete against Brazil and Portugal. For Cote d'Ivoire, it appeared as though the World Cup gods were against the African side.
But in 2014, there will be so much more optimism after the draw gave the team its best chance yet to stamp its mark on the game's biggest competition
.

Japan is first up in Recife, before a trip to Brasilia to face Colombia, then back north to face Greece in Fortaleza in the final Group C game, leaving the Africans with an infinitely more negotiable task than they have ever had in the World Cup.
Unsurprisingly, it gets tougher from there, with a clash against a team from the formidable-looking Group D awaiting in the last 16, but Didier Drogba et al will finally be given a real hope of playing their way into form in time for the big tasks that could come later in the tournament.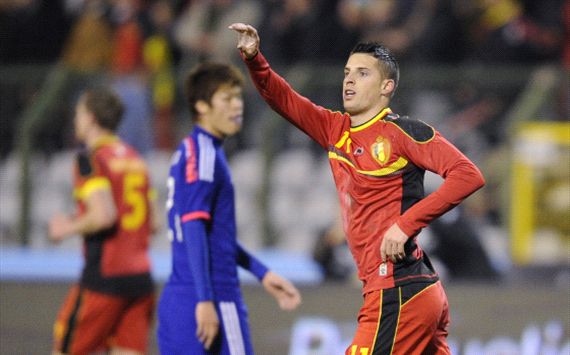 Much was made pre-draw about the decision to seed teams according to November's FIFA World Ranking, and it was the presence of Belgium which had helped to draw attention to the issue.
But the Red Devils will be delighted with the result of their good fortune, with Group H providing them with one of the easiest routes to the last 16 that they could have possibly wished for.
Fabio Capello was quick to admit that his Russia side had been given a good draw, but the same goes for Belgium, with Algeria and South Korea considered outsiders to appear in the knockout stage.
In the team's first finals in 12 years, Marc Wilmots' side will be delighted with the cards with which it has been dealt.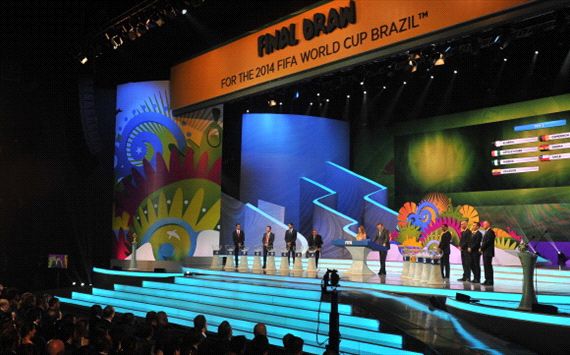 FIFA, ultimately, has got what it deserved with the finals draw. The use of October's FIFA World Ranking was always going to throw up a collection of curve balls, and the end result is a lop-sided competition which is set to eliminate some of the big-ticket countries at an early stage.
Group B will ensure the demise of at least one fancied nation, with Spain and Netherlands set to repeat the 2010 final on day two of the tournament in Salvador. In addition, Chile will need to be negotiated as well, while the team finishing runner-up in the group will then likely face Brazil in Belo Horizonte. That guarantees the demise of at least one of the nations with realistic hopes of winning the competition.
Elsewhere, Italy, Uruguay and England are all drawn together, while Germany, Portugal, USA and Ghana will play out a daunting Group G. That should never be happening in a competition which also pairs France with relative minnows Ecuador, Honduras and Switzerland, or Belgium with Algeria, South Korea and Russia.
Too many good teams will go home early. Too many mediocre ones will be around for the later stages.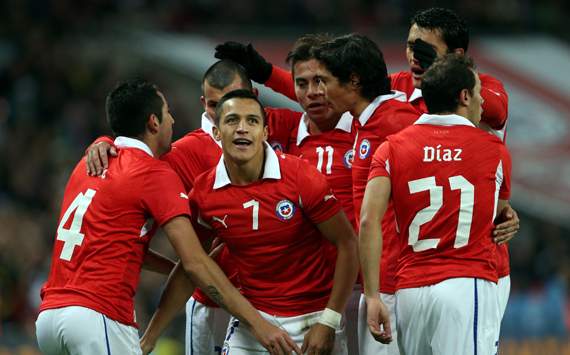 Chile was one of the real positives to come out of South Africa 2010, and much the same was expected from Jorge Sampaoli's men in Brazil before the draw. However, the finals now look set to provide La Roja with a tough challenge as they look ahead to facing both of the finalists from Johannesburg four years ago.
With Arturo Vidal and Alexis Sanchez leading the hopes of a nation, many were hoping that the side which finished third in 1962 might be able to once again cause a few upsets. And while an opening clash with Australia in Cuiaba may not represent the toughest task imaginable, what then lies ahead is a daunting ask by anyone's standards.
Spain will be the second opponent in Rio, before a final group fixture against Netherlands in Sao Paulo which is likely to represent a do-or-die encounter. Given the Dutch's marvelous run in qualification, it will be one of the most taxing fixtures in Chile's World Cup history.
Roy Hodgson said before the draw that he was more worried about the venues than the opponents. Right now, he'll be fearing both.
England's opening fixture will be in Manaus - the one city he openly admitted he didn't want to have to travel to due to the humid climate - against Italy, the team which passed his side out of Euro 2012 at the quarterfinal in Kiev.
While the venues are more Europe-friendly thereafter in Group D, the opposition doesn't look much easier. Top seed Uruguay awaits in Sao Paulo before a less-imposing looking clash with Costa Rica in Belo Horizonte. However, there's every chance that England will already be out by then unless it hits the ground running.
For secure tickets to any World Cup match, visit our preferred partner, viagogo.