¡Ahora, lee Goal.com USA en Español!
Tuesday's grudge match for Mexico against CONCACAF rival Costa Rica will yield added significance should it end in a victory for the home team. It will also mean that manager Jose Manuel de la Torre will have cleared his first 10 official matches with El Tri posting the very same number of victories.
De la Torre's stint with Mexico has coincided with one of the best player crops in the North American nation's 89-year football history, and the three-time Liga MX champion has already steered El Tri to a 2011 Gold Cup championship that earned passage for his team into the 2013 FIFA Confederations Cup.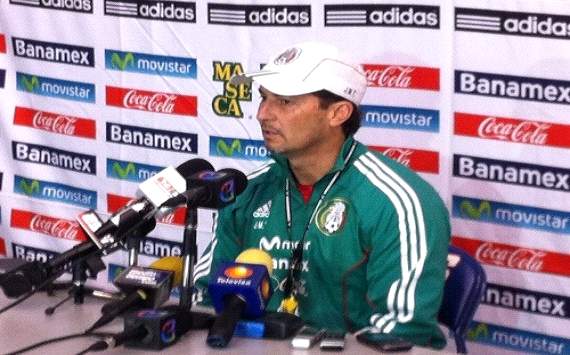 Chepo's unbeaten run began in the 2011 Gold Cup.

After Monterrey manager Victor Manuel Vucetich withdrew consideration from the job in 2010 when the Mexican Football Federation (FEMEXFUT) was actively recruiting both he and De la Torre, "Chepo" has steered Mexico to 18 wins in 24 matches, a 75 percent rate of victory.
De la Torre's squad has beaten highly rated Brazil, Copa América runners-up Paraguay and 14th-ranked Chile in that frame of time.
Though after roughly a year and a half on the job, all official, non-friendly matches have been against regional squads, with the first test against world powers coming in the aforementioned Confederations Cup.
Thus, Chepo's 9-0-0 record going into Tuesday's match may have some people sneering, due to the perceived quality of opposition. Even then, it must be noted that predecessors Javier Aguirre and Sven Goran-Eriksson struggled mightily against CONCACAF teams, posting six losses in World Cup qualifying play en route to South Africa 2010.
While Aguirre guided Mexico to the 2009 Gold Cup championship, the parade was somewhat soured by the lack of Confederations Cup in play as well as the fact that the United States fielded a 'B' team against a full-force Tri. Two years later, De la Torre's men ran roughshod over the region, scoring 22 goals and allowing just four during the inspired run, culminating in a strong 4-2 comeback victory over the Stars and Stripes.
The potential win over Costa Rica would also mean that De la Torre inches closer to eclipsing his uncle, Javier de la Torre, in the career win list for Mexico's managers. In a three-year stint that culminated with Mexico's failure to reach the 1974 World Cup, Javier de la Torre won 20 games for El Tri.
ALL-TIME CHAMPIONS LEAGUE STATISTICS

"OFICIALLY" PERFECT - JOSE MANUEL DE LA TORRE'S UNBEATEN RUN IN NON-FRIENDLY MATCHES



OPPONENT
SCORE
TOURNAMENT
El Salvador
5-0

2011 Gold Cup
Cuba
5-0

2011 Gold Cup
Costa Rica
4-1
2011 Gold Cup
Guatemala
2-1
2011 Gold Cup
Honduras
2-0 (a.e.t.)
2011 Gold Cup
United States
4-2
2011 Gold Cup
Guyana
3-1
2014 World Cup qualification
El Salvador
2-1
2014 World Cup qualification
Costa Rica
2-0
2014 World Cup qualification