Stroll down Khao San Road, the tourist section of Bangkok, Thailand, and you'll be accosted by peddlers of suits, ironic t-shirts, knockoff watches, fried beetles (to eat; pictures cost 10 Baht, about 10 cents), smokes, massages, and boat excursions.
Hippies who came on vacation and then stayed in Thailand sit – posture unnervingly straight, dreads down to the smalls of their backs – selling hemp crafts arranged on a blanket. Pass through late enough at night (the party rages on until dawn cracks open with the glorious Southeast Asian sun) and men will shove pictures of naked ladies in your face. "Boom boom?" they'll ask.
Perhaps stemming from its days as a popular R&R destination during the Vietnam War or maybe just as rebellion against its more conservative Muslim neighbors, Thailand (which is predominantly Buddhist) celebrates hedonism well.
Sven-Goran Eriksson, who knows a thing or two about celebrating, joined Bangkok-based club BEC TERO Sassana as technical director on Monday, signing a contract that lasts through the end of the season in October.
This isn't the Swede's first visit to Bangkok. In 2008, shortly before being fired as head coach of Manchester City, the Citizens visited the homeland of then-owner, former Thai prime minister Thaksin Shinawatra. Dietmar Hamann recalls, in his autobiography,
The Didi Man: My Love Affair with Liverpool
, tanning by the pool at 10 a.m. when Eriksson busted out a bottle of champagne.
What, inquired the German midfielder, were they celebrating?
"Life, Kaiser," came the reply. "We are celebrating life."
Yes, Eriksson knows how to celebrate. Fingering his flutes of champagne, the Swede eyed the landscape, which, given that it was Thailand, was undeniably magnificent, and mused further.
"You know, Kaiser, I like this place," Eriksson said, according to Hamman. "I think I will manage for another five years and come back here and live with two women. Yes. I think I need two beautiful women."
That was 2008. He's slightly ahead of schedule.
The image of Eriksson, now 64, with two women isn't difficult to conjure. Most will simply think back to the time when an impersonator, Derek Williams, showed up at Mexican club Universidad Nacional with two voluptuous Latina women in tight black dresses clinging to his elbows. The club gave him a tour and let Williams take in training, believing him to be Eriksson, who was then the manager of the Mexican national team and who also happened to be in the United States at the time.
The joke amused the club once revealed, but it worked because Eriksson already had a reputation as a philanderer. While manager of the England national team, he had an affair with a secretary at the Football Association. The news dominated the English tabloids when it surfaced in 2004.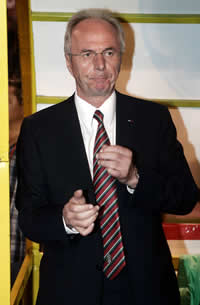 Eriksson wasn't all sleaze. He also wasn't, as portrayed by a puppet on Special 1 TV, a bumbling idiot. Hamann went on to call him, "A man of such charm and sophistication that had the James Bond character been Swedish, then it would surely have been modeled on him. He was polished, professional, polite, dapper, unflappable and likeable."
Eriksson's comparatively productive stint with England lasted five years. In all, he led the Three Lions to the quarterfinals of two World Cups and one European Championship. That was his most high-profile gig, though his most trophy-laden came with Lazio, where he won the Scudetto in 2000.
Since leaving the England national team, where the Swede was the first foreign head coach, Eriksson's career has largely sputtered. He didn't stay more much than a season at Man City, an 8-1 loss to Middlesbrough on the final day of the season effectively signing his pink slip. Mexico remained skeptical of his ability to adapt all throughout his barely nine months in charge.
After his firing, Eriksson returned to the UK, floundering in roles with Notts County and Leicester City on either side of a stint coaching the Ivory Coast in the World Cup. He failed to navigate past Brazil and Portugal in the group stages with Ivory Coast's greatest-ever generation.
Now he's in Thailand – for about a month at least, at which point his contract will be reviewed. Despite the overtly downward trend at this, the tail-end of his career, he still could have found a gig in Europe. This was a lifestyle decision.
Southeast Asia embraces foreigners. Malaysia actively recruits retirees with permanent residency and waived taxes through its Malaysia My Second Home initiative. Visas are simple. The dollar (or, in this case, the euro) stretches far enough to bridge the Chao Phraya River, where a fleet of small wooden boats makes up a floating market.
Players like Didier Drogba, David Beckham, Thierry Henry and countless others are exploiting the end of their careers to experience new cultures. Why shouldn't managers?
Follow ZAC LEE RIGG on

or shoot him an email