The decision to include Peralta as an overage player didn't make much sense to fans until he exploded to help Mexico through the group stages.
Throughout the run-up to the Olympic Games, and the first game-and-a-half in the UK, most Mexico fans had the same question for coach Luis Tena: Why is Oribe Peralta involved?
Rejoining the U-23 team for which he played a huge role in winning the Pan Am Games, the Santos Laguna goal machine had looked sluggish and out of place among his quicker and younger Olympic teammates.
It reached the point where many questioned the reasoning behind having the veteran Peralta around, especially when Alan Pulido had lit up Olympic qualifiers in his spot with the same group just a few months ago. Wouldn't that overage place have been better used on a defender?
Not, it turns out, in the mind of Tena, who wanted a larger target man to hold up play and serve as a reference for his more shifty attackers, Marco Fabian and Giovani Dos Santos. Following a slow start as Peralta regained his touch after a long post season layoff, that plan seems to be paying off for El Tri. Peralta has notched a goal and an assist in the last three halves of action.
"It's the work of everyone. One person gets to score the goals but it's a group effort," Peralta said after the 1-0 win over Switzerland Wednesday that sent Mexico cruising into the quarterfinals. "It's a refection of all the work that we've done as a group and individually. After being hurt it was a lot of work to come back. Now I feel like I've gotten to 100 percent."
Wednesday's goal was a typical Peralta effort. He found himself in the right place at the right time after a Dos Santos run was broken up at the top of the Swiss penalty area.
"Giovanni sent in a pass and it hit a defender, it fell in front of me and I was able to beat the goalkeeper," the Santos man said.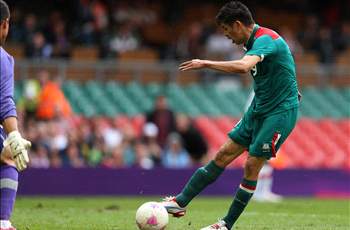 Though the goal was the most memorable of Peralta's contributions on the day, there were other signs that the leading scorer of the 2012 Mexican Clausura is recovering his form after a long summer layoff.
In the first half, he snatched up a ball just outside the 18 and curled in a pinpoint shot that required a spectacular save from the Swiss 'keeper. It was a strike reminiscent of several during the Pan Am Games, and a reminder of why Peralta is on the team in the first place.
The Santos man followed up with his most active half of the Olympics thus far, capping it off with the goal. While fellow attacker Marco Fabian continued to struggle to find the game, Peralta popped up across the attacking line, working well with Dos Santos and Javier Aquino.
"I liked in the second half how we controlled the ball, we played quickly and we created a lot of chances for goals," Peralta said.
He'll never be as active as Dos Santos, Aquino, or Fabian, but Tena has brought Peralta along to play a different role for this team. Through three games, he seems to be doing exactly that, delivering a clutch assist against Gabon before today's winner.
It may not be pretty, but it's part of Tena's recipe for success in the Olympics - one that's cooked up improved results each time out. And if Peralta and company have their way, they're far from done.
"For us," Peralta said, "it's not going to be a good performance unless we win a medal."
Follow BRENT LATHAM on