Success in Mexico's domestic league brings a reward uncommon in world soccer. It presents the opportunity for clubs to compete in the top club championships for two different continents.
Since 1998, Mexico has been able to send teams to compete in the prestigious Copa Libertadores with the caveat that Mexico must prioritize the CONCACAF Champions League. This is not the only such case of club teams crossing continental boundaries for competitive games, but it is certainly the most consistent, long-lasting and well-documented.
The move was a win-win for both sides. For Mexican teams, so rarely troubled in CONCACAF play, it offered a chance to test themselves against the best South America had to offer. For CONMEBOL, opening up the Mexican market provided a huge source of TV revenue and millions of new fans, after five years of the Mexican national team competing in the Copa America provided plenty of encouraging signs.
In the 15th year of Mexican teams' participation in the Copa Libertadores, though, the country's teams still find themselves stuck between two continents.
In North American play, Mexican sides dominate. In the Copa Libertadores, those teams have put in performances ranging from the farcical to the oh-so-close, all tied together by the inability to once and for all establish themselves among the hemisphere's elite teams and soccer-playing nations. One only needs to look back to the past couple of weeks to see evidence of this trend.
Santos Laguna's dominant second half performance in its 6-1 victory over Seattle Sounders FC was a sight to behold. Los Guerreros were clinical in their play, outclassing their MLS rival and staking a claim (along with Monterrey) as favorites to hoist the CONCACAF Champions League trophy.
On the same night, further south in Mexico, Cruz Azul ground out a 0-0 draw with Brazilian powerhouse Corinthians in the Copa Libertadores. One day earlier, Chivas had edged out Uruguayan outfit Defensor Sporting 1-0 to merely keep its Copa Libertadores hopes alive.
Mexico's third entrant into South America's premier tournament, Tigres UANL, is nowhere to be found at these stages, having been eliminated at the first time of asking by Chile's Union Española.
Although Real Salt Lake undoubtedly asked questions of Monterrey and Cruz Azul during the last campaign, Mexico's dominance in CONCACAF looks set to continue. That's without even mentioning Thursday's 8-0 demolition of Isidro Metapan by Pumas UNAM.
In the Libertadores, however, there are no convincing signs that a Mexican team can crack the illustrious winners list and establish itself on an even footing with South America's finest.
Mexico's two remaining representatives this year have come the closest to breaking that deadlock – Cruz Azul fell only on penalties to Boca Juniors in 2001, and Chivas was comfortably beaten a decade later, losing both legs of the 2010 final to Brazil's Internacional.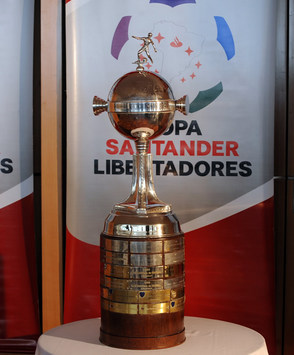 Plenty is made of Mexican club sides' failure to lift the Copa Libertadores, especially given the Mexican league's status as one of the most financially powerful on this side of the Atlantic. However, Mexican club teams' performances in the competition are roughly on par with the national team's performances in the the Copa America.
Just like Mexico's club representatives, El Tri have fallen in two Copa America finals – in 1993 and 2001 – and have consistently reached the knockout stages, the only group stage exit coming in 2011 after Mexico sent a U-23 side.
This is not to say that Mexican teams on the club and international level should not aspire to more – that is the goal of any sports team anywhere in the world. Simply, the nearly two decades that Mexican teams have been testing their mettle against South American rivals has shown us a fairly consistent level of performance.
Further north, meanwhile, Mexican teams seem to be running over the competition. Costa Rican teams have offered some form of resistance, but the fact remains that Mexican clubs have lifted the CONCACAF Champions Cup or Champions League trophy 27 times. Every other country in CONCACAF combines for 18 victories.
While MLS is certainly on the rise, there is a way to go before its four representatives will be able to consistently challenge Mexico's four entrants. In the 14 tournaments that have been completed since MLS teams started competing, a Mexican side has reached every final save for two – Los Angeles' 2000 triumph over Olimpia of Honduras and the 2004 final between Costa Rican powerhouses Alajuelense and Saprissa.
Meanwhile, MLS sides have reached four finals, winning two. It should be noted that in both cases of an MLS side winning (D.C. United in 1998 and Los Angeles in 2000), that side needed to win only three games to triumph, all three at played at home.
So, while Mexico continues to dominate CONCACAF, it is still left yearning for more when it comes to competing in the Copa Libertadores. Pachuca's triumph in the 2006 Copa Sudamericana offered a glimmer of hope, but even with the ability for Mexico to send its top teams nowadays, the immediate future does not hold much hope, given these teams' performances in 2012.
Will 2013 and beyond hold more promise? Perhaps. With the Brazilian league as strong as ever nowadays, and teams from outside the traditional South American powerhouses of Brazil, Argentina and Uruguay now making their mark, though, the onus is on Mexican teams to step up their games on and off the pitch if they want to make that jump into the Copa Libertadores winner's circle.
On the other hand, as MLS continues to grow in quality and financial standing, complacency cannot become an issue at the CONCACAF level. Even Santos' 6-1 win over Seattle could be misleading. The Sounders played their opponent dead even in 135 minutes of the 180 minute tie, only undone by a clinical Santos side in the final half.
While on paper, Los Guerreros is the clear favorite to advance past Toronto FC in the semifinals, they should not imagine it will be just as easy as the Seattle game, especially given Toronto's upset win over the Los Angeles Galaxy in the previous round.
Mexican club teams are stuck in a sort of limbo between continents, and it is a spell that seems very hard to break, whether it is because of on the pitch performances or external factors.
Mexico's dominant position in CONCACAF has historically kept it somewhat isolated in the soccer world, but with soccer on the rise to the north and undergoing a revitalization to the south, it is at this time more than ever that the country will need to keep up.