Colombia scored on each side of halftime to help get a win for new boss Jose Pékerman, who was hired by the team earlier this year.
Now that's a good way to introduce a new coach
Playing its first match under new manager Jose Pékerman, Colombia took advantage of opportunities and walked away with a 2-0 victory over Mexico Wednesday night in Miami.
Radamel Falcao opened the scoring just past the midway point of the first half, and Juan Cuadrado gave Colombia the two-goal cushion with a half-hour to play.
"Colombia stood their ground well, they did what they had to do," Mexico coach José Manuel de la Torre said. "We didn't have that final touch."
Mexico opened the night on the move, forcing goalkeeper David Ospina into some tough saves early on. In two instances in the opening 20 minutes Ospina came up injured after colliding with Mexico's attacking players. He also watched a shot bounce off the post.
But it would be Colombia - which hired Pékerman only last month - to strike first.
While Colombia didn't hold much possession in the first half, its counterattack was quite impressive. The visitors took advantage of one of their few scoring chances in the first half off a miffed rebound by Mexico keeper Guillermo Ochoa in 37th minute.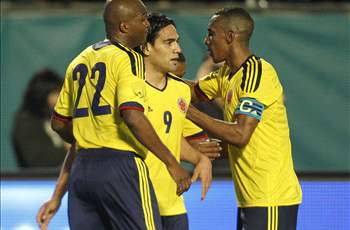 Falcao put Colombia ahead on a poacher's effort after Cuadrado's shot bounced off Ochoa. The sequence was jumpstarted by a free kick from Rodriguez.
Right before the half it appeared as though Javier Hernandez was ready to give El Tri the goal they have been looking for as he had a wide-open net to simply tap the ball in. But despite getting behind the defense and keeper, Chicharito was unable to gain full control.
"The game got complicated for us," de la Torre said.
The second half would start out much like the first, with Mexico looking like the stronger team offensively. And like the first half, Colombia would score, leaving Mexico shocked.
In the 60th minute, Cuadrado was on the receving end of the ball as he put in a perfectly placed cross from Pablo Armero. Rodriguez initially set up the play on the left side of the pitch and Ochoa had no chance of stopping the streaking Cuadrado.
Chicharito was subbed out in the 73rd minute and Mexico was unable to cause any major threats down the stretch, ending what would be a tough start to 2012.