A halftime tactical shift by José Manuel de la Torre altered the course of the Gold Cup quarterfinal between Mexico and Guatemala, sending El Tri through to the semis.
Mexico scored two second half goals to reverse Carlos Ruiz's fifth minute opener for Guatemala thanks in a large part to a prudent tactical shift at halftime by coach José Manuel de la Torre.
Guatemala set out with a crude game-plan, but coming up against a team which outscored its opponents 14-1 in the group stages, crude will do just fine as long as it's effective, especially for a country like Guatemala which boasts a grand total of three players employed abroad on its roster. For the record, they are: the Philadelphia Union's Ruiz, the Chicago Fire's Marco Pappa, and Guillermo Ramirez of Honduran club Motagua.
Guatemala fans will be left wondering what might have been had Ramirez, the most capped Guatemalan of all time, not bowed out of the Gold Cup with a right leg muscle strain leaving the midfield short on experience.
While they ponder that, here's three quick-fire tactical observations from the match:
1. Guatemala competently forced Mexico wide
Despite the lack of the midfield organization Ramirez would have brought, Guatemala actually did a competent job of shoving Mexico wide. The fullbacks tucked in tight and the entire team clogged the middle areas.
Any team that bunkers in well is difficult to break down, so Mexico tried a few different approaches. The first involved latching onto some longer balls out of the back by Rafael Marquez, especially ones launched between left back Carlos Gallardo and former Real Salt Lake center back Gustavo Cabrera. Once it grabbed a handhold on possession in Guatemala's half, El Tri went about its normal game plan of short, intricate passes. It's sexy soccer, and Giovanni Dos Santos in particular linked play well, but with Guatemala sitting so deep, Mexico couldn't find the breakthrough.
In an effort to find just a few extra feet of room in the middle for Dos Santos et al to exploit, Andres Guardado planted himself exceptionally wide and high on the left. Carlos Salcido barreled forward endlessly from his fullback position in an extra attempt to supply width. However, with only Javier Hernandez - a sublime striker in white hot form and full of some of the best off-the-ball runs in world soccer, but perhaps not the guy you want waiting for crosses - in the box, most of the moves down the flanks failed to create genuine opportunities on goal in the first half.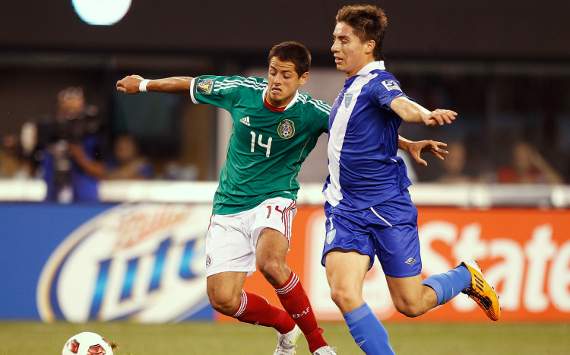 Javier Hernandez | Scored his sixth goal of the competition against Guatemala
2. Guatemala struggled to alleviate the pressure of Mexico's attack
Though
La Furia Azul
did well holding Mexico at bay, the midfield and attack didn't offer enough support in the form of possession or effective counter attacks. The team had two outlets to alleviate the pressure. The first saw Carlos Ruiz draw fouls in cynical ways like only
El Pescadito
can. The second used long balls to find players in wide areas, where they relied on pace to counter and then fire low-percentage long-range shots, with six of Guatemala's eight shots coming from outside the box. Only Marco Pappa showed the creative spark necessary to consistently provide a threat, and he ended up so isolated once he reached the attacking third that he generally lost the ball.
Unless your coach is Jose Mourinho, parking the bus usually requires a plan to keep the ball away from your goal, at least for part of the match. So, despite a resolute defensive performance, Guatemala never had a high chance of holding out for 85 minutes without a better plan to alleviate Mexico's crushing pressure.
3. Mexico's halftime tactics shift paid off
With all that in mind, De la Torre made a substitution at halftime, hauling off Israel Castro and inserting Jesus Aldo de Nigris. Castro hadn't done anything egregiously wrong, De la Torre just realized that he had no need for two holding midfielders since Guatemala wasn't bothering to build attacks through that area anyways.
De Nigris offered two positives: he took up positions which helped Chicharito find space, and he gave Mexico a viable aerial option. His scrappy goal displayed neither point all that well, but will have pleased De la Torre all the same.
The second goal, however, showed the 27-year-old's tactical value. Now, with De Nigris taking up a position high against the defensive line, Guatemala's defenders had someone else to worry about besides just Chicharito and the Manchester United star managed to elude them several times. This meant left back Gallardo tucked in more (see: his goal-line clearance in the buildup to the first goal) which afforded Pablo Barrera more space down the right. The West Ham winger used that space to play a low cross in to Chicharito, making a slicing run, for the backheeled winner.
Often, slick passing teams grow frantic and can lose their composure when teams demand they play in a cramped 30 yard strip. De la Torre's measured, efficient halftime solution set the tone for a competent come-from-behind win and proved he has the tactical cunning to secure wins even when his stars aren't performing at their high-octane best.
Zac Lee Rigg is an editor of Goal.com. Send him doting poetry or compliment his fluttering eyelashes through email or Twitter.
For all the latest Mexican news, visit Goal.com's Mexico's page and join Goal.com's

page.