It was a big weekend for Pachuca. Los Tuzos have had an up and down season, but they put together their second consecutive win to climb into a postseason spot. Jose "El Gringo" Torres anchored the Pachuca midfield and was very active, especially on the defensive end, with the Texan making a number of crunching tackles. If Pachuca wins their final match of the season, they will play in the Liguilla.
Here is how the rest of the Americans fared:
Miguel Angel Ponce, Chivas de Guadalajara
Vs. Cruz Azul, 0-0, (90 minutes)
Ponce slotted in to his usual position at left back as Chivas faced up against high-flying Cruz Azul, who have earned the most points in the league this season. After a gripping game in which the Zapopan club was far better, the two sides settled for a draw. Miguel Angel Ponce was solid once again and contributed well to the attack. Chivas needs to win in their final match and get plenty of help in order to make the playoffs.
Next Match: Saturday, away against Monterrey
Jose Francisco Torres, Pachuca
Vs. Querétaro, 2-1, (90 minutes)
Now firmly entrenched in Pablo Marini's lineup, Jose Francisco Torres again put in a solid 90-minute shift as Pachuca scored a huge win at home. The midfielder looked lively and won the ball a number of times through hard challenges. With the victory, Pachuca now occupies the final playoff spot with just one remaining fixture.

Next Match: Friday, away against Necaxa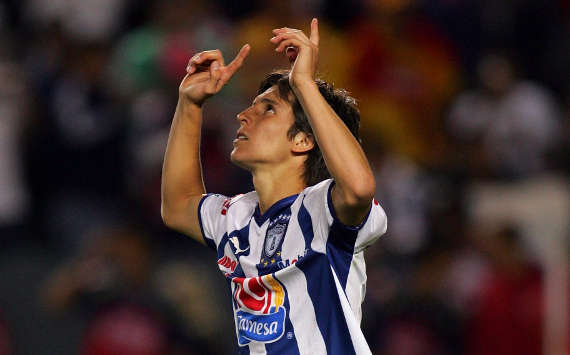 Marco Antonio Vidal, Pachuca
Vs. Querétaro, 2-1 (in 18 but DNP)
Vidal once again sat on the bench as Pablo Marini stuck with the same defensive line that saw them beat Atlas the weekend before. The American will hope to get in the lineup for Pachuca's final fixture of the season.
Next Match: Friday, away against Necaxa
Herculez Gomez, Pachuca
Vs. Querétaro, 2-1, (13 minutes)
Gomez was once again called on to come off the bench for Pachuca, and the striker looked active. He drew a number of fouls to kill off the game, though his one chance was poorly taken. Gomez received the ball unmarked about 10 yards out, but put his first-time shot sizzled over the net and into the bleachers.
Next Match: Friday, away against Necaxa
Edgar Castillo, San Luis
Vs. Santos, 1-1, (1 minute)
Castillo came on as a late sub and saw little action as San Luis lost first place in Group 2 to América. Los Gladiadores did book their place in the liguilla with the draw, which will make manager Ignacio Ambriz very happy.
Next Match: Saturday, away at Cruz Azul
Sammy Ochoa, Tecos
Vs. Toluca, 4-2, (in 18 but DNP)
Sammy Ochoa was once again on the bench as Tecos beat a struggling Toluca. Mauro Cejas grabbed a hat trick, which will undoubtedly hurt Sammy Ochoa's chances of seeing the field in the final match of the season.
Next Match: Saturday, away at Santos
Max Zeger is an American soccer journalist who covers D.C. United and Americans Abroad. You can follow him on Twitter @maxzeger.
For more on Americans abroad, visit Goal.com's dedicated page and join Goal.com USA's Facebook fan page!