Way back in the nearly-forgotten days of uh... February, this
first edition of this column
started out by asking a question: how would the Vancouver Whitecaps replace the lost offensive production of reigning Golden Boot winner Camilo Sanvezzo, who left for Liga MX in the offseason?
The Whitecaps had a formidable offensive output last season, scoring 53 goals when the average of playoff-bound teams was 49.5, but Camilo accounted for 22 of those goals, and contributed six assists. Instead of placing the burden of replacing such a prolific forward on the shoulders of any one player, rookie head coach Carl Robinson called on all of his forward players to step up their production.
"There's added responsibility for the players throughout the team this year," Robinson told
Goal USA
before the season. "My challenge to all the forward-thinking players and the attacking midfielders is we need to get eight to 10 goals individually, and we'll get our ratio up."
So far in 2014, the Whitecaps haven't done that. Last year's mark of 1.55 goals per game might have been a slightly optimistic target, and the team's current figure of 1.41 goals per game isn't bad. But that number is skewed by the opening weekend's 4-1 win over the New York Red Bulls; six goals in their last six games is nothing for the 'Caps to brag about. They're 2-2-3 and in the last playoff spot, but lurking just a point behind in the ever-tight Western Conference are the LA Galaxy and their two games in hand.
So what's wrong with the Whitecaps? For one, there's an over-reliance on a core group of players, not all of whom are performing adequately. Just four players - Pedro Morales, Kenny Miller, Darren Mattocks and Kekuta Manneh - account for over 70 percent of the team's shots. They're also responsible for over 37 percent of all passes made in the final third. With Manneh starting just one game and Morales making a couple of appearances off the bench, it means the Whitecaps are playing most of the time with, at best, three offensive threats.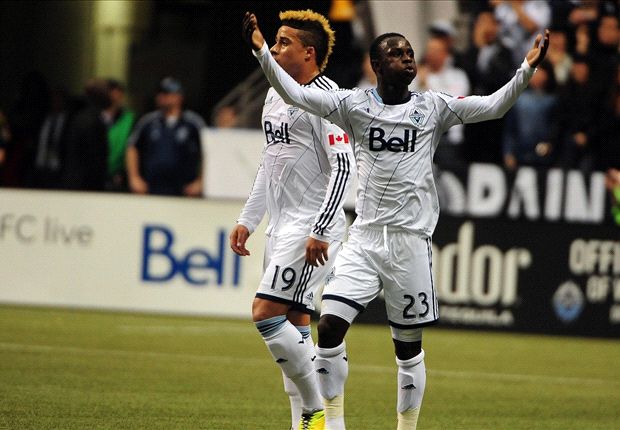 That wouldn't be so bad if those threats were more threatening, but only Mattocks has really found consistent good form, scoring twice and picking up three assists in his seven appearances. Manneh has shown some enticing flashes off the bench - Saturday's impressive equalizer against LA comes to mind - but the teenager isn't ready to be the focal point of a playoff contender. Miller has scored three times, but two of those were penalties: he hasn't scored from open play since week one.
And then there's Morales. The Chilean designated player is the key man when he's on the field. He's second on the team in total passes (five fewer than Matias Laba in 55 fewer minutes of play), has taken the most shots, and is the team's most prolific passer in the final third. But since an impressive cameo on his debut - a goal and an assist in that 4-1 over the Red Bulls - he's been unable to turn that possession into goals, and has just one assist in his last six appearances. Playing in the middle behind the strikers, making more money than any other player on the team, more is needed.
If Vancouver is to overcome the loss of Camilo and get into the postseason, Morales will need to find his form. Midfielders Sebastien Fernandez and Russell Teibert need to do the same. Mattocks and Manneh showed against LA that the BC boys aren't toothless, but more players will have to step up to make 2014 a successful season for Vancouver.
#HotSportsTakes
Portland -
A 1-0 loss to Real Salt Lake makes it seven games without a win for Caleb Porter's boys, and the mighty oak that was the 2013 Timbers has been opened up to reveal a diseased tree full of termites.
Coming up: It's not going to get much easier than this. The Houston Dynamo played in New York on Wednesday, got spanked 4-0, and then flew back halfway across the continent dragging a very heavy five-game winless run. The Creamsicles also haven't scored since Apr. 5. Sunday, Apr. 27, 12 p.m. PT - UniMas
Seattle -
"Hey Oba?" "Yeah, Clint?" "We should probably start trying now." ... "Hey, we did another comeback! Go us!" "Being rich and famous and way better than most other players in the league is super fun!"
Coming up: One three-game undefeated streak meets another as the Colorado Rapids visit. Vicente Sanchez and Jose Mari are looking like smart acquisitions for the Rapids, but the Sounders may have a historically good collection of attacking talent. Saturday, Apr. 26, 1 p.m. PT - MLS LIVE, Univision Deportes
Vancouver
- Home against the Galaxy was a lot better than away against the Galaxy. Kekuta Manneh's shot was a great moment for a telented young player, and Darren Mattocks is slowly re-entering the conversation of who's the best 23-year-old Jamaican international striker in MLS.
Coming up: RSL: that most unwelcome trio of capital letters for an MLS coach whose team is riding the precarious playoff form line. Jeff Cassar is so-far undefeated in his career as a head coach, and Nick Rimando is in just, like, the most
ridiculous
form. Like dang. Saturday, Apr. 26, 6:30 p.m. PT - MLS LIVE, CTV2
Follow KEITH HICKEY
on

A personal note here: American soccer fans, more than being a group of people who like a sport, are a community. People come together and cheer and celebrate and commiserate and become part of each others' lives. This community lost one its own this past weekend. Eric Shertz, a Philadelphia Union fan and a friend I knew for several years, passed away at the age of 38. He was smart, he was funny, and he will be missed. Perhaps most tragically, he leaves behind his teenage son. Donations to the family to help cover expenses may be made
here
.