Missing its star striker, a starting central midfielder and its central defense partnership, TFC still managed to take down the last remaining perfect team in Major League Soccer.
No Jermain Defoe, no Jonathan Osorio, no Steven Caldwell and no Doneil Henry? No problem for
Toronto FC
.
The Reds rolled into Columbus on Saturday missing four key starters and shocked everyone by defeating the formerly perfect Crew by a 2-0 score, and they did so in rather convincing fashion.
NO DROPOFF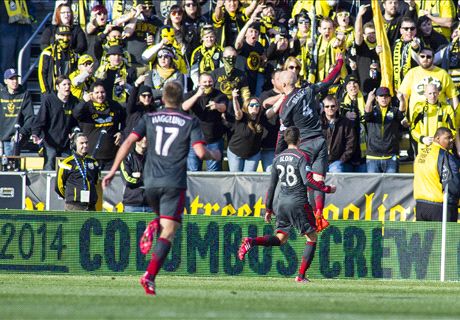 The questions began almost as soon as Clint Dempsey signed with the Seattle Sounders last summer, and resurfaced again when Michael Bradley joined Toronto FC last winter.

Would returning to MLS hurt Dempsey and Bradley's form heading into the 2014 World Cup? Would the drop in class from the English Premier League and Serie A to MLS do harm to their level of play in a World Cup year?

Early indications are that those fears were wasted energy, and this past weekend offered a showcase of just how good the two U.S. stars can still be even though they have traded in high-profile European leagues for Major League Soccer.

READ MORE
At a glance, the statistics will tell you otherwise — once again, TFC had under 40 percent possession — but a deeper look shows the true story. The Crew almost completely bypassed the center of the park due to Michael Bradley's imposing presence and instead chose to attack down the flanks. The strategy was hugely unsuccessful, with Columbus lobbing in cross after cross to no one in particular and TFC's makeshift back line easily gobbling up every offering from the home side.
The brand new central defense pairing of Bradley Orr and rookie Nick Hagglund made everyone forget that Caldwell and Henry were unavailable for the match, as Orr marshalled the back four with aplomb while Hagglund showed in his first professional match why he is so highly regarded by Toronto head coach Ryan Nelsen.
Orr and Hagglund earned plaudits for their discipline in the back, but some praise need to be reserved for the likes of Kyle Bekker, Justin Morrow and Jackson Goncalves as well. Bekker, known more for his passing range than his defensive capabilities, virtually shut down Crew star Federico Higuain all by himself, while Morrow and Jackson's tireless workrate was a big reason why Columbus' Plan B of attacking down the flanks was so ineffective.
It all added up to a performance in which the lesser lights shone just as brightly as the star. While no one was surprised by Bradley's dominance in his 70 minutes on the field, it was the rest of the team's ability to step things up several notches that defined Saturday's unexpected victory, especially given the capitulation at Real Salt Lake a week prior.
"We talked before the game about how it was important that we showed a strong reaction to the game last week," Bradley told reporters after the match. "A good team doesn't make the same mistake twice. A good team doesn't lose two games in a row.

"To come here and play against a good team while missing a few guys just shows the character of the team, the mentality."

It's becoming a hallmark of TFC under Nelsen that his players will work hard. We saw some of that last year when a severely undertalented side was competitive in many more games than it should have been, despite its position in the final standings. So it shouldn't be too much of a surprise that Toronto will continue to show that mentality under its Kiwi coach more often than not.

But looking like a good team? It's still way too early in the season to declare that, even if Bradley would eagerly argue otherwise.

A few more performances like Saturday's will have a lot more people convinced.

Follow RUDI SCHULLER on