It took over eight months, but the Seattle Sounders have finally seen the best out of superstar Clint Dempsey.
PORTLAND, Ore. — Two-hundred and thirty-six days after walking onto the turf at CenturyLink Field and unzipping a hoodie to reveal a Seattle Sounders jersey, the real Clint Dempsey has finally arrived in Major league Soccer, netting a hat trick to lead his team to a thrilling 4-4 draw against its archrival, the Portland Timbers.
After arriving in MLS from Tottenham Hotspur at the end of last season, it was nine appearances before the U.S. national team captain found his first and only goal of 2013 campaign. Following three playoff games without a goal, including two humiliating losses to Portland, doubts about Dempsey began to surface. Was he really worth the huge contract and record transfer fee MLS had committed to lure him home?
It's funny how quickly things change in soccer.
At The Other End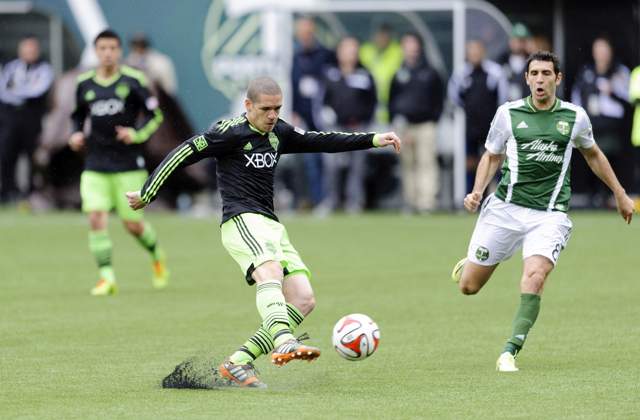 With Clint Dempsey having four goals and one assist in just three appearances this season, and Obafemi Martins showing his quality in partnering the USA captain, the Sounders seem to be in good hands up front.

But Saturday's showing against Portland gave ample reason for concern on the other end of the pitch.

With Djimi Traore out due to suspension, the Sounders turned to Jalil Anibaba to fill in at center back. It was a miserable failure, and Portland once again had far too much space to attack the Seattle defense.

While the star-studded attack may be good enough to carry the Sounders to the playoffs, a title won't come without some improvements at the back.
A Timbers-Sounders game is a big deal. They are always sold out. They are always nationally televised. No other matchup in the league draws as much neutral interest. And this time, Portland was desperate. Without a win, the offense sputtering, the Timbers were in need of a result to reestablish their credentials as an MLS heavyweight and disprove the notion that their impressive 2013 was a fluke.
On a stage like that, as big as any MLS game gets in April, Deuce showed up. Twice, the Sounders fell behind. Twice, Dempsey scored to pull them level. Down 2-1 after a frantic opening, he exploited a defensive lapse as Seattle caught Portland on the transition, getting open in front of goal and taking Obafemi Martins' pass past Andrew Weber.
When two long-range strikes put the Timbers in front, Dempsey scored twice to earn Seattle an instantly legendary point. Muscling himself space in the box, Lamar Neagle's delivery from wide was touched into Dempsey's path by Martins. His first touch set the ball ahead of him, and turning and sliding into his shot, Dempsey struck home. When DeAndre Yedlin was hauled down in the box in the 86th minute, it was Dempsey who stepped up and converted the spot kick.
In an unpredictable, offense-heavy game, Dempsey was a step above almost everyone else, with only the fantastic Diego Chara (two strikes from distance and dominant midfield play) having a credible counter-claim to the match ball. Of Seattle's six shots on goal, five were Dempsey's (the other coming on Kenny Cooper's third-minute goal from point-blank range). When his team needed a leader, a star, someone to put carry the burden, he stepped up. With help from the superb Martins, Dempsey lead the way.
"Always feels good to score goals," he said after the game. "A little bit sweeter to score against your rivals. You don't need motivation playing against your rivals. It's a big game for both teams, both fans want their team to perform well. "
Despite his star turn, Dempsey heaped praise on his teammates, especially Martins.
"I think our fans appreciated that character that we showed in fighting back and saving face in terms of getting a point. Especially coming from two goals behind with a mountain to climb, but we're going to keep building upon this and make sure we're ready for next week.
"[Martins] had two assists today. I thought he played well. We need to do a better job of getting him on the ball because he has a lot of skill, a lot of vision and he can create things."
What Martins created, Dempsey completed. If Seattle is to finally get over the hump and make a run for the Supporters' Shield or the MLS Cup, it'll need its stars cohesive and effective. The Sounders need Dempsey at his best. And for the first time, they've seen it.


Follow KEITH HICKEY on