It's not often that the three Cascadia teams go into the weekend as heavy favorites and all fail to win, so it came as something of a shock when Seattle, Portland and Vancouver faced Toronto, Chicago and Chivas USA with nine points on the line and captured just two.
The most surprising result was probably Toronto's win at CenturyLink Field, the Canadian club's first victory against Seattle since 2010 after five straight Sounders wins in meetings between the two.
Seattle had more possession, completed more passes, took more shots, won more tackles and still lost 2-1. And while the game isn't played on the stats sheet, the question remains of just how Toronto -- which scored just 30 goals last year and conceded 47 -- managed to steal three points from the Emerald City.
The answer is one of simple, effective tactics, a bit of luck and a very good striker. Toronto came out hard and fast, forced some errors, scored and then let the Sounders try to break down a dogged defense. Jermain Defoe, a player with a long history of putting the ball in the back of the net at a higher level, did just that on his MLS debut. Twice.
On Defoe's first goal, TFC caught the Sounders on the transition. Chad Marshall was ahead of the rest of his defensive line, DeAndre Yedlin was caught between sticking to Marshall's man (Defoe) or covering his own mark out wide and didn't really commit to either, and Jonathan Osorio just came up with a fantastically weighted through ball.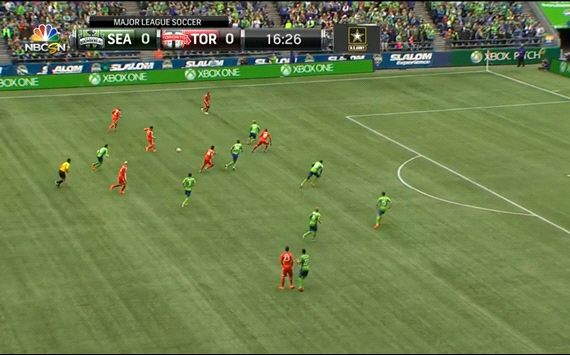 The second goal was even simpler. Marco Pappa came under pressure in his own half from Michael Bradley, with Dwayne De Rosario cutting off his short options to the outside, and Pappa didn't even look up before trying a backpass to safety, which found its way into the path of a certain English number nine. Defoe took the ball past Djimi Traore - because one player is Jermain Defoe and the other is 34-year-old Djimi Traore - lined up his shot and finished.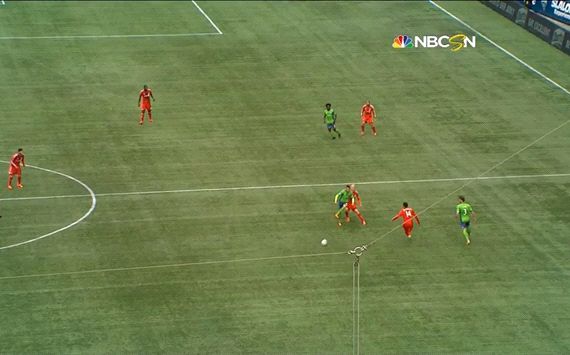 With a two-goal advantage, Toronto then let Seattle take the initiative, and the Sounders sure tried. The Rave Green completed lots of passes -- 569 in total, according to Major League Soccer's official website, with Osvaldo Alonso posting a Xavi-esque 90/102 -- but weren't nearly as effective with the crosses, connecting just five of 36 attempts, and could only muster one goal, a Lamar Neagle pass down the right touchline finding Obafemi Martins, who hit Clint Dempsey with a low cross.
Unfortunately for the Sounders, Sigi Schmid's successive tactical adjustments of "have Kenny Cooper stand in the box" and "hope Chad Barrett does a thing again" somehow failed to procure a second goal.
"We had to stay organized," said Toronto FC coach Ryen Nelsen after the game. "We had to show character, and the chances we got, we had to take, and we did.
"When you're playing against a team the quality of Seattle, it's gonna happen. You're gonna have times where you have to soak up pressure, and we soaked up a lot of it, but we handled it very well. When you come to a place like this, if you're gonna get a win, you have to be able to do that."
That makes two consecutive games to start the season where Seattle has found itself launching the ball into the box late and hoping something happens. It's not good enough. If they want to contend for silverware this season, the Sounders will have to do better than a half-hearted San Jose Earthquakes impression.
#HotSportsTakes
Portland -
Another home game, another 1-1 draw against a weaker Eastern Conference opponent. This time it was Chicago, a team criticized for an over-reliance on Mike Magee, playing without Mike Magee. The Fire won a dubious first-half penalty, but Max Urruti and Gaston Fernandez both whiffed on an absolute sitter and Will Johnson shot wide of an open net before Fernandez saved the day again. Portland needs to sort out its scoring threats, and the creative trio of Fernandez, Darlington Nagbe and Diego Valeri are yet to show they can effectively share a midfield.
Coming up: The Timbers are on the road, visiting the Colorado Rapids, who drew 1-1 with New York in their only game of the season so far. Saturday, March 22 - 3 p.m. PT, Root Sports.
Seattle -
The Sounders announced the end of their business partnership with the Seattle Seahawks after seven years of cooperation but will remain in CenturyLink Field. The business people will set up shop in Pioneer Square while team operations and practice facilities will remain in Tukwila. So that's nice for them.
Coming up: The Sounders will play the Montreal Impact at the Olympic Stadium in the Quebecois side's home opener, but it could be lacking some big-name firepower. Brad Evans could be out with a calf injury picked up in the loss to Toronto, and Clint Dempsey could reportedly be suspended for two matches after hitting Toronto's Mark Bloom in the naughty bits. Impact stars Marco Di Vaio and Andres Romero are still serving suspensions from last season's playoff loss to Houston. Saturday, March 22 - 1 p.m. PT, Univison Deportes.
Vancouver
- As much as they would like to pretend it never happened, the Vancouver Whitecaps played a man up for almost 80 minutes against Chivas USA and drew 1-1. Not only that, the 'Caps needed an 81st-minute equalizer from Kekuta Manneh to salvage a point and didn't win a single corner kick all game. Manneh looked exciting coming on as a sub with half an hour left, but otherwise this Vancouver performance looked nothing like the dismantling of the New York Red Bulls last week.
Coming up: A long flight, as Carl Robinson's men visit the 0-2-0 New England Revolution, who not only have yet to score a goal, but have given up five in their two games. Saturday, March 22 - 11 a.m. PT, Root Sports.
Follow KEITH HICKEY
on