WASHINGTON — Taking on the responsibility of a back-line organizer is no small task. Doing so with a revamped defense after joining preseason late doesn't make matters easier. Neither does needing to shake the rust formed during a year of inactivity on the club level.
But as the Columbus Crew rolled to a 3-0 season-opening win at D.C. United on Saturday, Michael Parkhurst didn't look like a newcomer logging his first club minutes since February 2013. Rather, he looked every bit the part of a U.S. national team veteran eyeing a trip to the World Cup this summer.
"These games are really important for all of us, not only here for the Crew and moving forward but for the national team," Parkhurst said. "Jurgen is watching everything, and to be on a winning team going into the World Cup will only do me favors."
NEW LOOK, SAME RESULT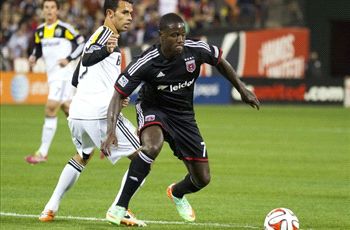 It was an offseason full of change and promise, but when the final whistle blew at RFK Stadium on Saturday night, 2014 looked an awful lot like 2013 for D.C. United.

After a season in which the club only won three of its 34 games, DCU opened its new campaign with a thud, losing 3-0 at home to the Columbus Crew.

"I felt we'd be in better shape than we were today," coach Ben Olsen said in his postgame news conference.

READ MORE
Lined up in the back alongside fellow newcomers Giancarlo Gonzalez and Waylon Francis and lone holdover Josh Williams, Parkhurst directed traffic from central defense as visiting Columbus limited United to a single shot on goal. He also drew a penalty kick that Federico Higuain converted for the Crew's second tally and came up with a goal-line clearance early in the second half.
It was an ideal debut for Parkhurst, who didn't join Columbus from German side Augsburg until mid-January and then missed the first week of the Crew's preseason while on U.S. national team duty. Although Parkhurst earned eight caps with the USA in 2013 and another last month, he made just two Bundesliga appearances for Augsburg following his December 2012 move from Danish side Nordsjaelland.
Those obstacles didn't shake the faith of new Columbus coach Gregg Berhalter, who tabbed the former New England Revolution standout as the Crew's captain before training Friday.
"He was the obvious choice," said Crew goalkeeper Steve Clark, another offseason acquisition. "He has a lot of knowledge and is leading by example but also with his words. For me to have him as a center back, I'm loving every minute of it."
As Columbus enjoyed 57 percent of the possession at RFK Stadium, it was Parkhurst — a steady-on-the-ball fullback for the national team — who set the stage for the Crew's buildups with communication and tidy distribution (completing 47 of 51 passes).
"You see how we play — we open up," Berhalter said. "We're not afraid to get good offensive positions, and he does such a good job of organizing."
Added Parkhurst: "I thought we controlled the game. We were able to build out of the back, especially in the first half, and open things up."
On the defensive side, Parkhurst and Gonzalez neutralized United's new strike partnership of Fabian Espindola and Eddie Johnson. Espindola was largely limited to collecting the ball in wide areas, while Parkhurst's U.S. teammate Johnson was denied service in the box.
As Parkhurst said, Johnson "is a handful. Physically, he's probably the best striker in the league. He's faster and stronger than all of us, but I thought we did a good job containing him, keeping him in front of us, keeping him away from the goal as much as possible."
"It was a good battle," Johnson said. "It's good to have him back in this league. He's a smart player, and I look forward to playing against him again."
With the Crew not playing again until their home opener March 22 against the Philadelphia Union, Parkhurst will finally have an opportunity to take a breath and make himself at home in Columbus. Even though he has made a smooth transition on the field, travels to California for the national team and Florida for preseason have kept him from getting to know his new city.
"It's nice to have this bye week to get all that stuff done: finally get a car, get moved in, find out about the area," Parkhurst said. "But I've heard great things about the city and I'm looking forward to getting settled in."
Follow THOMAS FLOYD on