American soccer has a style. It is not the Portland Timbers' style.
The high water mark of the traditional American approach to soccer is probably the 2009 Confederations Cup semifinal, when Bob Bradley's U.S. men's national team defeated eventual World Cup winner Spain. Bradley's team conceded the midfield battle, withdrew from the flanks, and bunkered against a opponent that came willing to play soccer. And Bradley's team won. It had the advantage of the aerial battles, defended heroically and scored through physical strength, counterattacking, and a couple of lucky deflections.
The American way has always been to run around a lot, defend as a team, win through toughness.
That is not the Portland Timbers way, because it is not the Caleb Porter way. While Porter's team doesn't eschew the traditional qualities of American soccer - no side captained by Will Johnson could be accused of lacking industry, and the pressing style requires plenty of stamina and commitment from the players - there's a focus on ball retention, technical ability, and individual flair; concepts upon which mainstream American soccer hasn't always had the tightest grasp.
PLAYER SPOTLIGHT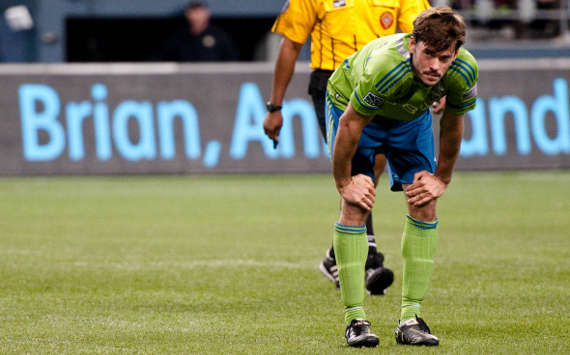 Meteoric rises weren't limited to Portland in 2013. Sounders utility man Brad Evans emerged as a legitimate contender to start at right back for the U.S. men's national team at this summer's World Cup in Brazil.

Goal USA editor Thomas Floyd sat down with Evans to talk about his rapid emergence on the international scene.

Read the Player Spotlight here
"I don't think you need to play with a big number nine," asserted Porter last week after his team lost 1-0 to the San Jose Earthquakes in a preseason friendly. "I think there's a myth that the nine, it has to be a big, tall guy. That's old school. You look nowadays, and guys like (Liverpool striker Luis) Suarez, he's not big, but he plays the nine. You look even in MLS, at guys like (Montreal's Marco) Di Vaio, (former Whitecaps striker and 2013 Golden Boot winner) Camilo; these guys are small guys. They do it through being technical, being smart, good movement.
"My prototypical nine isn't a big, tall slow guy. It doesn't work for us. We need a guy that's mobile, that can press. A guy that's active, that can stretch."
Porter's actions back up his words. When the team's second-leading scorer last season, 6-foot-1-inch Jamaican striker Ryan Johnson, decided to move overseas, Porter brought in the 5-foot-7 Gaston Fernandez, who's shared the most forward spot with fellow Argentine Max Urruti (a not-so-towering 5-foot-10) in preseason. 6-foot-2 veteran Frederic Piquionne has been relegated to the second string.
The Timbers have taken their coach's ideals to heart, resulting in last year's dramatic turnaround and playing a style that has become known as "Porterball."
Watching Portland on TV, some things are obvious. The first touch. The quick passing. The laser-quick transitions. The relentless pressure. But in person, there's something else that becomes evident. The use of space, and perhaps more tellingly, the denial of it. In the Timbers' preseason game against the Vancouver Whitecaps on March 1, there was more than one occasion when Portland keeper Donovan Ricketts was the only player in his own half.
The Timbers closed the Vancouver players down, forcing them to pass back, denying their forward options, and giving less and less space until they were able to force a mistake or a desperate clearance, at which time either the quick counterattack or the fluid passing was deployed in the search of a goal.
Although his team was unable to win any of its three matches in the home-turf Rose City Invitational, Porter wasn't worried.
"I'm never going to be happy if we leave our home field not scoring a goal," said Porter. "But if you look at, overall, the flow of the game, the control of the game, chances created, possession - the whole philosophy behind how we play is to increase your chances of winning by having the ball. You increase your chances of getting chances on goal, and we did that."
The philosophy has served him well. At the collegiate level, Porter's teams for the University of Akron - featuring a number of players with whom he would reunite in Major League Soccer - finished first in the Mid-American Conference in all seven years he was head coach. The Zips also won the Mid-American Conference Tournament five times, and in 2010, lifted the NCAA national championship.
On the professional stage, Porter took a Timbers team which finished with the third-worst record in MLS in 2012 and finished top of the Western Conference in 2013, just two points off the Supporters' Shield. He took a team that finished nine points out of a playoff spot and made it to the Western Conference final, posting a goal differential improvement of 43 on the previous campaign.
On Caleb Porter's team, the process matters. Get the ball, keep the ball, use the ball well and creatively and intelligently, and if you do all that right, eventually the results will come. And when the results come, that's when you win trophies.
#HotSportsTakes
Portland -
An early Will Johnson free kick was canceled out by a second-half Sebastien Fernandez penalty as the Timbers drew 1-1 with Vancouver in the final game of the Rose City Invitational. Important to note for the Providence Park crowd will have been the positive play when Darlington Nagbe, Diego Valeri and Gaston Fernandez were all on the field together for the first time.
Coming up: John Hackworth brings his Philadelphia Union side to Oregon. Philadelphia made a number of moves in the offseason but failed to win any of its five preseason games in normal time, scoring just three goals along the way. Saturday, March 8 - 7:30 p.m. PT, Root Sports.
Seattle -
The Sounders finished out their preseason stay in South Carolina by swapping goals with D.C. United in a 2-2 draw, with Kenny Cooper and Marco Pappa on target for the Rave Green. On Tuesday, they swapped midfielder Alex Caskey for D.C.'s third-round pick in the 2016 MLS SuperDraft. A day later, his spot was filled by the acquisition of Mexican World Cup veteran Gonzalo Pineda from Guadalajara. Liking what they saw in Charleston, the Sounders also added former Battery player Michael Azira.
Coming up: Right in it from the start, the Sounders host reigning MLS Cup holder Sporting Kansas City. Seattle won last season's only meeting between the sides 1-0 with a 94th-minute Djimi Traore goal, the fourth stoppage-time winner the Sounders have scored in eight meetings with Sporting. Saturday, March 8 - 12 p.m. PT, NBCSN.
Vancouver
- Besides the 1-1 preseason draw with Portland, the 'Caps had a busy week in the transfer market. After picking up Matias Laba from Toronto last Wednesday, the club inked academy goalkeeper Marco Carducci to a homegrown contract. Vancouver then added another designated player, acquiring 28-year-old Chilean international midfielder Pedro Morales from Spanish side Malaga. Still not finished, midfielder Matt Watson was shipped to Chicago in exchange for an international slot.
Coming up: Another Cascadian side with a tough start, the Whitecaps host the New York Red Bulls, winners of last year's Supporters' Shield. Saturday, March 8 - 5 p.m. PT, TSN.
Follow KEITH HICKEY
on