The 19th season of Major League Soccer is upon us, and 19 teams take the field for what is shaping up to be one of the most wide-open seasons in recent memory.
Defending MLS Cup champion Sporting Kansas City and the Supporters' Shield-winning New York Red Bulls bring back most of their starters, but as many as four other teams have realistic chances of winning it all in 2014.
When you add the LA Galaxy, or 2013 MLS Cup finalist Real Salt Lake, or the Portland Timbers or the Seattle Sounders, to the mix, picking a champion is going to be extremely difficult.
Projecting the league's 10 playoff teams is even tougher. With the exception of Chivas USA, all 18 of the league's teams have reasonable arguments for why they can reach the postseason. The impressive offseasons enjoyed by Philadelphia, Toronto FC and D.C. United will make things extremely difficult to predict in the Eastern Conference.
Out West, coaching changes should have a major impact on the playoff landscape. Oscar Pareja's move from Colorado to FC Dallas could shake things up, and all eyes will be on Jeff Cassar to see how he does as Jason Kreis' replacement at Real Salt Lake. First-year Vancouver boss Carl Robinson and San Jose head coach Mark Watson will be facing pressure after both being handed the keys to their own teams this winter.
How will the 2014 season shake out? It is anyone's guess, but here is how we see things shaking out as the 19 teams head into the new campaign:
1- PORTLAND TIMBERS
Caleb Porter wasn't content with having the best record in the West and coming within two points of the Supporters Shield. He and GM Gavin Wilkinson set out and revamped the roster with some intriguing pickups in forward Gaston Fernandez and Norberto Paparratto. If the Argentine tandem can thrive, the Timbers will be hard to stop.
2- SPORTING KANSAS CITY
What can Peter Vermes' squad do for an encore after lifting the 2013 MLS Cup? A repeat won't be easy, not with the departure of goalkeeper and captain Jimmy Nielsen. New starter Eric Kronberg has big shoes to fill, but he will be helped by playing behind the league's best defense. A repeat is possible, but Sporting KC will need some forwards to step up as double-digit scorers.
3- LOS ANGELES GALAXY
After falling short of a three-peat, the Galaxy revamped its attack with the additions of Brazilian forward Samuel and Canadian striker Rob Friend. A full season of Jaime Penedo should help, as should having a stingy defense, but how the team's wingers perform, and how Gyasi Zardes does in his second season, will tell us whether the Galaxy can return to the top.
4- REAL SALT LAKE
Jason Kreis is gone, ending an impressive run as head coach, but his departure might not hurt as much considering long-time assistant Jeff Cassar has taken over. RSL returns all the key pieces of a team that exceeded expectations in 2013, so there is no reason to believe Real Salt Lake can't make another run. The team's depth is impressive, though RSL will need its forwards to step it up in order to keep pace with the West's other powers.
5- NEW YORK RED BULLS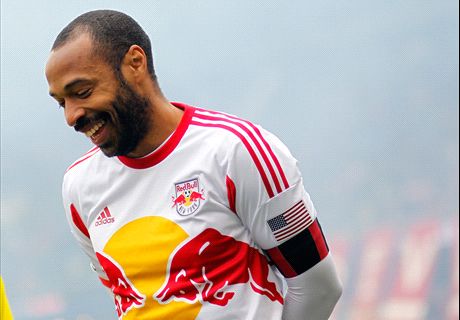 The Supporters' Shield winners didn't do much in the offseason, which is a big change from what seemed like a traditional roster overhaul at the club. You can certainly argue whether the Red Bulls roster got weaker this winter after parting ways with Markus Holgersson and Fabian Espindola. Can this team expect career years out of players like Eric Alexander and Jonny Steele again? Will Tim Cahill and Thierry Henry stay healthy? If so, New York can compete. If not, the Red Bulls could take a major step back in 2014.
6- SEATTLE SOUNDERS
There was something wrong with the Sounders in 2013, and Sigi Schmid spent the offseason addressing that by shaking up the roster. Gone are Eddie Johnson, Mauro Rosales, Jhon Kennedy Hurtado, Michael Gspurning and Shalrie Joseph. In are Chad Marshall, Kenny Cooper, Marco Pappa, Stefan Frei and Jalil Anibaba. As important as those additions are, Seattle's success will hinge on Obafemi Martins staying healthy and Clint Dempsey recapturing his top form.
7- NEW ENGLAND REVOLUTION
A young and exciting team that enjoyed a real breakout 2013, the Revs come into 2014 with higher expectations and the confidence that comes with shaking up the league last year. Losing Juan Agudelo was big, but landing Teal Bunbury should help offset that loss. The goalkeeper position will be key after Matt Reis' retirement, while finding some toughness in central midfield will also determine if the Revs any chance of catching the league's elite.
8- TORONTO FC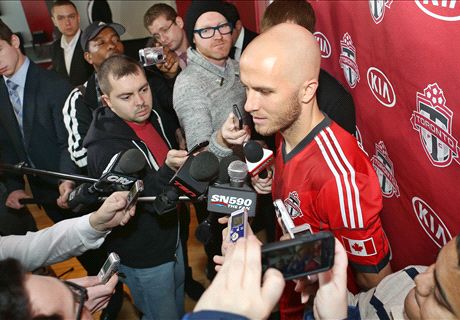 No team had as dramatic a makeover as Toronto FC. Michael Bradley, Jermain Defoe, Julio Cesar, Dwayne De Rosario, Gilberto, Bradley Orr and Justin Morrow should push TFC into the playoff conversation, and if Ryan Nelsen can show himself to be an adept manager, Toronto could break into the top three in the East. Some questions persist about the defense, but TFC should score goals and Bradley can help Toronto FC's midfield be a force.
9- PHILADELPHIA UNION
After enjoying one of the better winters in terms of player acquisitions, the Union boast a revamped roster more than capable of returning the team to the playoffs after missing out in 2013. A rebuilt midfield features Maurice Edu, Cristian Maidana and Vincent Nogueira, and the Union replaced veteran defender Jeff Parke with former MLS Rookie of the Year Austin Berry.
10- FC DALLAS
Oscar Pareja returns to his former club and inherits a team that has seen some impressive offseason upgrades. Forwards David Texeira and Andres Escobar, coupled with defensive midfielder Hendry Thomas, should help FC Dallas close the gap on the playoff teams in the West, but there will be pressure on Mauro Diaz to be the sort of elite playmaker former MLS MVP David Ferreira was.
11- HOUSTON DYNAMO
Dominic Kinnear continues to work his magic in the playoffs, but something about this Dynamo team feels a bit vulnerable. A very quiet winter saw no major additions and the departure of veteran center back Bobby Boswell. There is still talent on the squad, with the likes of Brad Davis, Ricardo Clark, Oscar Boniek Garcia, Will Bruin and Tally Hall, but this could be the year Houston takes a major step back.
12- VANCOUVER WHITECAPS
It was looking like a pretty bad winter for the Whitecaps after losing MLS Golden Boot winner Camilo to a forced transfer, then having a first-round pick snatched from them by the New York Cosmos. Things have picked up considerably with the midfield additions of Matias Laba and Pedro Morales. First-year coach Carl Robinson will still need some forwards to step up and fill the void left by Camilo, with Darren Mattocks facing the most pressure.
13- COLORADO RAPIDS
The Rapids exceeded expectations and rode the impressive seasons of youngsters Dillon Powers, Deshorn Brown and Shane O'Neill to a playoff berth. So why will Colorado take a step back? Losing coach Oscar Pareja to FC Dallas (and assistant Wilmer Cabrera to Chivas USA) will hurt, with novice coach Pablo Mastroeni expected to handle the job in 2014. Expect some growing pains for him and his team.
14- COLUMBUS CREW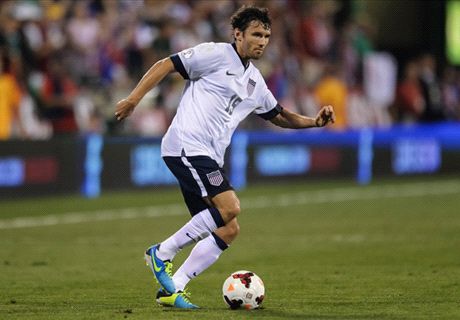 New coach Gregg Berhalter has reconstructed the Crew's defense, which is a big reason for optimism in Columbus. Michael Parkhurst and Giancarlo Gonzalez are two of the better defender additions in MLS this winter. The big question is whether the attack will show enough improvement to keep pace with the other teams in the East. Federico Higuain is still a master, but losing Eddie Gaven to retirement was a big blow.
15- SAN JOSE EARTHQUAKES
Mark Watson was named full-time head coach this winter, and as much as he showed promise in the second half of 2013, the Earthquakes really shook things up this winter, leaving some serious questions. Marvin Chavez, Rafael Baca, Justin Morrow and Steven Beitashour have left, while Atiba Harris and Jean-Baptiste Pierazzi arrive.
16- D.C. UNITED
After posting the worst regular season in MLS history in 2013, D.C. United dismantled the roster and pulled off a series of transactions that have transformed the squad. An entirely new defense was built, and Eddie Johnson was brought in to boost the attack (and offset the departure of Dwayne De Rosario). D.C. should show considerable improvement in 2014, but perhaps not enough to make the playoffs.
17- CHICAGO FIRE
The Fire came close to reaching the 2013 playoffs, falling short via tiebreaker, so why the slip to this position? A relatively lackluster offseason makes Chicago a candidate to slip, even with Mike Magee primed to spend a full year with the Fire. New coach Frank Yallop will need some youngsters, such as Benji Joya, Dilly Duka and Harrison Shipp, to really step up.
18- MONTREAL IMPACT
Why will the Impact go from playoff team to this far down? The way Montreal ended the 2013 season was ugly, and with the team making few real changes to the roster in a winter that saw so many Eastern Conference teams make dramatic improvements, the Impact look primed for a major step back.
19- CHIVAS USA
The worst owner in the league (Jorge Vergara) is gone, but the worst roster still exists. It has shown improvement though, with forwards Adolfo Bautista and Luke Moore, as well as Argentine playmaker Mauro Rosales. The Goats should score more goals, and be a more entertaining team to watch, but will need a lot more help to avoid finishing in last place.