Don Garber tried to reel it back in, but by the time the MLS commissioner started talk of Miami and Atlanta being expansion targets, the cat was already out of the bag.


Speaking in his year-end state of the league address, Garber spent a large amount of time discussing MLS expansion, which is already set to climb to 21 teams with the arrivals of New York City FC and Orlando City in 2015. Early on he made it clear that the two Southeastern markets are in prime position to grab expansion spots 22 and 23 for the rapidly-growing league.
"We are in discussions with potential ownership groups in Miami and Atlanta, who will give us some great rivalries in the Sun Belt to match those that we have in the Northeast, Midwest and Pacific Northwest," Garber said. "As I've said before, we hope to have 24 teams by the end of the decade. In order to do that, we need to expand strategically and we've got a big chunk of the country that is not covered. That's the Southeast. We hope to be able to achieve that with Atlanta, with Orlando, and in Miami, but a lot of work to do in Atlanta and Miami.
"Atlanta, we are making progress with our discussions with Arthur Blank and the Atlanta Falcons," said Garber. "Arthur's been to a number of big events, very quietly. That's kind of the way we like to do these things when we're going through this process. Atlanta is a very changing market demographically. It's a big market.
"We need to be in the southeast for all the reasons that I've mentioned and I think if we can continue to advance our discussions positively with Arthur and the Falcons, we hope to be able to get a situation finalized so that could potentially be our second team. Orlando being the first, maybe Atlanta or Miami would be the second or the third."
When asked what obstacles remained for Atlanta and Miami, Garber was quick to clarify that while Atlanta and Miami are in the expansion mix, neither is a sure thing just yet.
"We're making progress in both of those markets. I wouldn't say we're close in either of those markets," Garber said of Miami and Atlanta's expansion chances. "In Miami, we can't do anything until we finalize a stadium plan.
"We've got a great guy in David (Beckham), who by the way, for those of you remember him as a player, he's a bright guy. He's very focused. He's a great business person. He's got a great business partner in Simon Fuller, founder of American Idol and Dancing With the Stars. And if you put that together with a great facility plan and another economic partner, I think we could have a formula for success.
"We're not there yet, but we're hoping to get there soon."
"With Atlanta, we have finalized the stadium situation there. We've been working on a downsizing technology that we think would be unique. It would be the only one of its kind anywhere in the world. We've got to continue to work hard with Atlanta to see if thise whole project makes sense for them, but I'm encouraged by the discussions and I hope we'll be able to finalize something."
Garber also addressed concerns about Miami's viability as a market, particularly given the fact MLS has already had a team fold in the Miami market, and the continued struggles of other pro teams to gain a foothold in the area.
"We are mindful of the challenges that we had in Miami when the league had the Miami Fusion," Garber said. "We're mindful of the challenges that have existed in that market throughout soccer history. That being said, we look at what Relevant Sports and (RSE Ventures CEO) Matt Higgins and the guys at the (Miami) Dolphins have done with their international friendlies and, frankly, they're largely successful. They're doing a great job and they're proving that that market is changing.
"The Miami today, demographically, socially, politically, is very different from the Miami of 2002 when we folded the Miami Fusion," Garber said. "We believe Miami could work if we get the right stadium situation - we don't have that yet - and if we're able to get David and his potential partners to come together and create the kind of ownership group that would rival the ownership groups that we have, from a commitment perspective, in Major League Soccer. That is still to be seen."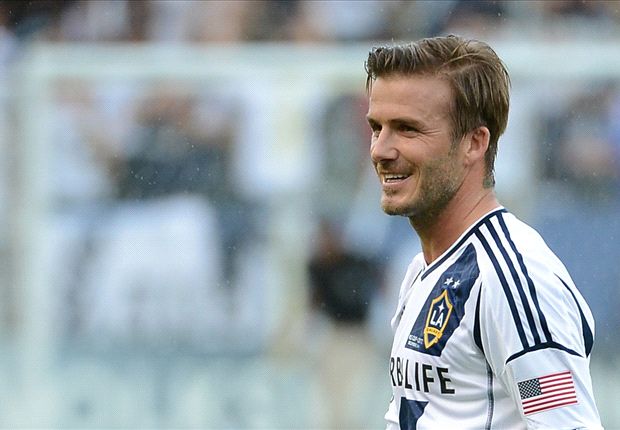 Former Galaxy star Beckham is set to become an MLS owner in Miami
Garber reiterated the league's goal to expand to 24 teams by 2020, and with Miami and Atlanta looking like front-runners for spots 22 and 23, that 24th franchise will be a hot commodity. Garber mentioned St. Louis, San Antonio, Minneapolis and Austin as contenders.
"St. Louis is a market that, again, that same group of soccer promoters have done a great job selling out big events," Garber said. "It's the birthplace of soccer in America from what I've been told. I live in the same town as (St. Louis native and former baseball great) Yogi Berra. Whenever I run into him all he wants to do is talk about soccer and never about the Yankees. St. Louis, it could be another great market."
As for what will be the determining factors that decide which win out in the race to MLS expansion?
"It starts with the ownership group and moves from there to a downtown stadium," Garber said. "It's really very simple. The downtown formula has been working for us, and it is hard to imagine that we would go into a market where we don't have that scenario.
"Certainly, with Sporting Park, which is not downtown, but is in a high-trafficked area. It's not an absolute, but whether it's Minneapolis and St. Louis, or Austin or San Antonio, all the potential stadium sites would be within the urban core."
Don Garber mentions Austin among the other usual suspects when talking expansion. Austin's a very underrated soccer city.

— Ives Galarcep (@SoccerByIves) December 3, 2013
GARBER ADDRESSES VARIETY OF TOPICS
The MLS commissioner fielded questions on a wide range of topics during his State of the League address. Here is his take on the following:
On MLS moving to a spring-fall calendar
"We have, in the past, looked and continue to look at a potential calendar shift, and we went through a fairly comprehensive process this year and looked at whether or not we could manage a schedule change. It requires us to move the schedule so that it would start somewhere around February, and it could conceivably end it some time at the end of May. We would have to take a break during a time when everybody takes a break. Start up again some time in July, then play July, August, September, October, November and December. End in December, then have a break from December to some time in early March. From 10 to 12 weeks.
"Therein lies the problem. It's not just about are we going to play three more games in cold weather markets at an earlier time of the year. It's about what are we going to do with an extended break, because I don't care what market it is. We're not playing in January and in February in places like Toronto and Vancouver and places like that.
"We will continue to look at it. We looked at it more deeply than we have ever looked at it before. We went through some fairly extensive discussions as a league to figure out if we could this at some time in the future. It would have been (2014), but that's not something we're going to do in the short term."
On MLS adopting flex scheduling
"We'd love to be able to achieve that, but look at how flex scheduling works in the NFL. All the games are taking place on Sunday, so all they're doing is taking a game away from a regional broadcaster and putting it on the network.
"If we were to have a Friday-Sunday schedule, but let's pick those two days, and you were to move a game from Sunday to Friday, with our schedule it borders on almost being logistically impossible. That being said, we have no shortage of braniacs working with algorithms and computer models to use all the different factors to spit out calendars and schedules."
On MLS having more transparency with player transactions
"What I will say is that, as an emerging league, there are times when we are figuring things out as we go along," Garber said. "I don't know if the Clint Dempsey case is an example of that, but there could be something that comes up where we say "This is something that we need to figure out now, because we will lose this player or we won't be able to sign this player, or it will prevent us from being competitive in an international competition, whatever that might be. That means, as an emerging league, that we've got the ability to be flexible and evolve."