PORTLAND -- The Western Conference Championship trophy presentation didn't lack for pomp or passion Sunday night at Jeld-Wen Field. There were confetti cannons and some fireworks, and while it wasn't the MLS Cup, nor was it in the club's home stadium, Real Salt Lake celebrated it to the fullest. The team's players posed with the trophy and partied late into the Oregon night.
It might have seemed like an odd reaction for a team that won an MLS Cup title just four years ago, but those four years have been an exercise in futility for a club that has, arguably, played the best soccer in MLS for the past five seasons.
You see, Sunday's trophy presentation was the first one RSL could actually take part in since that 2009 MLS Cup. In the four years since, RSL has come out on the losing end in multiple finals, watching teams celebrate on its own home field multiple times. There was the 2011 CONCACAF Champions League final, when Monterrey beat RSL to clinch the regional championship. A surprise Western Conference final loss to FC Dallas followed. Next came the 2011 playoff loss to the LA Galaxy and more recently the 2013 U.S. Open Cup final, which RSL lost to lowly D.C. United at Rio Tinto Stadium.
"For me, the most rewarding thing is not about getting back to the MLS Cup," RSL head coach Jason Kreis said. "The most rewarding thing is that this group has finally won another trophy.
"Frankly, in my honest opinion, and I'm sure it's not everybody's, this team deserves more trophies than they have. They've put themselves in position to win so many times and have just been unfortunate not to. So I think this is a very deserving trophy, both for what we've done this season, but more so for what we've done for five years now."
Sunday's celebration was cathartic for an RSL team that has stuck to its core principles of soccer despite repeated big-game defeats, and even in the midst of losing three of its best players a year ago. It was the sweet relief of having a trophy to raise in a year when none were really expected to come for a team in transition.
"In the beginning of the season, I would have said we'll barely make the playoffs," Kreis said of RSL. "We're going to be very inconsistent. We're going to win a game, we're going to lose a game. We're going to win two games, and lose two games. We're going to have good performances and turn around bad performances.
"But the team has proven me wrong, and that doesn't happen too often. I'm usually the one that's always confident and talking positively, even when they may not deserve it. But truth be known, they've outlasted any expectations I had of them, and they've now found their form and their self identity at the exact right time."
With a signature series victory against two-time defending champion Los Angeles, as well as a convincing series win against Portland, RSL now heads into the 2013 MLS Cup Final as a bit of an underdog against a Sporting KC side that has played the best defense in the league. Sporting beat RSL at Rio Tinto Stadium in the only meeting of the season between the teams.
Sporting might be the favorite, but the way RSL is playing right now, it is hard to bet against the club regaining the MLS Cup it first won four years ago. Real has gotten the hang of winning big games on the road and will be looking to be on the more enjoyable end of having a visiting team celebrate a championship in an enemy stadium.
RED BULLS PART WAYS WITH PEARCE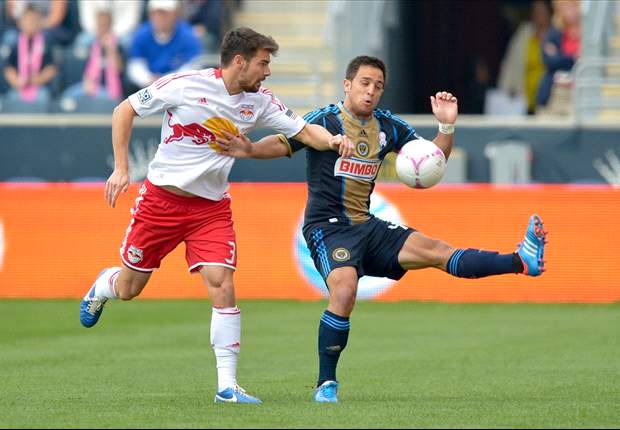 After missing the second half of the 2013 season because of hip surgery, and seeing his contract expire, Heath Pearce figured to be done as a New York Red Bull. That inevitability has become a reality, with sources telling Goal USA the two sides have agreed to part ways, leaving the former U.S. national team defender available for the upcoming MLS Re-Entry Draft.
The 29-year-old defender is sure to be a popular option for teams looking for help in the back line, as Pearce's ability to play both left back and center back will make him a valuable commodity.
Pearce's recovery from hip surgery appears to be going ahead of schedule, though he may still not be fully recovered by the start of the 2014 season. That isn't likely to keep teams from going after a player who was easily one of the best defenders in MLS before the hip injury that hampered him for almost two full years before requiring surgery.
MLS NEWS AND NOTES
Former Columbus Crew technical director and interim head coach Brian Bliss won't be unemployed for long. Sources tell Goal USA that Bliss is in talks with the Chicago Fire about a player personnel role. The Fire hired Frank Yallop as both head coach and technical director, and Bliss could help offer Yallop the support he will need handling both roles for the first time in his MLS coaching career.
------
FC Dallas had a good 2013 MLS Draft with the selection of talented young defender Walker Zimmerman, but the team's draft may get even better now amid rumblings that the team is close to reaching a deal to sign second-round pick Ryan Hollingshead.
The UCLA product passed on a chance to join FC Dallas last winter after being the 20th overall selection in the draft, choosing instead to take part in missionary work. It was believed at the time that he would skip a professional soccer playing career, but sources tell Goal USA that Hollingshead has reconsidered the pro option and could be ready to join FC Dallas for the preseason.
FC Dallas would need to sign Hollinghsead to a contract before the 2014 MLS Draft or risk losing his rights,
----------
In other FC Dallas news, sources tell SBI that FC Dallas has been in contact with former MLS MVP and current Lanus head coach Guillermo Barros Schelotto about its vacant head coaching job. The former Crew star was passed over for the Columbus head coaching position, but could wind up working for the same owner who owned the Crew when he helped lead the team to the 2008 MLS Cup title.
----------
On the MLS draft front, buzz is growing about the availability of two highly rated prospects. Indiana freshman Tommy Thompson and Notre Dame senior Harrison Shipp are two of the college game's most exciting prospects, and both are currently claimed as homegrown players, but there is a growing sense that MLS may reject the claims currently placed on Thompson (by San Jose) and Shipp (by Chicago).
Sources tell SBI that both teams plan on making homegrown player offers to Thompson and Shipp, but if MLS deems that their homegrown claims aren't strong enough, then Shipp and Thompson could go into the 2014 MLS Draft, where they would be guaranteed to be top 10 picks.
Earthquakes sources have told Goal USA that their claim on Thompson is rock solid, but other sources question the validity of that claim. As for Shipp, it sounds more and more like the Fire could wind up losing out on the skilled midfielder.