Juan Agudelo had his bags packed and dreams on the verge of becoming reality. Aspirations of playing in Europe and playing in a World Cup have driven the young forward from his earliest days as a kid in Colombia, and his pre-contract with English Premier League side Stoke City was supposed to help make both dreams happen.
For now, Agudelo's dreams are deferred after his appeal for a UK work permit was denied, thus bringing his move to Stoke City to a halt. The decision came as a surprise considering how many other Americans have successfully appealed for work permits in the past few years, but that track record apparently wasn't enough to overcome the fact that Agudelo hadn't been a part of the U.S. national team setup for a year.
For now, Agudelo is in limbo, with his MLS contract set to expire and his representatives working on contingency plans to help him find a suitable landing spot. There won't be a shortage of options for a 20-year-old striker who has impressed European scouts for years, but it might take a while for Agudelo to get over the disappointment of missing out on a move to the EPL.
The interesting thing about the failed work permit appeal is that it just might wind up being a blessing in disguise. Fellow Americans Maurice Edu and Brek Shea have languished at Stoke City, neither seeing minutes for Mark Hughes' side and both seeing their World Cup hopes fade with each passing month without playing time.
While it is certainly a significant setback, Agudelo's work permit appeal will force him to look at other options as he heads into the January transfer window. Here is a look at options for him:
RETURNING TO MLS
There are already rumblings making the rounds of Agudelo possibly re-signing with MLS. Don't buy any of it. Agudelo has made no secret about his desperation to escape the clutches of his MLS contract, and there is absolutely no good reason for him to re-sign with MLS. Think about it. New England owns his rights, a team notorious for being stingy about selling players. Would a player who has wanted badly to play in Europe really re-up with a team that could very well keep him in MLS for the next 4-5 years? Exactly.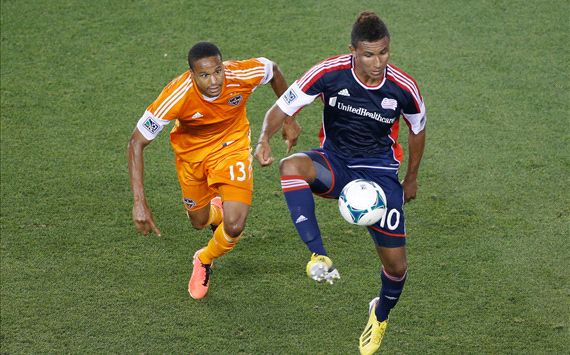 EUROPEANS LEAGUES OUTSIDE THE UK
You will hear about how Celtic was once interested in Agudelo and how the Scottish champions are still interested. Don't buy that one just yet either. There are a variety of top leagues in Europe that could be options for Agudelo, from Spain to the Netherlands. The focus will be on landing in one of the bigger leagues across the pond, and the market for a young and gifted forward available on a free transfer figures to be a strong one.
SIGNING WITH STOKE CITY AND GOING ON LOAN
The rejection of Agudelo's work permit doesn't mean Agudelo can't sign with Stoke. It just means he can't play for the Potters. So why would Stoke sign him anyway? Consider it an investment. They could sign him, then loan him out, and if Agudelo were a hit on his loan, Stoke could eventually sell him. Why would such an arrangement be appealing to Agudelo? It would mean he would still receive the considerable salary he was likely to make from a Stoke contract.