When David Beckham's name became linked with the push for a professional soccer team in Miami, he seemed like the perfect type of star who could provide a necessary push to help a club succeed in a city where pro sports haven't always done so well.
Now that LeBron James has been linked to Beckham and the drive for MLS expansion in Miami, the star power has reached epic proportions, and it makes you wonder just what two of the world's biggest sports figures could do together.
Celebrities can make things happen and stir up buzz, but having James' name added to Beckham's MLS push isn't about helping Beckham land a team. The English icon isn't likely to need much assistance in gaining the approval of a league for which he helped gain international attention. No, what James can help bring to Beckham's expansion push is the type of cache that only a locally based megastar can bring.
Whether it would be helping the team's marketing appeal or giving an MLS Miami squad the momentum to secure a sorely needed stadium, James would very likely bring more to the table than some photo ops and potentially a few kicks of the soccer ball.
James isn't just a basketball player, just as Beckham wasn't just a soccer player. James is a global icon. He essentially is the king of Miami now after winning two NBA titles, and if he puts his name and interest behind a pro soccer team, that many more casual sports fans will pay attention, and that many more doors will open for a new team trying to gain a foothold in a traditionally tough market.
This isn't likely to be about adding James' financial clout, either. After all, Beckham already has billionaire Marcelo Claure identified as a likely partner, with Miami Dolphins owner Steve Ross also looking to get involved. It is more about what a beloved figure in Miami can bring to the table that Beckham can't.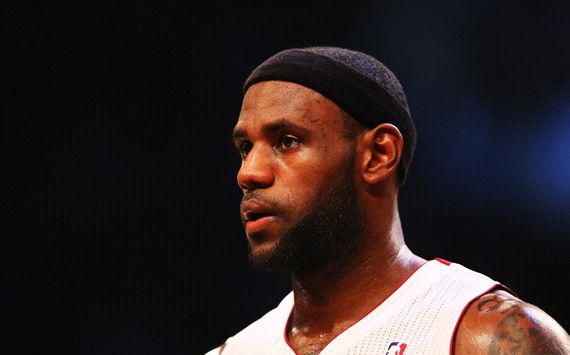 THe Miami Heat's LeBron James would bring added star power to Major League Soccer


Consider the NBA's Brooklyn Nets, who made a successful move to New York and now play in a beautiful arena, Barclays Center. Superstar rapper Jay Z put in his name and New York cache behind the Nets project, and Barclays Center happened. He didn't do it single-handedly, and ultimately Nets owner Mikhail Prokhorov's wealth helped make it happen, but Jay Z's involvement clearly helped the Nets reach their goal of building a new arena in Brooklyn.
Could James be the name that helps Beckham build a soccer stadium in Miami? That might be ambitious, but considering the city could lose the Miami Heat star to free agency next summer, you could argue that there probably isn't much the city wouldn't do for James in the next six to eight months.
Is James really a big soccer fan? Based on his move to buy a stake in English Premier League side Liverpool, which he did last year, you would tend to believe that he does have some interest. The more likely explanation for James' interest in the sport is the opportunity he sees to invest in a growing sport. He surely saw the long list of American billionaires buying into the EPL, so why wouldn't he lend his name to a project that could be a part of the next big thing in American sports?
MLS isn't likely to mind his potential involvement. The league hasn't been shy about playing up celebrity ties to teams before, from the ownership stake of Oscar De La Hoya in the Houston Dynamo and Drew Carey's part ownership of the Seattle Sounders. Both those connections have provided good publicity for the league, and those teams.
Of course, as much as the combined star power of a LeBron-Beckham ownership group would be pretty formidable, the long-term success of a soccer team in Florida will still hinge more on on-field substance than boardroom name recognition. That's something that two championship-winning athletes like James and Beckham are surely aware of.
Before we can think about what a Miami soccer team might look like, it will be up to Beckham to bring an ownership group together with the financial clout and public support in Miami to get a stadium built. Much like he was the key to the Miami Heat becoming NBA champions again, LeBron James just might be the man to help Beckham's dreams of MLS in Miami come true.