NEW YORK -- Giuseppe Rossi is hoping that he'll see Jozy Altidore in Serie A this season.
Speaking at Steve Nash's Showdown charity event in New York's lower east side, Rossi admitted that he would like to see his good friend join him in Italy. Rossi and Altidore know each other from both growing up in New Jersey and were teammates at Villarreal.
"Jozy, yeah [he'd be good fit in Serie A]," Rossi told Goal. "Jozy had a great season this year and I'm so proud of him. I hope his dreams come true."
Altidore had a breakout year for AZ Alkmaar, scoring 31 goals in all competitions for the Eredivisie side. With rumors circulating that the U.S. international could be purchased for 8 million euros, Altidore has been linked with several clubs including Lazio in the Serie A. The Rome side reportedly leads the pack for the 23-year-old, and Altidore hinted that he would open to a move to Italy despite Serie A's notorious racist chants in the stands.
"To go and face it at the root? It would almost make it more appealing to go there," Altidore told the
New York Times
. "I'm not saying Italy is a racist country, but it would be a good opportunity to take a stance. Italy is a stage."
Rossi recently joined Fiorentina in the Italian top flight last January despite not fully recovering from an anterior cruciate ligament injury that kept him sidelined for almost two years. Prior to that injury, even Barcelona and Manchester United were tracking him for a possible bid. Despite missing out an opportunity to join an elite club, Rossi is looking forward to recapturing his form after being away from the game for a lengthy spell.
Though Nash's Showdown isn't known for having much defense or physical play, it was a positive sign that Rossi played a full 70 minutes and was actively running up and down the field.
"I'm tired," Rossi said with a smile after the match. "I haven't played more than 20 minutes in a year and a half. My rehab is going well, I'm back 100 percent."
Rossi has often stirred the ire of U.S. fans for his decision to spurn the Stars and Stripes in 2009 for the Azzuri but he drew loud cheers during Wednesday's game. He insists that he will be ready to go when Fiorentina's season starts in August.
"Yeah, definitely," Rossi replied when asked if he could start in the team's opener. "I'll be starting with my teammates and from there, we'll see what happens."

Follow Alex Labidou on

PICKING HIS BRAIN: Sacha Kljestan
Kljestan also participated in Nash's Showdown and marked his debut in the match with a brace as well as a few assists. Prior to the game , the U.S. midfielder spoke with Goal about the Stars and Stripes' recent uptick in form and how Anderlecht keeps motivated despite winning back-to-back domestic titles.
The U.S. has really shown some strong form over the past few months. Where is this improvement coming from?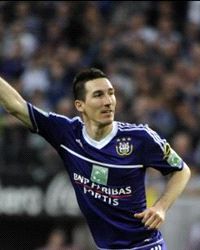 Well, I think the team camaraderie is getting back to where it was under Bob [Bradley]. You can see it both on and off the field with our group. I think that played a major part of our success. Four wins in a row, obviously the mentality was good but Jozy [Altidore] was huge for us.
You mentioned that things changed, was there anything specific? A change of strategy by coaches or a different view from players?
I think it was a change of everything. The coaching staff changed and then a lot of the veteran guys or guys who'd been around a lot were out and a lot of new guys are in. So I think it's still the same team but it's a new team as well. I think everyone has had to adjust.
You were out of the mix for a little bit, how does it feel to be back in the fold?
Since October of last year, I've been called into every camp. I haven't been a starter but I have been getting games off the bench and been a part of the team. It feels good to be back. Obviously [my] goal is the World Cup, so I've got to stick around and make a difference until then.
Switching to your club team, Anderlecht has back-to-back titles and is always among the two top or three teams in Belgium. How do you keep motivated?
You got to have a winning mentality. That's a very important thing. I look at myself now and the ways things are at Anderlecht and I look at Lyon from the early 2000s. They won seven times in a row and that's hard in any sport and in any league. I want to do that.
WHAT TO WATCH:
MLS: New York Red Bulls vs Houston Dynamo, Sunday, 2 p.m. ET, ESPN -
After a strong run in April and May, the Red Bulls have returned to their inconsistent form and submitted an awful performance against Philadelphia in a 3-0 rout last week. Thierry Henry hasn't looked as good as he was around the same time last year. It seems likely that the Dynamo will pull this out.
Prediction:
Dynamo 2-1
Confederations Cup final: Brazil vs Spain, Sunday, 6 p.m. ET, ESPN -
It is fitting that world's two most entertaining sides face each other in this tournament's showpiece game especially considering how fun the Confederations Cup has been to watch. Adding extra spice to the final match is the fact that Neymar gets to go up against some of his new Barcelona teammates as Xavi, Andres Iniesta, Gerard Pique, Pedro and Jordi Alba are all starters for Spain.
Prediction:
Brazil 2-1 Spain.