It has been a quiet few months for Juan Agudelo.
But for the former New York Red Bulls prodigy, that isn't necessarily a bad thing.
Rewind back to 2011, expectations for the still teenage soccer player were swelling to unrealistic levels. In the highlights-driven sports coverage of this decade, Agudelo's brief moments of brilliance led to some media outlets labeling him as the greatest soccer player ever produced stateside.
The problem is that at 19, Agudelo isn't the finished product yet. There is definitely special ability lying in the young striker but he hasn't displayed it on a consistent basis. That's why he is thrilled to be at Chivas USA, a club that is committed to his development, something he felt was lacking in New York.
As it turns out, Agudelo strongly values honest communication. Hence, he isn't disappointed that he hasn't been called up by Jurgen Klinsmann over the past few months. The U.S. coach laid forth a clear objective for him.
"I don't really have to be in touch with him because I understand what he wants from me, what he expects from me," Agudelo tells Goal.com. "I understand what I have to do and that's a good part about [our communication]. I'm not confused about what I have to do to get a call up. I understand what he wants from me."
And what exactly does Klinsmann expect of young Agudelo?
"He mainly expects me to prove myself at the club level. He's seen things from me on the national level but he wants to see that with my club," Agudelo explains. "Whether or not I'm playing out right or as a forward, he wants me to basically do my job which is to either get assists or goals."
Klinsmann has a point. Agudelo's early career has been marked by what he could do, and not what he has done consistently over the past two years.
Agudelo on his time at the Red Bulls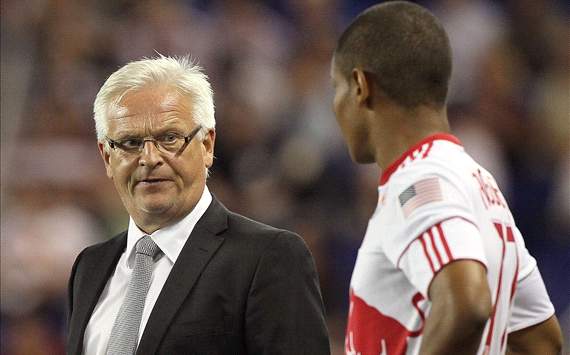 "It wasn't about whether or not I was going to play or not, I just felt like I wasn't developing."
- Juan Agudelo

Agudelo has scored against the likes of Lionel Messi and Argentina but was largely anonymous in the United States' disappointing showing in the Gold Cup. His goal against D.C. United in April 2011 is considered one of the most attractive in Major League Soccer's history, lobbing a ball behind his head to finish past Bill Hamid at goal. Yet, he has only scored eight career goals in 44 league appearances.
Agudelo acknowledges that there is work needed to play at the level that he is capable of but he expresses his happiness in being in an environment that is willing to teach him.
He claims that the New York Red Bulls didn't have much of an interest in developing his talent. It is that belief that led to his exit from New York, not a guaranteed starting spot as some have reported.
"It wasn't about whether or not I was going to play or not, I just felt like I wasn't developing," Agudelo says. "I felt like I was developing with the national team but in training sessions [with New York], I wasn't getting much direction or belief in trying to improve my game."
He adds, "It wasn't a place where they were looking to develop young players... I felt like if that was the case then personally, I would want to be at a place where they are looking to develop young players."
Things are much different at Chivas USA according to Agudelo. While the results haven't gone the club's way as it sits in eighth place in the Western Conference, Agudelo believes that head coach Robin Fraser is committed in making him a better player. Describing Fraser's methods, it's clear that Agudelo sees a stark contrast between his current coach and his former coach Hans Backe.
"He just basically tells me what he wants from me and what he expects from me day in and day out. He tells me if I'm doing something wrong. That way I don't keep on repeating doing something wrong," Agudelo says.
"He's very positive. He always willing to help out and listen. There's more of a personal relationship with him."
Agudelo explains that Fraser encourages him to take on defenders and be more aggressive than he was at New York. He says that Fraser's confidence in him allows him to "feel free on the field," and it "really makes me feel comfortable."
It almost implies that that comfort level was nonexistent in New York.
Agudelo never directly criticizes Backe or the Red Bulls but it is obvious that he questions some of the club's decision making. When asked whether or not he still follows the Red Bulls, he immediately brings up Kenny Cooper's demotion to the bench despite scoring 14 goals.
"The thing that makes me a bit upset is the situation with Kenny Cooper," Agudelo says. "I feel like he's done so much for the team and they are where they are right now because he's their leading scorer. He's been getting goals and he's a great guy, it's unfortunate that he's not starting anymore."
Follow ALEX LABIDOU on

Maybe Agudelo can relate to Cooper. There were plenty of times where the forward sat aimlessly on the bench after having a brilliant performance in the previous match.
Yet, there's also a bit of shortsightedness to Agudelo's implied criticisms. Backe boldly gave Agudelo his first start in a playoff match against the San Jose Earthquake, disregarding the fact that the player was only 17 at the time. In the following two seasons, Backe named Agudelo as an opening day starter.
Furthermore, looking at Backe's track record both Tim Ream and Connor Lade became regular players under the Swedish coach.
It is more likely that Agudelo was looking for an arm over the shoulder, a coach who was willing to remind him of his potential and focus on making him a better player. In that case, Backe and Agudelo were a poor fit. The Red Bulls have a roster that is built to win a MLS Cup and Backe already has to manage the high-profile stars on the team.
Though Agudelo likely wishes things were a bit different at the Red Bulls, he recalls his final conversation with Thierry Henry as words of inspiration.
"Don't change the way that I play," Agudelo reveals of Henry's final words to the young starlet. "Good luck in LA, go out there and kill it. He said it was rare to see young players my age with that kind of fire on the field."
Agudelo's future is unknown. He could explore a move abroad either this offseason or when his contract expires next season. Trials at both Stuttgart and Liverpool prove that there is an intrigue from Europe about his talent and with one year left on his contract, he will be an affordable option for plenty of clubs. Agudelo states that he hasn't given much thought over his contract yet.
"Maybe I'll think about it more in the offseason but right now I'm just focused on trying to get this team into the playoffs, We still have a chance to get there," Agudelo says.
For now, Chivas USA's final eight games of the 2012 season are Agudelo's objective. Not trying to live up to everyone's massive expectations or representing the United States. For Klinsmann and the U.S. national team, that focus should be a sign of maturation.
Agudelo is beginning to realize what it will take to tap into his potential.
"There's no pressure. I have to do what I can on the field and the rest will take care of itself. If I perform on the field then good things will happen," Agudelo says.