NEW YORK - Reflecting on his time in Major League Soccer as he sits at a table at Bagatelle in New York's chic Meat Packing district, Thierry Henry raises a question that he admits is difficult to answer.
Going down a mental list of what he gained during his time in North America, Henry mentions the league's continually improving infrastructure, boasting more soccer-specific arenas than ever before. He points out to his continual progress as a player in the league.
But there's one thing that he is determined to find an answer for.
Henry on MLS's appeal to talented inner city athletes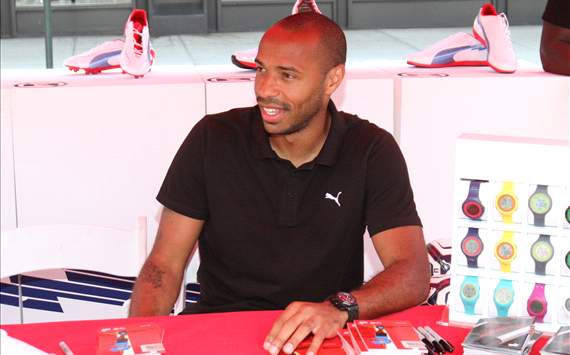 "Family pressure plays a big part, especially when a guy is the only hope of his family. I can understand where if you could have this or that, why you would choose that?"
- Thierry Henry

"Now, it's how do you compete with other sports [in the United States," he asks. "It's very difficult."
Henry joined the New York Red Bulls almost two years ago, promising to "develop the game and make it progress." Individually, he's succeeded. The Red Bulls have made the playoffs the past two seasons and Henry has scored an impressive 26 goals in 45 appearances. On a league-wide national level, his impact is debatable.
A self-professed over-analyzer, the 34-year-old notices the poor attendance of Red Bulls games in their arena and the relatively low ratings on MLS's national television broadcasts. He believes that the only way Americans will be drawn into the sport is if the quality of the league is raised overall.
"I do think you can attract more people by how you play," he explains. "I remember playing for Barcelona, even at the end of the game we lost some games but people were still happy."
Considering the recent success of the Euro 2012, which has drawn triple the amount of viewers of its predecessor in 2008, and the high interest in the United States national team, Henry might have a point. Americans are developing a love towards soccer but it isn't necessarily translating into a gain for MLS.
To add to his question, I asked the former France international: What is MLS's appeal to America's young premier athletes? Considering the low salaries offered to most of the league's players, why choose soccer if you can play basketball, baseball or football at a high level?
"Because you love it," he initially responds.
After a few seconds of thought, Henry admits that MLS would have a difficult time attracting some of the country's top athletes, especially if they hail from a working-class family or an inner city area.
"You do have some people who are attracted to other stuff than just that. Therefore, you going to lose a lot of them there," he explains.
"Family pressure plays a big part, especially when a guy is the only hope of his family. I can understand where if you could have this or that, why you would choose that?"
Comparing the salaries of American sports leagues....
For most professional athletes in leagues like the NFL, MLB, NBA and NHL, life after retirement is a foregone conclusion. If a typical pro plays at least five years, he has acquired enough income to last several decades if his wealth is managed properly. That isn't the case with MLS.
The league's average annual salary is slightly above $150,000, compared to $770,000 in the NFL, $2.4 million in the NHL, $3.1 million with MLB and $5.2 million for the NBA. One startling stat is that MLB umpires make more than most MLS players with a yearly average salary of $192,000. Considering that soccer is a contact sport that can lead to severe injuries, it is understandable why young standout athletes would likely avoid MLS if other pro options are likely.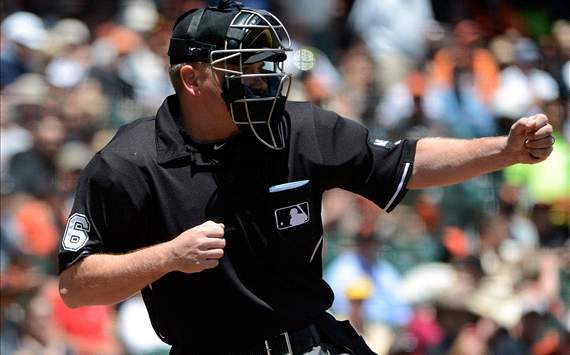 MLB umpires make more than the average MLS player
Former MLS defender Dasan Robinson agrees with that viewpoint. After battling with injuries over the past two years, Robinson retired at only 28 years old prior to the 2012 MLS season. While he denies that he would have continued playing in the league if the average salary was higher, he admits that things aren't easy for a former pro, especially considering the lack of financial security.
"I've had people ask if I'm a millionaire," Robinson says laughing.
The MLS Players Union listed Robinson's salary as $100,000 in 2011. Robinson was a multi-sport athlete growing up in Cleveland, Ohio. He played basketball and soccer at Elyria High School. While Robinson's father was a former college football player and wanted his son to follow in his footsteps, his mother wanted him to play soccer as it was something unique in comparison to other options. He quickly became fond of the sport although there were plenty of social and economic challenges.
"I was a young black kid growing up in Cleveland, soccer wasn't the 'cool' sport," Robinson says. "You'd look at other sports, see a ton of fans and girls. At my soccer matches, there would be crickets."
In addition to that, $2,000 almost ended Robinson's soccer career before it started. That was the cost to participate in a youth soccer team in Robinson's area and his parents couldn't afford to send him. Luckily, the program offered to sponsor the future MLS center back.
"If they didn't do that, I probably wouldn't have made it to the MLS," Robinson admits.
Manchester United first team coach Rene Meulensteen believes that Robinson's case is a familiar scene in America and argues that plenty of talented players have slipped through the cracks as a result.
"In Europe, anyone can join a soccer club and play the sport no matter where you come from," he says. "I think the United States is missing out on quite a lot of talent. Players who haven't really been exposed to soccer because it's too expensive to get into it."
Meulensteen argues that if the sport is able to better organize its youth structure and offer higher entry-level salaries in MLS, not only will the league improve but the national team as well.
"If you guys get it right, I'm sure the United States will have a great future," he states.
So, considering the restraints of low salaries and a complicated youth system, how can MLS attract top athletes to its league?
In MLS's defense...
MLS Executive Vice President Todd Durbin believes the league has plenty to offer.
"While our first-year salaries aren't commensurate with the other sports, if you look at where our salaries are now, a lot of players are making substantial money," he says. "You can look at a career in our league and realize that if you are successful, you can have a long lucrative career."
To Durbin's credit, the league is beginning to value its young players. MLS has set up multiple youth academies, hoping to eventually solve the problem mentioned by Robinson and Meulensteen. As the young players are becoming professionals, a few of them are making good salaries.
FC Dallas' Brek Shea, a player who is coveted by teams all over Europe, is one of the league's young Designated Players. As a young DP, his salary counts less against the salary cap than an older player. Shea makes $354,000 annually. Yet, there is a high percentage of players who are making less than $100,000.
Durbin understands the desire of players and fans who would like to see the league improve dramatically. He insists that in order for MLS to become competitive with other American sports leagues as well as soccer leagues around the world, the league has to remain prudent. He expects that MLS will be a formidable league in the next two decades.
"If we continue to have the growth that we've had over the next 16 to 20 years, it's entirely realistic to stand shoulder to shoulder with the NFL," Durbin states.
MLS continues to fight against the failed history of the North American league that precedes it, the original NASL. The league was able to attract some of the world's top players including Pele, Franz Beckenbauer and Carlos Alberto at the New York Cosmos. But many teams overextended themselves financially and the moment Pele retired, its appeal was lost. While MLS has been able to attract David Beckham and Henry, its primary focus has been infrastructure and survival. However, Durbin doesn't believe that the league's restrictive nature is deterring away athletes.
Durbin argues that the biggest weakness that MLS has in attracting athletes and fans to the league is the lack of history that soccer has in America. Unlike in Europe, where some teams have been around for over 100 years, MLS debuted in 1996. The MLS executive believes that most aspiring athletes and sports fans envision themselves as the popular players in the currently established sports leagues.
"I think in the past, you were more exposed to football and basketball on television so that's where your heroes came from," Durbin says. "That's changed dramatically over the past five to seven years."
Henry agrees with Durbin in that respect.
"It's hard when you grew in a house where your dad is always talking to you about a team. Then you grow wanting to be that guy [on the team]," says Henry. "That's also what your competing against, you're competing against history."
Durbin expects that with the growing number of fans watching international games on television, the interest will eventually find its way to MLS.
Durbin also believes that MLS targets a different type of athlete than the ones found in the NFL or the NBA. He points to the fact that most soccer leagues around the world develop players as young as 12 years old. His reasoning is that it would likely prevent many young top soccer prospects from getting involved with other sports.
"Soccer is a type of sport where you need to develop a skill set at an early age. That's a big difference between basketball and football," Durbin explains.
Countering Durbin's point, there are several high-profile athletes who played organized or high school soccer at a young age before choosing to play other sports - Steve Nash (NBA), Morten Andersen (NFL), Kobe Bryant (NBA), Hakeem Olajuwon (NBA) to name a few. Even in soccer, former MLS star Taylor Twellman turned down a contract with the Kansas City Royals to remain in the sport. The age-old argument remains that if the salaries were higher, who knows who might have been playing soccer instead?
Henry doesn't expect MLS to remove its salary cap as he acknowledges the structure plays a part in almost all American sports expect for MLB. What Henry has hinted at is that the league might need to take some risks as opposed to its gradual plan. While the heightened interest might be around for Euro 2012 or World Cup 2014, will fans remain patient in, say, six to 10 years?
"Don Garber is the key and right now, he's doing a good job but how do you make the game progress? That's the most important thing," Henry says.
Thierry Henry spoke with Goal.com as part of PUMA's evoSpeed boot launch event in New York City.
Dasan Robinson has a soccer youth team, Kingdom Soccer Academy, that serves inner city kids in the Chicago area.

Follow ALEX LABIDOU on