SANDY, Utah -- A week ago, Real Salt Lake was sitting pretty. It was several points clear of the nearest Western Conference rival, and with seven of its next 10 at home, it was poised to shoot up the table and put the Supporter's Shield out of reach by the end of the summer.
But that's not what has happened.
Losing to the San Jose Earthquake 2-1 tonight, its second home loss to a conference rival this week, Salt Lake is now treading water while its foes continue to climb the table. Saturday night's loss saw San Jose leapfrog RSL for first place in the West.
"I don't know of a time I've felt as mad as I do right now," fumed head coach Jason Kreis after the match. "Soccer can be a very cruel game and tonight was another indication of that. How many chances did we create in their box? And they create a couple of chances and finish."
Real Salt Lake outshot the Earthquakes 19-12 and had two chances head off the line, two open-net opportunities broken up, and several other good chances fall by the wayside. Javier Morales' vintage goal off a free kick was the lone bright spot offensively for Real, and the rest of the team didn't show much better as there were costly mistakes from almost every position on the field.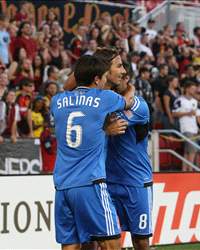 "The mistakes we're making all over the field . . . it's not going our way right now," said midfielder Will Johnson. "We're leaking goals from mistakes all over the field."
Salt Lake has now lost two straight MLS games at home - three straight across all competitions - for the first time since moving to Rio Tinto Stadium, a place that used to be so hard for visiting teams to win in that it has been unofficially nicknamed "The Fortress."
"Right now we're in a bad way, there's no doubt," said Kreis. "Losing two games at home? This doesn't happen to us."
RSL may find some reprieve next weekend as they play a rare road game against the Columbus Crew. RSL is having its best season ever on the road, so visiting the Crew may be just what it needs. But it will have to clean things up on both sides of the ball if it wants to pull out of the current nosedive.
"[We need to be] mentally tougher," said Johnson. "I think we're a little bit weak right now. We're not finishing our plays, we're not staying sharp and focused throughout the whole play. The goals we're giving up are really poor. If someone comes in here and beats us, fair enough. But for us to just give rivals points is unacceptable."
Follow JEREMY HORTON on