NEW YORK - Thierry Henry is disappointed that the San Antonio Spurs didn't make the NBA Finals but the New York Red Bulls star expects a classic matchup between the Miami Heat and Oklahoma Thunder.
"I'm gutted that San Antonio didn't go through. That's my team," Henry told Goal.com. "Other than that, I think the final is going to be a great one."
Henry has made no secret of his love of the sport of basketball as he is regularly seen at NBA matches in New York's Madison Square Garden and occasionally visits San Antonio's AT&T Center. He is friends with French compatriot NBA players Tony Parker, Boris Diaw and Ronny Turiaf. With Miami center Turiaf being the last man standing, Henry says that he hopes that the Heat will win.
"I'm happy for Ronny, the possibility of winning his first ring," Henry said. "He hasn't been playing much but I guess right now it's all about getting a ring."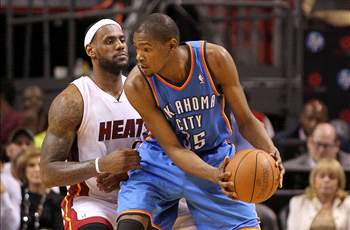 Kevin Durant going against LeBron James for the NBA title, it is a matchup that most basketball fans had dreamed about since the season started. While Henry wants the Heat to win, he admits that beating the Thunder is going to be very difficult. Watching the series against his beloved Spurs, he said that Oklahoma's trio of Durant, Russell Westbrook and James Harden put on a show that he hasn't seen in basketball in a very long time.
"It was great basketball. I'm a Spurs fan and even at the end of the game, I was like OKC, you can't knock them, they won that series outright," he said. "I didn't feel like San Antonio lost the series, but that OKC just won the series. There was no disputing their win."
Henry won't pick Oklahoma outright but it's clear where he is leaning.
"No I don't pick them [OKC]," Henry said. " Hey, anything can happen but I don't see OKC losing. That's my basketball side talking."
Stay tuned later for Goal.com's full exclusive with Henry, who touches on his future, Arsenal and much more

Follow ALEX LABIDOU on