Bruce Arena is a blunt man. So when asking him what his thoughts are on the Los Angeles Galaxy's start to the season, his answer is very Arena-esque.
"I don't think it's gone well. Is that a fair answer?" he responds in an exclusive interview with Goal.com.
Arena's assessment of the 2011 Major League Soccer Cup winners is accurate. Aside from losing defensive stalwart Omar Gonzalez to an injury during a loan spell at Nuremberg, the Galaxy retained their title-winning core and brought back former star forward Edson Buddle. Adding to an already strong roster had many during preseason predicting that Los Angeles would break the MLS record for points in a single season.
Things haven't gone exactly to plan.
The Galaxy currently sit in seventh place in the Western Conference, a far cry from last season when the team dominated MLS. Los Angeles has already matched its loss total from last season with five defeats in the opening 10 games of the 2012 season. Arena states that he and his coaching staff can't exactly pinpoint where the Galaxy's biggest weakness is this season but looks to one thing that he believes has been problematic.
"I think our team chemistry hasn't been good," Arena states. "I think we jumped into the season quickly, I think the re-entry of [Robbie] Keane and [Landon] Donovan at a late stage wasn't helpful."
Asked whether or not he regrets allowing Keane and Donovan to go on loan to Aston Villa and Everton, respectively, Arena speaks honestly.
"Yeah, I think given the fact that we had that competition, the Champions League, it probably was a mistake," Arena reflects.
Follow ALEX LABIDOU on

"But that's easy to say now. In the end, when you look at it, that could be a possibility. Let's face it, regardless of all of those issues, we haven't played as well as we were capable of. "
The Galaxy's defensive performances have dropped off dramatically since last season. While some have pointed to the loss of Gonzalez as an explanation, the backline overall has seen a dip in consistency. In 2011, Los Angeles' defense was best in MLS allowing only 28 goals. This season it has already conceded 15. After prying away the starting goalkeeping job from the Donovan Ricketts, who later went to the expansion Montreal Impact, Josh Saunders hasn't lived up to the expectations by making costly mistakes.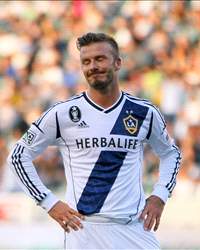 "We lost the best goalkeeper in the league in my opinion and a great center back," Arena says when talking about his defense.
One area where Arena is adamant that he doesn't have issues is with his star player David Beckham. The 60-year-old coach pulled the former Manchester United and Real Madrid star off in the 45th minute of a 3-1 loss to the New England Revolution over a month ago. Beckham was visibly frustrated about the move, but Arena insists the relationship between the two is fine.
"It wasn't a situation," Arena says. "There is no issue with any of that."
Moving forward, Arena is confident that he can turn things around.
He points to several results that he believes LA should have won and expects that with a few tweaks, dropped points can turn into victories. He also believes as the team continues to adjust, performances will get better. That might be difficult especially with Keane expected to leave shortly to join Ireland for the European Championships and Beckham following in his footsteps a month later for the 2012 Olympics. However, Arena expects others to pick up the slack.
Keane's striker partner Buddle has disappointed in his return to MLS so far. After having 19 goals for the Galaxy in 2010 before heading to Germany, the 30-year-old has only one goal this season. More appalling, is that Buddle is only shooting 18 percent of his shots on target.
"We think Edson can play better than he's shown in the early going. We're hopeful that he can start scoring some goals," says Arena.
If the Galaxy can get contribution from guys outside of their star trio as they did last season, Arena would be happy with the team grinding out results until the full roster is back together. He pointed to the recent success that the New York Red Bulls have had without some of its star players.
"We just have to start winning and getting results. No one cares about anything else but results," Arena stresses. "New York played a game against us that was certainly very negative and defensive but they did what they had to do to win. All the credit to them. No one worries about how New York played."