Oscar De La Hoya knows a bit about promoting an event. The 39-year-old businessman, former boxer and superstar has as keen an eye for promotion as he did for a ruthless jab in the ring. And right now, the Dynamo minority owner is going orange, promoting the Houston Dynamo's new home, BBVA Compass Stadium.
The Dynamo will play in their new digs for the first time Saturday, hosting D.C. United, following an eight-game road swing to begin the season. De La Hoya spoke with Goal.com in Spanish about the process of building the stadium and potential big-name signings in the near future. Read the English version of the conversation below.
Goal.com:
Can this new stadium opening up be compared to anything you achieved as an athlete?
Oscar De La Hoya:
"No, they're really different things. This is a very special occasion. I've never had the privilege to inaugurate a stadium and I'm thrilled. I'm ready for tomorrow, it's going to be a great game and I'm sure the fans are going to have an unforgettable experience at the stadium because they've wanted it for such a long time."
Goal.com:
Are you passionate about soccer?
De La Hoya:
"If I didn't become a boxer, I'd have been a soccer player. It's our passion as Latinos. I was raised in a Mexican family and when we traveled three or four times a month to Mexico, we would box and play soccer with our cousins. My dad was a boxer and so was my grandfather, so my career path was set in stone. But to me, soccer is a passion. It's a family game and one that the whole world shares."
Goal.com:
What's the best part about the new stadium?
De La Hoya:
"It's right in the center of downtown Houston, so it's accessible. It'll make it easy for families to enjoy the game. All the seats have a great view. If you're all the way up top and you paid for the cheapest seat, you still have an amazing view. That's where I'd like to sit, up top with all the families enjoying themselves and feeling that passion. The fans will be very close to the action no matter where he or she sits. It feels like you're on the pitch."
Goal.com:
How were Dynamo successful in building a stadium right in the middle of the city while other teams have to build theirs on the outskirts of town?
De La Hoya:
"It's not that the stadiums have to be on the outskirts, but we were persistent and we came up with more money out of our pockets as owners to have the stadium here. We didn't get any special help to build downtown. We wanted to make it easier on the fans so they would attend. That was our commitment. That's why we fought to build there. Other teams have their reasons to build elsewhere, but it was necessary for us to be close to the fans."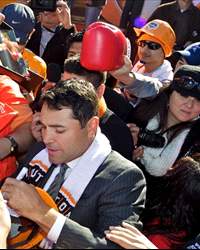 Goal.com:
Is MLS far from achieving the success of NFL, NBA or MLB in the United States?
De La Hoya:
"Soccer is growing in the United States. Little by little, more people are respecting the game and taking notice in MLS. We have a lot of young people playing. I'd say we're lagging about five to 10 years behind those leagues in popularity and quality of play. It's going to take us within five to 10 years for us to truly compare MLS to those other leagues."
Goal.com:
Would you consider MLS to be a safe investment for big-money people?
De La Hoya:
"I think this was the right choice. It was a good decision [for me] to come in. I did it because I believed in it, plus I respect the game and have passion for it. But yes, I would definitely recommend that any businessperson invest in MLS because you're already seeing the sport grow here. We have an average of 17,000 to 18,000 fans in the stands in every game. I'm sure that in Houston with the new stadium we'll be a great example for future investors."
Goal.com:
How involved were you in the stadium's construction?
De La Hoya:
"I visited the construction site about eight times. I live in Los Angeles and I was traveling a lot thanks to boxing, but I've been present and participating with the other partners like AEG in the decisions."
Goal.com:
Any plans for a Designated Player?
De La Hoya:
"To me, that's the most important thing right now. We have to make the right choice in bringing in a DP. I want him to be a Latino. But in general, he has to be able to help the team. There are a lot of young, strong players who can give you that spark and help the team. Houston is a great team and I would like a young, fast and strong striker to help complement that team and look for a title."
Goal.com:
Why aren't there more Latinos on the Dynamo roster?
De La Hoya:
"It's strange to have a city like Houston where 45 percent of the population is Latino and not have more of our guys on the team. We must make the right choices. I know that we have to cater to fans so that they feel represented, but we must also make sure we have a great team like we plan for the Dynamo to be."
Goal.com:
Would you ever consider representing footballers the way you do boxers?
De La Hoya:
"I'd analyze that. I've been learning more about the sport now. I grew up respecting the game with my family and since I became a Dynamo partner I've learned more. I want to make sure we have a strong team and one that all of Houston can support. I recognize there's a place for more players, especially that Latino striker. But, the idea is a great team first and foremost so we please our fans."
Goal.com:
Can Houston cap off the celebration with a title run?
De La Hoya:
"Yes, Dominic [Kinnear] is doing things his way. He knows what he's doing. I see a team that works really well together. We could be star-studded like say, the Galaxy, but they're not the team we are because we work as a team and that's why our DP has to fit the mold."
Goal.com:
Any more clues on a potential DP?
De La Hoya:
"I'm telling you, we'll make that decision in the near future. We're looking at some names. I want him to be a striker. I assure you he's going to impact the team in a positive way. And with my Latino influence, I know Houston fans and believe me when I tell you I'll do whatever I can to make them happy."
Follow JOHN E. ROJAS on