Journeyman Blas Perez is trying his hand at Major League Soccer this year. Goal.com talked to the Panama striker about his initial reactions to U.S. life.
Eight games into his MLS career, Blas Perez has collected three goals, three assists, a suspension and a series of influential attacking plays for FC Dallas.
The Panamanian is a key figure, which comes as no surprise. Most of his experiences are successful, perhaps because of how he approaches each challenge.
The 6-foot-1 striker has toured the Americas, North and South, finding goals wherever he went. Goal.com chatted with Perez after an FCD practice about his latest adventure. The 31-year-old answered questions with humor, clarity and kindness.
Read his responses below:
Goal.com:
How are you adapting to MLS?
Blas Perez:
"I'm adapting better every day, with more confidence and I'm very happy. I haven't had as many opportunities to score as I would like to, but I'm helping the team, giving my all and I'm excited to see things pan out for us."
Goal.com:
Is the league what you expected?
Perez:
"To be honest, I'm surprised at the level of play [for MLS]. To watch the league from the outside is easy. Matches look apparently simple, but they aren't. This is a physical league, a fast league and referees give the game fluidity, something you don't get in other leagues." Goal.com:
What are you still working to come to grips with?
Perez:
"Referees don't give calls easily here. That's hard for me because, as a striker, you're constantly being handled physically and you're accustomed to getting a certain rhythm with calls. But you have get used to it, just like you have to get used to everything else."
Goal.com:
Why have we yet to see the rampant FC Dallas we expected at the start of the season?
Perez:
"We've suffered some injuries. We hoped to have David [Ferreira] on a regular basis and he's not ready. Our plan is to win the conference. We've made some mistakes that have cost us matches, but I think we're getting better. The key is to win those games against teams from the West because they're our most direct rivals."
Goal.com:
Sometimes players from Hispanic countries fall off the national team radar in MLS. Have you felt that way or asked about it?
Perez:
"No one's touched on [getting lost in the shuffle]. Thankfully my work has yielded results and it's given me a spot in my national team. Panamanians are happy, the ones who are here [in MLS] are doing things right. I've always decided to go wherever I feel there's a challenge for me. I did it in Colombia, in Mexico, even in the Mexican second division. If I do well or poorly, it doesn't matter as long as I challenge myself. I've never wanted to feel comfortable. Here in the United States there are a lot of Panamanians and they're happy with me."
Goal.com:
With an eye on World Cup qualifying, does it help to face players from rival national teams on a regular basis?
Perez:
"There are several Hondurans in the league, and players from other parts of CONCACAF. Panama must always think about what we're doing as opposed to what others are doing, but if there's something I can feed the federation about players from other countries we're facing, I'll do it. The coaching staff for Panama does a great job. They look at a lot of videos and they're up to date with our rivals."
Goal.com:
What's the best attribute of FC Dallas' squad?
Perez:
"The best thing about this FC Dallas team is the sacrifice. Everyone runs and plays his best. There have been a lot of times where we've generated some good soccer. This is a healthy group, with youngsters and veterans. Overall it's a great group and those intangibles are really important."
Goal.com:
You said you're adjusting to referees whistling less in MLS. Isn't it ironic then that you were punished for a strong, but not malicious, challenge?
(Perez was suspended one match and fined for elbowing Vancouver Whitecaps fullback Jordan Harvey in the head.)
Perez:
"I take [my suspension] as an experience. I knew there was a group that reviewed tape after matches, but I think it's up to me to learn from this and correct whatever I did wrong, and not talk about refs or their decisions."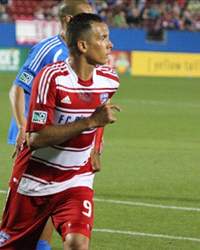 Goal.com:
Does it change the way you play, knowing the Disciplinary Committee will review the video later?
Perez:
"I'm not going to play differently. I always go hard for each loose ball. I'll always do that -- with no intention of hurting anyone, because that's never interested me. But be sure that I'll never stop going after the ball with everything I've got."
Goal.com:
What did you think of Gabriel Gomez's celebration? (The Philadelphia Union midfielder pulled down a Panamanian flag and kissed it repeatedly after scoring against the San Jose Earthquakes.)
Perez:
"It made me proud. Gabriel is like a brother to me, and I'm happy things are going well for him. There's not much to say about it: He took our flag, kissed it, and it made me proud."
Goal.com:
Why 'Super Raton'?
Perez:
"My nickname isn't Super Ratón [Mighty Mouse]. It's just Ratón [Mouse], but when I opened my Twitter account I tried Ratón, Ratón7 and Ratón9, which are my favorite numbers. They were taken, so I did Super Ratón instead."
Goal.com:
Where did the 'mouse' part come from?
Perez:
"In Colombia during a Copa Libertadores match someone gave me the nickname, just 'Ratón' Pérez and it stuck."
Goal.com:
What's the best part of MLS?
Perez:
"MLS takes care of its players. They respect us so much. They take care of us so we can perform."
Goal.com:
And the not-so-good?
Perez:
"The bad things [about MLS]? Well, maybe they cause too much controversy or make mistakes with the way they handle hard plays on the pitch, but what I need to do is adapt and not talk about it. Things like this happen in other leagues, too."
Goal.com:
If FC Dallas played in Mexico or Colombia, how would it fare?
Perez:
"It's hard to compare, because they are different leagues. Colombia's league is more technical, there's more space to play. Mexico is similar. It's less physical and very fast. So it's hard to compare, but surely we'd be in the top part of the table because I play for FC Dallas."
Follow JOHN E. ROJAS on