Philadelphia Union 1-0 Colubus Crew
A ball from the returning Freddy Adu that struck Eric Gehrig's hand as it came through the box set up a penalty goal from Gabriel Gómez to give the Philadelphia Union all the team would need in a 1-0 victory over the Columbus Crew.
The win was Philly's first of the season and the club can thank the play of goalkeeper Zac MacMath, who posted his second straight clean sheet on Saturday.
MacMath was called on in the 54th minute to stop Olman Vargas who seemed to be in perfect position for a strike at goal before the 'keeper threw himself in front of the shot to clear the danger.
The Crew's late push for an equalizer came up short and sent the team to its second straight loss.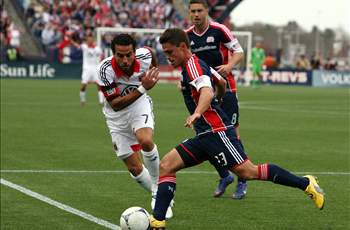 New England Revolution 1-2 D.C. United
D.C. United etched out an away win over Eastern Conference rivals the New England Revolution 2-1.
Second half substitute Chris Pontius proved to be the difference, as he scored the winner on a curling ball inside the Revolution box in the 82nd minute.
United had not won in New England's Gillette Stadium since 2007.
"I don't know when was the last time we won here. It has been a tough place to come," D.C. coach Ben Olsen said.
New England scored first first courtesy of a strike from forward Jose Moreno in the sixth minute. United quickly struck back in the 19th minute on a goal from forward Maicon Santos.
D.C. spread the ball out wide by using midfielders Danny Cruz and Nick DeLeon to its advantage. Both players cleared the congestion out of the middle of the field, which created space in front of the Revolution box throughout the game.
"I think they increased the field size today which I think helped us out a little bit. I didn't think it was a great day for either team, but the turf always makes it difficult," Olsen said. "For us to come back from an early goal on their part was a credit to our guys."
Despite the sloppy play from both teams, Olsen was impressed with the fight his team showed after conceding early.
"They hung in there and found a way to win. That is what we are looking for," he said. "Last year we would probably find a way to lose that game. I am seeing some signs of this team figuring out ways to be winners."
Olsen found he had a difficult decision to make on the starting roster ahead of the match with Pontius continuing his return from injury.
"He certainly made my life more difficult and that's what I am asking him to do," Olsen said.
Pontius has found his new position off the bench difficult to swallow, but realizes his match fitness needs to improve.
"It's been tough for me coming off the bench. Ideally I want to start. I think every player wants to start every game, but you got to realize sometimes where you are with your body," Pontius said. "I'm still finding my touch and getting fitness. Being a sub has forced me to work harder to get back into it."
D.C. United was without the services of midfielder Marcelo Saragosa, as his father passed away two days ago. The team dedicated its performance to the Brazilian.
"It's been an emotional two days. I think the guys have rallied behind that and wanted to get Marcelo a win," Olsen said. "All of our thoughts right now are with Marcelo and his family. He came back and his father was doing better and then took a turn for the worst."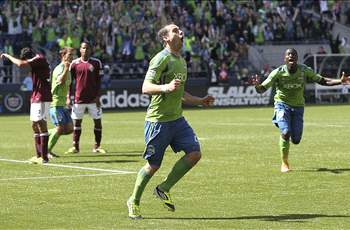 Seattle Sounders FC 1-0 Colorado Rapids
Zach Scott's 63rd minute header, his first career goal, gave the Seattle Sounders a 1-0 win over the Colorado Rapids.
Scott's goal came from a corner delivered by Alex Caskey, and the brilliant glancing header gave Matt Pickens no chance in the Colorado net.
Fredy Montero had a lovely chance to double the lead late on with a well struck chip that Pickens did very well to knock over the bar.
Despite Seattle not finding the second goal the result never looked in doubt.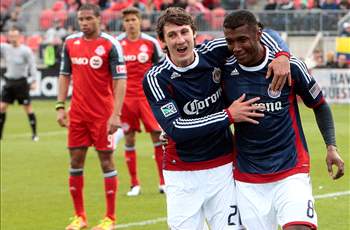 Toronto FC 0-1 Chivas USA
Toronto FC can't buy a win.
For the fifth time in five games to open the MLS season, Toronto came up short, as it dropped a 1-0 decision to visiting Chivas USA at BMO Field on Saturday.
Oswaldo Minda's header off a corner kick in the first half led Chivas USA to the club's third road win this season. It was Minda's first MLS goal.
Toronto, which made it to the semifinal of CONCACAF Champions League this year, has been desperately seeking success in MLS. TFC manager Aron Winter went with an attacking formation against Chivas USA, but his team walked away scoreless for the third time this MLS season.
The Reds, however, did have their chances early in the first half, but it would be Chivas to strike first. In the 31st minute, Minda headed in a corner delivered by Miller Bolanos.
Toronto has been outscored 10-2 this season with a matchup against Chicago Fire next week. Winter will hope that the return of Torsten Frings can jumpstart the team.
Chivas, which evened its record at 3-3, will return home to face the Philadelphia Union.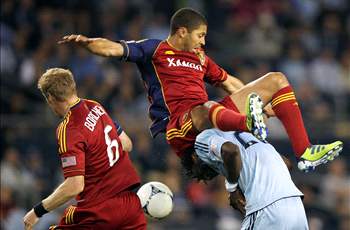 Sporting Kansas City 1-0 Real Salt Lake
It took Sporting Kansas City nine corners to get one right, but when it did Aurélien Collin headed home the only goal of the match 63 minutes in to give Sporting a 1-0 win over Real Salt Lake.
The match between two of the best clubs in MLS was not without drama prior to the goal. C.J. Sapong looked to have given his team a lead with a looping header just before the break, but he was judged to have pushed off a defender and the goal was waved off.
Shortly after the break Sapong had another chance to put his team in front, getting a foot to a passed set piece and curling it just the wrong side of the post.
Collin scored his second goal of the year off a towering header from Graham Zusi's corner, and Sporting managed to hold on for the win despite a push from Salt lake to find an equalizer.
In the second half, RSL put a shot on frame to end Sporting KC's MLS-record streak at 335 minutes without allowing a shot on goal. Sporting is the second team to win the first six games of a season; the 1996 LA Galaxy is the other.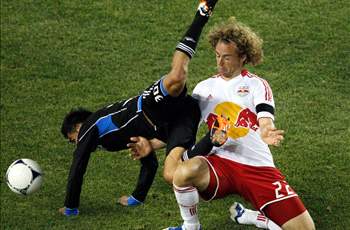 New York Red Bulls 2-2 San Jose Earthquakes
The San Jose Earthquakes earned a road point against the New York Red Bulls, but it came at the cost of several injured bodies.
The game started with a bang. From a throw, Thierry Henry slipped a ball through the San Jose defense. All Kenny Cooper had to do was pass the ball into the back of the net to tie Henry with seven goals in the nascent 2012 season.
San Jose's response was immediate. Rafael Baca won the ball in midfield and then buzzed forward. Neat interplay between Chris Wondolowski and Khari Stephenson left Baca with an open finish in the box.
A quarter-hour into the match and fans had already seen two goals. The pace didn't slow. Dane Richards nipped the ball from Shea Salinas in midfield and then sprinted toward the corner. His cross from the endline was helped on by a tap from Cooper, and Dax McCarty slammed home a volley from the top of the box.
Yet again, the Earthquakes responded immediately. Salinas somehow kept a Steven Beitashour cross in play and Wondolowski dove to head the loose ball in. The goal moved Wondo up to seven for the season as well.
Salinas played a valiant part of the equalizer, but he contributed little else to the match. Shortly after, Rafael Marquez wrestled him to the ground while defending a set piece and then kicked his prone opponent, breaking Salinas' collarbone. Marquez also managed to injure Victor Bernardez before halftime. Both hurt players made way at the interval.
There were no more goals, but plenty of aggression, left in the match. Marvin Chavez hacked down Roy Miller from behind, injuring the New York fullback. Later, San Jose captain Ramiro Corrales left injured as well, meaning Frank Yallop's three substitutions were all forced.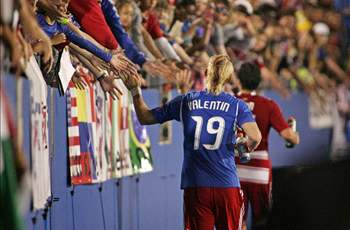 FC Dallas 2-1 Montreal Impact
Two late goals allowed FC Dallas to come from behind and beat the Montreal Impact 2-1 in FC Dallas Stadium.
The first half brought more yellow cards than scoring opportunities, as neither offense was able to muster up much of a threat. The second half brought forward just as much physical activity, but much more action.
Part of the reason was that Dallas had to adjust to missing two starters, after Andrew Jacobson and Herman Pertuz went down to injury at halftime.
"Those injuries got us back to a 4-1-4-1 formation," FC Dallas coach Schellas Hyndman daid. "We controlled the midfield better with that move, as Montreal really controlled the midfield early."
The Impact broke the game open in the 61st minute. Dallas defender George John was called for a foul in the penalty area. Montreal forward Bernardo Corradi calmly converted the penalty kick, putting the visiting Impact up.
FC Dallas evened it up as Panamanian forward Blas Perez headed in the equalizer off the Daniel Hernandez free kick. Shortly after, in the 88th minute, Brek Shea knocked in his first goal of the season to clinch the win for the Hoops.
"These guys really wanted to push hard after tying the game 1-1," Hyndman added. "Brek has been working very hard in training, and it was great to see him with that energy and that kind of run to score the winner."
The win gives Dallas their first winning streak this season. The Hoops now move into the top half of the Western Conference, moving into a tie with Seattle for third place with 10 points. They will begin a streak of five straight Western Conference opponents starting next Saturday, when they travel to Vancouver to take on the Whitecaps.
The loss keeps Montreal in a tie for fifth place in the Eastern Conference. It will travel to Washington to take on D.C. United on Wednesday.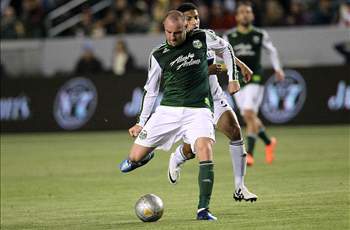 LA Galaxy 3-1 Portland Timbers
For seemingly the first time in several months, a grin broke out on Juninho's face.
The Galaxy midfielder had just held off Portland Timbers forward Darlington Nagbe, turned and lashed a trademark long-range shot past goalkeeper Troy Perkins from outside the penalty box. It was an outrageous goal and also a timely one, as it broke a tense 1-1 deadlock against visiting Portland and pushed the Galaxy to a comfortable 3-1 win.
After serving as a human pogo stick for his celebrating teammates, the slender Brazilian even showcased a few of the samba moves redolent of his country.
But there has been little joy for Juninho this year, nor for the Galaxy, and one suspects the two might be related. After a fantastic campaign last season in which the Brazilian's defensive steel and uncommon range melded perfectly in midfield with David Beckham's aging brilliance, 2012 has not been so kind.
First, Juninho signed a new deal with parent club Sao Paolo in the offseason, hoping to fulfill a lifelong dream and break into the first team of his boyhood club. But in more than a month of training he never saw first-team action, and it became clear Juninho was surplus to requirements, at least under Sao Paolo's current manager. So he returned to LA for a third season on loan in a deal that was seen as a coup for the Galaxy, who were resigned to losing the All-Star.
But as preseason rolled around in March, there were signs the 23-year-old was not quite over the ordeal in his homeland.
"I loved being here and winning a championship," he told
ESPN
in February. "But I've always had the dream to try to play for São Paulo. It was an opportunity for me."
Juninho started the team's first game of the season in Toronto for the first leg of the Galaxy's CONCACF Champions League tie against Toronto FC, but looked badly off pace and out of shape as the Galaxy ultimately went crashing out of the competition. He was also uncharacteristically anonymous in the team's five subsequent games, four of them losses.
Teammates attributed at least part of the slow start to the disappointment for what happened in Sao Paolo.
"You have to think from his standpoint," Galaxy captain Landon Donovan said. "It's a dream for him to play for that team. And of course that would be disappointing for anybody, especially a young player."
Galaxy coach Bruce Arena was terse in his assessment Saturday of his young midfielder, refusing to bite on any sentimental suggestions that the offseason rejection in Brazil was affecting his psyche. Instead he blamed the slow start on fitness, referencing an injury he picked up in Australia on the Galaxy's postseason world tour.
"He came in and he was behind and we knew we had to invest some time in him and move him forward as best we can," Arena said with more than a hint of frustration. "Obviously it's taken a while . . . He still has a long way to go."
But Donovan commended the Brazilian for his goal to beat Portland, and suggested it could be a turning point to forget about the experience in Sao Paolo.
"Now that [situation in Sao Paolo is] over with and we need him to be one of our most important players like he has been," Donovan said.