FOXBOROUGH, Mass. – The template used to produce results in the first two matches provided Portland with a warning sign ahead of a seemingly straightforward trip to New England.
A pair of rousing finishes pushed the proclivity to start slowly a bit further down the marquee. The trend, however, did not go unnoticed in certain quarters despite the positive outcomes.
"For me, we've started the first two games with pretty average first halves," Portland coach John Spencer said. "We played 90 minutes of decent football – the second half against Dallas and the second half against Philly – and took four points. You can't go a goal down every week and expect to win games."
It is, of course, easier for Spencer to drive home his point in the wake of a galling 1-0 defeat to a Revolution side operating without its primary conduit (the injured Benny Feilhaber) or a pair of available central defenders (though Shalrie Joseph certainly played the part well on Saturday).
One series of jarring letdowns inside the first 30 seconds decided the game. Maybe the whistle didn't blow loudly enough or maybe the Timbers simply failed to heed Spencer's admonitions during the week or prior to the match, but another indifferent opening period prompted the only goal of the match.
Revolution left back Chris Tierney found himself in acres of space as he pushed into an advanced area on the left flank. Tierney used the ample cushion afforded to him to whip an enticing ball into the penalty area. Saër Sène rounded off the move by gliding through a static defense to drive his header off the cross bar and over the goal line for the home side's first goal of the campaign.
On another day, Portland would have easily retrieved a point or three for a third consecutive outing. The balance and the tempo of play favored the visitors. More than a few Timbers opportunities (and a Revolution foray or two, by the bye) passed without a tangible end result. Revolution goalkeeper Matt Reis handled the ones that did. Kris Boyd's frustrating day – three headed opportunities inside 12 yards, none on frame – summed up this futile cross-country voyage all too neatly.
"That's what happens at the top level," Spencer said. "If you give up half a chance, then people score goals. We had the opportunities to win the game 3- or 4-1, though I don't think we deserved to win the game. I thought we were very poor from the first whistle to the last."
A third instance in this still-developing pattern cost Spencer and his charges three cherished road points. This juncture of the season isn't the time to overreact, but the emergence of this unsettling theme prompted some introspection within a side boasting the ambition and the talent to challenge for a playoff berth in the Western Conference.
"For us, we need to take it back to trying to keep clean sheets and starting the game better," Spencer said. "That's it in a nutshell. If you start the game better, you play at your own tempo and the game suits us. If you come out and you're sloppy, you're lazy and you don't close the ball down, you're going to get punished. That's what happened [against New England]."
After this particular defeat, the message may finally take hold. Experiences tend to make more of an impact than entreaties, after all. With this example fresh in their minds, the Timbers now know they must shrug off this defeat and eliminate the problem at hand before Real Salt Lake visits on Saturday.
"For whatever reason, it's been a theme this year," Portland captain Jack Jewsbury said. "It's happened. We have to fix it and we have to fix it quick."
Five Points – Week 3
1. Colin Clark likely to face significant disciplinary action for homophobic epithet directed at ball boy: The Houston midfielder found his alliterative, two-word slur broadcast to viewers across the the nation in the seventh minute of the Dynamo's 2-0 defeat at Seattle on Friday night. Clark posted an apology for his remarks on Twitter a few hours after the match. MLS issued a statement on Saturday to announce it would gather facts on the situation and weigh potential disciplinary action against Clark.
Those deliberations will almost certainly conclude with some form of punishment designed to show MLS took the divisive insult seriously. At this point, it is now a matter of discerning the severity of the forthcoming punishment.
While there is no known MLS precedent in this narrow area, the NBA has dealt with two instances of players using similar language towards non-players in the past year. Kobe Bryant paid $100,000 for directing similarly vile language toward a referee in April 2011, while Joakim Noah received a $50,000 fine for his volley toward a fan in May 2011. It is worth noting that those apparently significant fines constituted .4 percent of Bryant's $24,806,250 salary and 1.6 percent of Noah's wage packet of $3,128,536 during the 2010-11 season, according to a database of salary figures compiled by USA Today.
Clark can expect to fork over at least a similar proportion of his salary ($98,713 in guaranteed compensation in 2011, per MLS Players Union documents) for his outburst. If the Noah precedent holds, the final figure would end up between $1,500 and $2,000, depending on the round number selected by MLS.
His issue – and the league's problem, for that matter – remains one of perception. A hefty levy by MLS standards (for instance: Brian Mullan received a $5,000 penalty as part of the discipline meted out for the tackle that broke Steve Zakuani's leg last year) would likely appear insignificant from a public relations perspective in this case.
In situations when MLS faces intense public scrutiny of its disciplinary procedures (Mullan, for example), it tends to issue draconian rulings to take advantage of a teachable moment. The location of the incident (Seattle, the league's most intense market in a lot of ways), the national television audience and the widespread publication of the incident (including an extended spell on ESPN.com's front page during the weekend) further amplify and inflame the severity of an already ill-advised – if all too commonplace in the sports world – use of language.
With all of those factors – plus the added backdrop of social media incident involving a pair of Vancouver players and the offhand use of a homophobic insult earlier this year – in play, Clark could find himself heavily fined (e.g., perhaps a greater proportional sum than the ratio suggested by past precedent in those NBA cases) and suspended for a match or two for his words. No punishment will make every party happy in this particularly delicate case, but MLS will likely take some sort of stern stand in order to set an example for future behavior.
One further point on the timeline: it may take a few days before any discipline is issued. MLS will want to complete the appeals process (if invoked by Clark and the MLSPU here) before announcing its ruling in the matter, while Houston does not play next weekend.
2. What will Joey Saputo have in store for Mark Geiger when and if he takes the field in Montréal later this year?: The Montréal investor/operator instituted restrictions that prompted a reporter to leave Impact practice on Thursday, according to the Canadian Press. Impact officials initially told Jeremy Filosa (98.5 FM Sports/Montréal) he would have no access to coaches or players at all after he recently reported that the work on Stade Saputo would not be completed in time for the scheduled June 16 opener. Saputo told the Canadian Press that Filosa should have only been prohibited from asking questions of players and technical staffers.
In light of that particularly aggressive response to a published report, Saputo may have to measure his actions more carefully when Geiger receives his inevitable assignment in Québec later this year. The veteran referee rendered two borderline decisions in Columbus' favor during the first half of the Impact's 2-0 defeat at Columbus: he sent off Jeb Brovsky for an errant elbow to Milovan Mirosevic's head and whistled for a penalty kick when Felipe Martins bundled over Emilio Renteria. Those two decisions – and their overall effect on a fairly even match up until that point – may prompt a chilly response when and if Geiger finally makes that trip north if the response to Filosa's article provides any sort of reliable indicator.
3. Some nights just don't yield the expected results: Real Salt Lake did everything it could do to garner its expected win against Chivas USA. Jason Kreis' side created plenty of chances in front of goal and knocked the ball around well enough to win the game. Alas, the result did not track with the advantages in those departments. While Fabián Espindola and Álvaro Saborío conspired to squander promising positions and Dan Kennedy produced his usual heroics, the Red-and-White snatched an unexpected 1-0 victory when Casey Townsend caused some chaos on a cross and poked home when Nick Rimando couldn't handle the service under pressure.
Most managers would fume under these sorts of circumstances –a night of points dropped at home against unheralded opposition ranks high on the frustration meter, after all – but Kreis harped on the aesthetic qualities of the showing of instead of lamenting the final result.
"I think we had a great crowd tonight and I wanted to reward them and make it a special night," Kreis said. "I was hoping to have the result go our way. Not talking about the result, though, I am pretty pleased with the performance again. We created a ton of chances. We had the majority of the possession. We were the more attacking-minded team. We were the more dangerous team. On a different night, we win that game by multiple goals."
Another odd subtext to a peculiar result: the defeat drops RSL's record in home sell-outs at Rio Tinto Stadium to 5-4-4 in all competitions, according to the club's communications staff.
4. Critical errors pave the way for easy New York victory: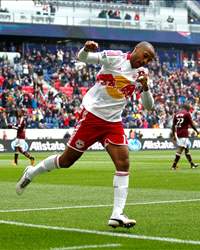 Colorado knew it probably didn't possess much margin for error with lynchpins Jeff Larentowicz (suspension) and Pablo Mastroeni (concussion-related symptoms) unavailable for this date at Red Bull Arena. Instead of keeping things tight at the start to find their footing, the Rapids gave away two goals inside of six minutes. Ross LaBaeux played a dreadful back pass straight into Thierry Henry's feet for the opener, while Jaime Castrillón needlessly conceded possession inside his own half to start the move for Kenny Cooper's well-taken finish.
At that juncture of the contest, the match turned into a fairly academic exercise and the focus shifted to the fallout. Colorado will regroup when Larentowicz and Mastroeni return and presumably display some of the more coherent and engaging fare it used to produce two victories in its first two matches. New York will use this game as fuel to push forward after two season-opening defeats, but Hans Backe will struggle to make too many conclusions about the state of his team based on this particular affair.
5. A worthy winner in this or any other match: Sporting Kansas City sealed its third win on the trot with three minutes to play in its 2-1 victory over FC Dallas on Sunday night. Some goals merit descriptions, but the exquisite combination play in the buildup to Kei Kamara's sliding matchwinner is well worth taking a look at.
Kyle McCarthy writes the Monday MLS Breakdown and frequently writes opinion pieces during the week for Goal.com. He also covers the New England Revolution for the Boston Herald and MLSsoccer.com. Contact him with your questions or comments at kyle.mccarthy@goal.com and follow him on Twitter by clicking here.