FOXBOROUGH, Mass. -- It took Jay Heaps three tries to win his first game as an MLS coach. It took forward Saer Sene just 28 seconds to score en route to that win.
With a depleted defensive core, Heaps was forced to move some players to unfamiliar roles in the 1-0 win over the Portland Timbers at Gillette Stadium Saturday afternoon. Midfielder Shalrie Joesph played in central defense to start the match.
Despite the unfamiliar position, Joseph helped contain Kris Boyd and the Timbers for the duration of the game.
"He played unbelievable," Heaps said. "Shalrie had to be reactive and be the captain that he is. And I tell you right now, he was spot on all night. I don't think he took a bad spot and he was able to lead us from there."
Midfielder Chris Tierney was also placed on the back four to start the game, but helped push up the outside flank and assisted the Sene goal.
"It was tough, but towards the end of the game we knew that they were throwing everything they had at us," Tierney said. "A win is a win and we are happy to get that first one behind us."
Tierney spoke about the difficulty Portland caused defensively. "We didn't have all that much time on the ball to start the game with," Tierney said. "They wanted to make it tough for us to play and get balls in the box."
Ryan Guy was also sprung into a defensive role in the 70th minute, as right back Kevin Alston had to leave the game with a broken nose.
"We have been playing for a long time and a lot of us have been asked to play in different positions," Guy said. "It is something we are absolutely delighted to do for the team. When you get a win it doesn't matter where we are playing."
Guy was active in both his midfield and defensive roles throughout the game. He felt holding the lead was a challenge against a team like the Timbers.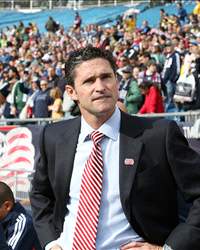 "Today was a must-win and we did that," Guy said. "I think it is very difficult to start off a game scoring in the first minute and holding on for then 88 minutes."
Heaps praised that dedication and concentration.
"Personally, [the win] is gratifying," Heaps said. "It's more seeing the look on the guys' faces. We've worked hard to get here. We go on the road the first two games and we had some confidence but we got clipped pretty quickly."
While the game was the first win for the Revolution under Heaps, it was also a first win under new club president Brian Bilello.
"I am just really excited for Jay and I am really excited for the team. Especially coming off of last game when we were pretty hard done," Billeio said. "To get the win for the fans is just really exciting."
Follow JUSTIN CHURCHILL on