If the first five years of Toronto FC's star-crossed existence have told us anything, it is that the Reds tend to find periods of hope and prosperity all too fleeting.
The current state of the club certainly adheres to that governing principle. In the span of a few days, TFC obtained its biggest result in club history – a 2-1 victory at Los Angeles to seal a place in the CONCACAF Champions League semifinals – and then watched as lynchpin Torsten Frings trudged off the field with a hamstring complaint in a 3-1 defeat at Seattle.
Frings is expected to miss four to six weeks with a right hamstring strain, the club announced on Tuesday. His absence dashes the already remote chances of toppling Santos Laguna in the Champions League semifinals and places TFC's short-term MLS prospects under severe threat.
No single TFC player can provide cover for the role Frings fills on a regular basis. The 35-year-old midfielder nominally takes up one of the two holding midfield roles in Aron Winter's 4-3-3 setup, but he actually serves a sweeper of sorts. He drops in as the central fixture of a three-man defense when the fullbacks move forward and provide width in possession and often remains there to comprise a five-man rearguard when opposing teams pile on the pressure. Essentially, he operates as a firefighter, the most defiant figure in a side short on defensive acumen and shape.
Opta's clever heat map imagery – a method of capturing where a player patrols during a match for use in MLSsoccer.com's match coverage – provides the best visual representation of the spots Frings picks up in his roving role. This snapshot from the second leg victory at Los Angeles shows the influence Frings exerts inside his own half for TFC: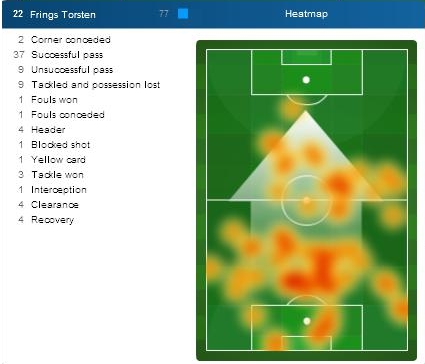 Frings' absence will force several players to raise their games to replicate his overall effect on matches. Terry Dunfield may pick up much of the slack by physically replacing Frings, but he will share the increased distribution duties with Julian de Guzman. Both players appear capable of drawing starter's minutes at the MLS level, but neither player – not even the highly touted and often underwhelming de Guzman – has displayed the ability to offer much more than a solid shift to the side.
While there are questions about whether those two midfield players can cope with the additional burden, there are more pressing lines of inquiry about the state of the defense. Central defenders Miguel Aceval and Ty Harden have looked somewhat unreliable even with Frings around to clean up their messes and sort out their positional mistakes. Adrian Cann's return to fitness after knee surgery could help matters, but he isn't likely to step in straight away and he won't solve all of the problems by himself.
Simply put, the Reds may have to temper their attacking ambitions a bit to ensure their tattered rearguard isn't regularly exposed. The Frings-inspired hybrid system should disappear for the moment because it doesn't fit the available personnel. The back four will have to look more like a back four and less like a back three to stand any chance of survival. Fullbacks Richard Eckersley and Ashtone Morgan supply much of the width through midfield, but they may have to attend to their defensive duties more frequently and eschew those persistent runs up the touchline. Most importantly, the attack must increase its own production (even if the fullbacks push forward more conservatively) to ensure TFC can pick up points even when the defense falters.
If there is a saving grace, then it arrives with one look at the fixture list. Both legs against Santos Laguna represent essentially hopeless affairs at this juncture (and should Winter treat them that way during his lineup selection?), but there is room for optimism in domestic play. Four of the next five league matches take place at BMO Field and the list of visitors (San Jose, Columbus, Chivas USA and Chicago) isn't exactly a Murderers' Row. The remaining match is a tricky trip to Montréal for a first MLS date with the Impact. If Frings' absence lingers until the end of April, then he'd miss a likely loss at Real Salt Lake. The entire stretch at least offers the prospect of collecting several points at BMO Field even without Frings, but his absence will make the task considerably harder to complete.
TFC can look at Frings' injury and see the potential for missed opportunities. Instead of consolidating their continental success with a fine run during a favorable stretch in league play, TFC must now try to muddle through without Frings and seek to reclaim those inevitably dropped points against more formidable foes further down the line. It is, on the whole, a series of circumstances all too familiar for a club that just can't seem to find a way to extract itself from the string of ill-timed occurrences that has hampered its existence to date.
Follow KYLE MCCARTHY on

or shoot him an email.