KANSAS CITY, Kan. – The particular circumstances of this match didn't provide much cause for worry, but the final five minutes of the first half inspired Sporting Kansas City manager Peter Vermes to spend quite a bit of time patrolling his technical area and pointing to his head anyways.
For this young and hopeful group, every game represents another opportunity to advance further along the path toward their ultimate goals. And if it takes a couple of taps to his head to drive home the importance of managing situations to his players, then Vermes isn't adverse to doing it.
"A big thing that we talk about is that the first five minutes of each half and the last five minutes of every half and being intelligent (enough) to know what's going on," Vermes said after Sporting's 3-0 victory over New England on Saturday night. "If we get in at 2-0, we're in a good position. We always want to get in even or ahead at halftime. Our big sell there was that we go into the second half and now it's a new game."
Sporting's journey to the top of the Eastern Conference last season hit a few potholes along the way. A long road trip to start the season left the team scrambling to catch up in its home matches, while a tendency to allow results to slip away in the late stages robbed it of points it should have secured well before that critical juncture.
Reminders of those issues popped up from time to time on Saturday night. There were too many Revolution forays forward after Stephen McCarthy's dismissal 14 minutes in (one nearly led to a Clyde Simms equalizer moments before Kei Kamara's killer second), too many decisions to push the game when a foot on the ball would do just fine. The result never appeared in any doubt, but the first-half execution left something to be desired.
"To be honest with you, we were a little disappointed coming in at the half," Sporting left back Seth Sinovic said. "We did have a 2-0 lead, but, at the same time, we feel like we gave New England a couple of chances that we shouldn't have. We were a little disappointed at that and we wanted a quick start to the second half. We obviously did that."
It took just two minutes for C.J. Sapong to stamp out any lingering uncertainty with the third goal. That sort of ruthlessness, that ability to secure the points well before full time takes a few harsh lessons and some time to develop. The learning curve along the way appears less steep this season for a group of twentysomethings with just two regular starters (Júlio César and Jimmy Nielsen) over the age of 30.
"We gained a lot of experience last year," Vermes said. "I don't have to talk about it as much any more because they've been through that aspect. What it is now is working and tightening down the finer details. That's really what it is for me."
Last year provided much of foundational material for this year's course, designed to apply a bit of finish to the gleaming raw product. Talent isn't an issue here – the defense keeps it tight and offers support out wide through the fullbacks, Graham Zusi pulls the strings in midfield and a quartet of capable forwards poses all sorts of problems by pressing high and piling on pressure in that 4-3-3 setup – but mentality remains the most prominent hurdle between this talented club and an unassailable place among the league's elite.
The inclusion of so many vibrant characters in one squad makes this side what it is and poses problems when adversity strikes. Too often last season, one mistake would turn into two or three and one bad call would throw several players off of their stride. That sort of snowball effect leads to dangerous consequences against cagey, seasoned sides like Houston (lesson one: Eastern Conference final, 2011), Los Angeles and Real Salt Lake without serious consequences.
"We know we need to be mentally strong," Vermes said. "We know that we have to have more consistency in the way we execute on a regular basis. To do that, you have to play every role well. I think that's the expectation and the standard we're trying to get to in every game."
Even in the best of results, those expectations aren't completely satisfied. There will be more moments this season when Vermes will point to his head and tell his players to tame their inhibitions. It's what he needs to do to push this group toward its championship ambitions.
"I thought all in all, it was good," Vermes said. "Obviously, the crowd was fantastic and the environment was great. All in all, it was very good. But, you know, it's like all of us. We're striving for perfection. We're constantly working on it."
Five Points – Week 2
1. In the Western vs. Eastern Conference battle, a familiar victor emerges: The status quo of Western superiority remains intact at this early stage. Eastern sides played Western sides 11 times during the first two weeks of the campaign. In those matches, the Western clubs emerged with nine victories and two defeats.
Other conference-related tidbits worth noting: Houston has feasted on a pair of projected Western lesser lights (Chivas USA and San Jose) for the two Eastern victories. … Eastern clubs would undoubtedly point to the 10 road contests included in that total and the absence of Sporting Kansas City from the list as mitigating factors. … Colorado won the only road excursion made by a Western side when it knocked off Philadelphia 2-1 on Sunday.

2. Portland coach John Spencer displays his versatility yet again: The affable Scot's star turn in an Alaska Airlines commercial last season provided a glimpse into the type of character he can offer off the field and on the small screen. His enthusiastic call on Darlington Nagbe's equalizer in Saturday's 1-1 draw at FC Dallas showed he may just earn the chance to hop behind the microphone when he decides he's done with this whole managing bit for good.

3. Banner week for Canadian clubs: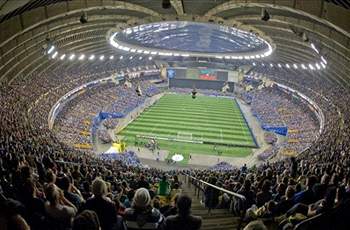 Sides located north of the border have often found it difficult sledding in MLS play, but this week offered a respite from those persistent concerns and instilled hope for a brighter future.
The positive trend started when Toronto FC – one of the league's worst road clubs and a group notoriously averse to picking up results on the western coast of North America – stormed into the Home Depot Center and booked a place in the CONCACAF Champions League semifinals with a 2-1 victory over heavily-favored Los Angeles. The run of good fortune continued on Saturday afternoon as Montréal packed nearly 60,000 Impact supporters into the Olympic Stadium for its 1-1 draw with Chicago and came within inches of snagging all three points when Josh Gardner rattled the far post in stoppage time. To cap it all off, Vancouver registered its first MLS road victory in its 18th attempt with an ugly 1-0 victory over Chivas USA in the middle of a deluge at the Home Depot Center.

4. Compare and contrast – Denying a goalscoring opportunity: Two fairly similar incidents yielded two considerably different forms of treatment in matches this weekend.
Incident one: New England defender Stephen McCarthy halts C.J. Sapong's progress toward a breakaway by tugging on his shirt at the right edge of the penalty area. Referee Silviu Petrescu dismisses McCarthy after 14 minutes despite vociferous Revolution protests. Sporting Kansas City proceeds to a straightforward 3-0 home victory at LIVESTRONG Sporting Park.

Incident two: Colorado defender Drew Moor appears to make no contact with the ball as he clips down a surging Danny Mwanga on the right edge of the penalty area in the first minute of the match. Referee Mark Geiger waves play onwards despite the howls from the Union. Philadelphia ultimately falls to 10-man Colorado 2-1 at PPL Park.

The final outcome in both cases would spur some debate. Should yellow be shown to preserve the match at such an early stage? Is a red card warranted anyways? Reasonable minds will (and certainly do) disagree on those salient points. One common threat should unify the discourse: referees need to reach an accord and figure out a way to treat similar incidents in a similar manner. The outcome of a particular match with a familiar incident as its turning point shouldn't come down to the man blowing the whistle on the day.
(Note: Speaking of common ground between referees and the implementation of MLS initiatives, how does David Beckham's nasty tackle on Marcelo Saragosa in the first half of Los Angeles' 3-1 victory over D.C. United escape a canary-colored, tangible rebuke from Baldomero Toledo? As this space has mentioned time and again, the effectiveness of league decrees rests upon the ability of officials to enforce them consistently. Based on the early evidence, it seems like MLS will have to once again rely on its disciplinary committee – with its expanded powers for 2012 and its spotty history of reliable enforcement in the rear view mirror – to clean up a few of the messes and enact some measure of consistency from match to match.)

5. Selection posers once again create intrigue on Sunday: Three of the four managers on Sunday raised some eyebrows with their team selections for crunch clashes.
Philadelphia boss Peter Nowak omitted club captain Danny Califf from his side to face Colorado. Nowak told reporters after the match that Califf needed a break after a previously undisclosed knee surgery during the offseason, but Califf said he didn't know why he settled for a place on the bench against the Rapids after starting in the 3-1 defeat against Portland, according to philly.com. The drastic move didn't pay dividends for a Union defensive group previously exposed in Oregon and raised questions about why such a radical switch occurred so early in the season.
D.C. United boss Ben Olsen grappled with similar problems with his team sheet for the 3-1 defeat at Los Angeles. After a disjointed and ineffective showing in a 1-0 home defeat to Sporting Kansas City last weekend, Olsen dropped Branko Boskovic and Hamdi Salihi to the bench and inserted Chris Korb for Daniel Woolard at left back for the visit to Los Angeles. The alterations didn't improve the situation (rookie Nick DeLeon scored off the bench after the game was well hand, while the defense still looked out of sorts) and halted the previously touted process of coordinating those talented attacking players on the same page. Andy Najar's departure for Olympic qualifying duties with Honduras will force further changes for the trip to Vancouver next Saturday.
It isn't all bad news as Los Angeles coach Bruce Arena found himself finally vindicated by his refusal to engage in wholesale squad rotation. Arena kept the faith with most of his first-choice XI and reaped the benefits. Robbie Keane brushed aside his reported drop in confidence by scoring twice as the Galaxy provided good value for the three points and stopped their season-opening skid.
Kyle McCarthy writes the Monday MLS Breakdown and frequently writes opinion pieces during the week for Goal.com. He also covers the New England Revolution for the Boston Herald and MLSsoccer.com. Contact him with your questions or comments at kyle.mccarthy@goal.com and follow him on Twitter by clicking here.
Follow GOAL.COM USA on