Following First Kick, teams across MLS looked to round out rosters in preparation for the remainder of the 2012 season.
Lewis Neal to D.C. United
Former Stoke City and Preston North End midfielder Lewis Neal signed for D.C. United. The 30-year-old played for Orlando City last year, winning the USL Pro championship.
"Lewis will provide us solid cover for us at a number of positions," said United general manager Dave Kasper. "We look forward to his future contributions to the club."
Neal came through the youth ranks at Stoke. He also had stints with Icelantic side IBV, Notts County, Carlisle United and Shrewsbury Town.
Logan Emory to Toronto FC
Also jumping up from the lower divisions is Logan Emory. The defender played for the Puerto Rico Islanders the last two seasons.
"Logan is a strong young defender and he has many qualities we like to see in a player," said Toronto FC head coach and technical director Aron Winter. "We were impressed with his work ethic during his trial period in Orlando and I felt he performed well against Vancouver in our final preseason match. Logan gives us another option in defense and fits in well with our team's style of play."
Emory is 24.
Alex Caskey and Andy Rose to Seattle Sounders FC
Seattle signed two midfielders it had drafted earlier. Alex Caskey was nabbed in the 2011 SuperDraft but spent last season with the Charleston Battery.
"He has very quick feet, and he is a player that works very hard but also has that nose for goal and looks to get forward," coach Sigi Schmid said of the 23-year-old.
Andy Rose came in most recent Supplemental Draft.
"Andy is a midfielder who has very good vision, good striker of the ball," said Schmid. "His work rate is very good and he's got some size so he's good in the air. He can play in this league and make an impact."
The 22-year-old is from Bristol, England.
Luis Perea, Scott Sealy and Alex Lee to FC Dallas
No, not
that
Luis Perea. FCD signed the Colombian striker of the same name.
"We're very happy to add Luis Perea to our roster," said FC Dallas head coach Schellas Hyndman. "He comes from an interesting soccer background. His father [Luis Carlos Perea] played for Colombia in the 1990 and 1994 World Cup. He came to the United States when he was 12 years old and finished high school in Florida before going back to Colombia to play professionally."
Most of Perea's professional career has been in Peru, where he scored 22 goals in 36 games for Leon de Huanuco, and Chile, where his latest club, Universidad de San Martin de Porres, recently folded.
Dallas complimented recent technical director hire Fernande Clavijo for the signing.
"Fernando Clavijo knew Luis' family and was able to bring him in," added Hyndman. "We were looking for a striker to compliment Blas [Perez] and help us get through all the call-ups we expect to receive this season. We've heard a lot of good things about him. He's a goal scorer and he's got good size to him. There is always going to be an adjustment to MLS soccer, but we're just glad to have him on our roster."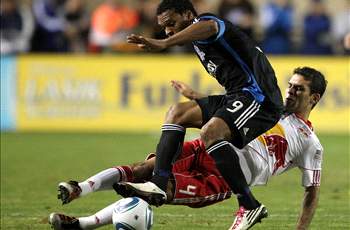 Another new option on the roster is Scott Sealy. The 30-year-old is a veteran of six MLS seasons. He began with Kansas City, scoring 28 goals in 88 appearances as a striker for the club. The Trinidad and Tobago international spent two seasons in the Israeli Premier League, sandwiched by stints with the San Jose Earthquakes, where he has lately played as a midfielder.
"Scott is an experienced and successful forward," said FC Dallas head coach Schellas Hyndman. "He knows the league well and works very hard. He came in here and had a great preseason, scoring a bunch of goals. We are really glad to be able to add him to our strike force heading into this season."
Dallas also signed Alex Lee, who it picked up in the 2012 Supplemental Draft.
"He has really lived up to our expectations after seeing him during his senior season at Maryland," Hyndman said. "He reminds me a lot of Zach Loyd. He is versatile. He can play as either a center back of or right back. Alex is very strong defensively and his abilities getting forward and joining the attack."
Follow GOAL.COM USA on