Goal.com peeks beneath the surface for five undercurrent storylines to keep an eye on in MLS this season.
With Major League Soccer's 17th season kicking off this weekend, here are five trends to watch over the course of the year:
Can the LA Galaxy repeat?
The Galaxy plowed their way to an impressive Supporters' Shield and MLS Cup double last year. Since then, Bruce Arena, the single craftiest navigator of MLS's labyrinthine player regulations, has somehow crammed Edson Buddle and Marcelo Sarvas into the stringent roster guidelines.
One imagines Arena whistling and trying not to look suspicious in front of a side Home Depot Center closet where he hid Juninho's salary count.
With the team back together, including PSG-courted David Beckham, the question is now: Can the Galaxy repeat?
"My crack in-house analytics staff has compiled the data and turned out a 46 percent chance that they will repeat," former Los Angeles general manager Alexi Lalas told Goal.com. "While the Galaxy have improved in terms of the players they brought in, I also think that many other teams have too. As a matter of fact I don't think I can remember an offseason where more teams – at least on paper – have gone out of their way to improve."
Besides the threat of other teams, history is against LA. Only two teams in MLS history have repeated as MLS Cup champs. The most recent was the Houston Dynamo in 2006 and 2007. The other? An Arena-coached D.C. United in the first two years of the league.
The biggest dilemma for the club is the loss of Omar Gonzalez for the brunt of the season to a torn ACL. The 2011 Defender of the Year's imperious penalty-box presence helped allow the Galaxy to win by a 1-0 scoreline 11 times last season in all competitions, including the MLS Cup final.
Plus, playoffs are notoriously fickle, like any knockout competition.
"It's not that they don't have the talent, just knowing the history of MLS I just don't see it happening," Lalas, who now works as an analyst for
ESPN
, said.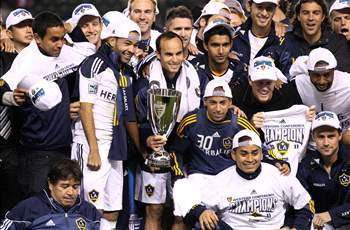 An unbalanced schedule disrupts the conference balance
For a significant portion of Major League Soccer's history the Supporters' Shield has indicated which team was the best. That will change in the league's 17th season.
MLS is switching back to an unbalanced schedule. Teams will play rivals and those in closer proximity more frequently and see clubs from the opposite conference only once a year.
"You're going to have people at the end of the year complaining," Lalas warned. "It's a difficult situation for MLS and it's very unique. The travel and distance involved in MLS is unlike anything around the world, to be quite honest. Trying to find ways to mitigate that is not easy."
For instance, the Vancouver Whitecaps logged over 60,000 air miles last year. Every club hit the 30,000 mark. Those figures dwarf statistics from Europe, even for clubs which progress deep into European competition.
Lalas mentioned that once clubs can afford chartered flights the situation may change, but the reasons for an unbalanced schedule run deeper than sore economy-class knees. MLS is prioritizing pageantry and rivalry. For a league and sport still trying to wriggle into the American consciousness, highlighting glamor events -- like the playoffs or the relatively uncompetitive All-Star Game -- helps divert (AD)HD TV attention.
Furthermore, playoffs make sense to the American psyche. In Europe, hustling for narrow wins and salvaging draws over the course of a year-long grind reigns as the purest way to deem which cluster of players is best. On this side of the Atlantic, clutch performances on the biggest stage weigh more heavily on the scales of greatness.
At some point, MLS may switch back to a more natural balanced regular season schedule, but don't expect it for several years.
"Right now the realities are that this was the best way to go, with the recognition that it's going to irritate people along the way," Lalas said.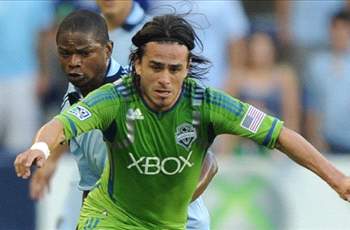 The emergence of the "cheap" Designated Player
Only five years ago MLS drummed up the Designated Player mechanism mostly as a vehicle to sign David Beckham. Since then, the rule has morphed and evolved fairly consistently and dramatically. Last year, the league upped the limit to three DPs per squad. This season, it added a "young" DP designation with a lower cap hit for talent closer to their teens than their prime.
"This is the next step," Lalas, who helped bring Beckham stateside, said. "Anyone can spend a boatload of money and buy a huge star. It really isn't that difficult.
"We always talked about, -- that next step would be owners agreeing to spend money on players that wouldn't necessarily sell a lot of tickets but would be looked at as a potential asset and a young investment that is going to appreciate. That's an even riskier proposition."
No one has used the young DP mechanism yet. (Jose Adolfo Valencia would have been the first, but knee surgery meant the Portland Timbers renegotiated his contract for the upcoming season.) However, teams are exploiting the extra DP slots to sign "cheap" Designated Players.
Michael Wheeler, Esq., Founder and FIFA Agent at MAE Agency LLC, differentiates between "mega-DPs" who pull in over $2 million in annual salary and have marketing appeal, and "six-figure" DPs.
"The increase in "six-figure" DPs has occurred because more owners are responding to the demands of their technical staff and fans for DPs who can either create offense or put goals in the back of the net," Wheeler told Goal.com "This is great for MLS because the level of the league should be raised by the influx of these DPs who are in the range of $350,000 - $1 million and are being paid strictly for their talent."
Seattle Sounders FC stands out as an easy example. Since the club's first DP, Freddie Ljungberg, Sounders FC have shunned global stars. With the highest average attendance in North America, the club can do without the extra cachet and instead drop cash on pure on-field utility.
Of Seattle's three current DPs, two were promoted from within. Fredy Montero, one of the brightest prospects in the league, earned his extra wages through the likely promise of a transfer payoff later, and Mauro Rosales proved his fitness and finesse earning the league minimum last season. The other, Alvaro Fernandez, is only a Designated Player because of the transfer fee required to complete the deal for the midfielder who helped take Uruguay to third place in the 2010 World Cup.
Wheeler mentioned that not much will change with the mega-DP. However, he and Lalas agreed MLS may continue to tinker with the rule to lure younger talent.
"Being able to compete for some young talent makes good business sense," Lalas said. "It's not always easy [to recruit] when MLS is involved and you're up against very big names. [But] more and more players around the world see this as a viable option. The credibility continues to increase as a possible place to go as your next step in your career."
Relaxed or massaged rules surrounding the salary cap help.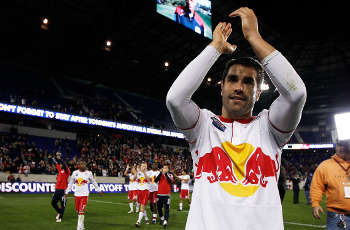 The influx of players from Colombia
Colombians in MLS are nothing new. But the extent is.
This offseason, MLS purchased 14 Colombian players, taking the league total to just shy of 30. Only the United States has more players on MLS rosters than Colombia.
Why the fascination with that particular nation? Wheeler rattled off six immediate reasons. Essentially, they combine to explain that MLS has found the sweet spot among financial stability, burgeoning quality, connections and available roster spots to hone in on bustling Colombian talent.
"Colombia is the fifth highest exporter of talent in the world. MLS is getting all of the Colombian players that could not make the jump directly Europe, Argentina, Brazil and Mexico," Wheeler explained.
The country's 45 million people produce too much talent to cram into the 18 first division clubs.
"There are only four teams that are financially sound in Colombia (Nacional, Deportivo Cali, DIM [Independiente Medellin] and Junior) and many teams owe their players three months in back wages," Wheeler added.
There's also a shared hemisphere and history. In the early days of MLS, Carlos Valderrama and Leonel Alvarez added credibility and entirely new ideas about what to demand of haircuts. Since then, Juan Pablo Angel has been the most potent Designated Player in league history and Juan Carlos Toja showed that MLS can successfully slingshot young talent into Europe.
Now, many former Colombian players work in decision-making roles within MLS, including Oscar Pareja at the Colorado Rapids and Diego Gutierrez at the Philadelphia Union. They know their countrymen can cut it. "Colombian players adapt well to the physicality of the MLS," Wheeler said, before pointing out MLS also mines heavily in Central America for affordable talent.
The league's slot on the global soccer food chain continues to inch forward.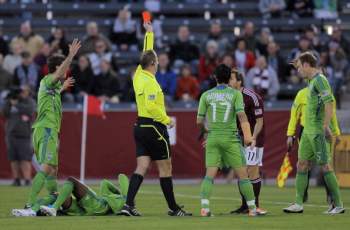 Refereeing changes
Last season the MLS Disciplinary Committee made headlines with a pair of high-profile decisions – fining U.S. international Charlie Davies for diving and smacking Brian Mullan with a league-record 10-match ban for a tackle which snapped Steve Zakuani's leg.
Now, in addition to the referee task force created in 2010, the league is making more changes to help referees. U.S. Soccer, the Canadian Soccer Association and MLS combined to create the Professional Referee Organization (PRO), which will be managed by Peter Walton, a former English Premier League whistle.
The main goals of PRO are a decade away.
"We have set a vision, by 2022, for Major League Soccer to have the highest standard of officiating worldwide," Nelson Rodriguez, MLS Executive Vice President, said in a conference call.
Still, fans will notice several specific changes this season. PRO will add to the current stable of two full-time referees (Baldomero Toledo and Ricardo Salazar), though refused to divulge a timetable.
"We think that the referees themselves merit the same attention and the same level of investment, so that they too, can participate at the highest levels of the game in the fullest sense," Rodriguez said.
The Disciplinary Committee, separate from PRO, will have "greater latitude to administer supplemental discipline," according to Rodriguez, assuming all five members are unanimous. Expect a continued crackdown on diving and injury-inducing tackles. A new red card review process with a three-person panel will also be installed.
PRO and the additional measures to supplement referees aren't an indication MLS sees its refereeing as subpar, however.
"[According to independent technical experts] the quality of officiating in the U.S. is very similar to officiating that we see in professional leagues in Europe," Asher Mendelsohn, U.S. Soccer Director of Refereeing, said.
The Journal of Sports Science published one such supporting study by Catteeuw, Gilis, Wagemans and Helsen. It examined offside calls, which are easier to objectively verify than whistles during the run of play. In 2010, MLS assistant referees got 4.4 percent of offside calls wrong (accounting for 0.8 percent which were unclear and 13.1 percent which didn't have video). Despite making 5.4 offside calls a game, MLS refs erred only once every 4.3 games.
That compares favorably with the English Premier League (9.8 percent incorrect) from the same time frame and the 2006 World Cup (11.4 percent incorrect).
"It's a complete fallacy that MLS referees are so much worse than anywhere else around the world," Lalas said. "I don't think that MLS has a monopoly on poorly reffed games or poor referees by any stretch of the imagination."
For fans, many of whom cultivate a substantial hobby disagreeing with that assessment, PRO should ensure the quality of refereeing improves.
Follow ZAC LEE RIGG on

or shoot him an email.