At 27 years old, Eddie Johnson has already lived a full soccer life.
He's been the next big thing, and he's been a cautionary tale. He's been highly-touted, much-maligned and everywhere in between. Now back in Major League Soccer after a mostly-fruitless four year odyssey in Europe, Johnson hopes to add a new chapter to his story: Redemption.
Johnson's physical gifts have never been in question. At six feet, 180 pounds, with blistering pace and an eye for goal, the Florida native caught the eye of Portuguese giant Benfica in 2005, which offered what would have been a league-record $5 million to secure Johnson's services from FC Dallas. Both Johnson and MLS turned the deal down.
By that time, the 20 year-old had firmly established himself as the 'Next Big Thing' of American soccer. He scored seven goals in his first six World Cup qualifiers with the U.S. national team, including a hat trick in a 17 minute span in a match against Panama.
As his career progressed, whispers about his lack of focus crept into the picture. After the Benfica bid was rejected, Johnson only scored five times in an injury-plagued season, before being shipped off to Kansas City for salary allocations. His first season with the Wizards was an unmitigated disaster, as he found the net just twice in 19 games.
Then, the light came on again. He scored 12 times in 11 games to start the 2007 season, which prompted a bid from Derby County, a team that had just been promoted to the English Premier League. This time, Johnson unilaterally turned down the bid and in explaining his rationale, invoked a word that would haunt him just a few years later.
"The money wasn't a problem," he told the
Kansas City Star
at the time. "The money was great. But I'm a big believer that when my confidence is high, and I'm confident in what I'm doing, good things are yet to happen for me."
Confidence. Remember that term. It will come up again soon.
Just six months later, Johnson finally did jump to the EPL, signing with Fulham in Jan. 2008. He was eased into the rotation at Craven Cottage, making six appearances including four starts in his first half-season, but he struggled to adapt to the level of play. His performances were met with unceremonious appraisals from fans and the media alike.
"The first six months for me was a difficult time to go through, coming to the best league in the world where I'm coming off the offseason in MLS and they're halfway through their season," Johnson said to Goal.com in an interview.
The following season, Johnson was shipped out on loan to Championship side Cardiff City. He made 30 appearances in the 2008-09 season, but only five starts and he scored just two goals. His European journey was starting to stray off course.
"With all the great players there (Fulham), it took me longer than I thought it would to adapt," Johnson said. "Once you get your chance and you don't take it, in England, the next player comes in."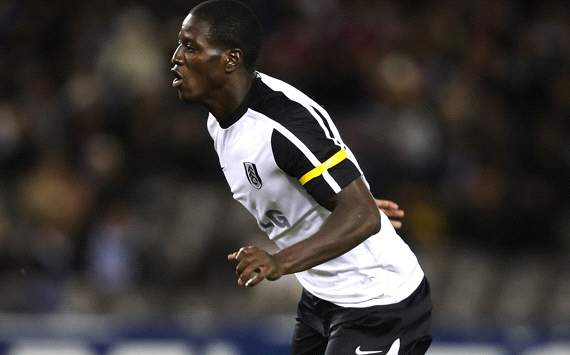 Johnson struggled to adapt to the EPL at Fulham
By the 2009-10 season, Johnson had become surplus to requirements at Fulham and was sent off to Greece on loan with Aris. He returned to London for the start of the 2010-11 season, but again made no impact and spent the second half of the season on another loan, this time at Championship side Preston North End.
In his time at Fulham, Johnson made 21 total appearances, starting six games. He didn't score a goal.
"From a mental standpoint, I started to second guess my own ability, I lost confidence in myself," Johnson admits about his spell at Fulham.
Once so full of confidence he turned down a move to the Premier League with an eye towards an even bigger club, Johnson's self-belief was now essentially drained.
"I think the game has a lot to do with your mental approach," he said. "If you're not focused and don't have the right mentality, you can't achieve anything at an elite level.
"If you start to second guess your own ability, you're going to start to play not to make mistakes and play it safe and I think that's what it was for me."
Follow SETH VERTELNEY on

or shoot him an

email
Upon leaving Fulham, Johnson nearly signed with MLS last summer, but eventually ended up with Puebla in the Mexican top flight. Just days after signing, however, Johnson's deal was voided amidst rumors he wasn't in game shape.
Which brought Johnson's journey back to where it started: MLS. He signed with the league and was selected by Montreal via allocation. The club immediately shipped him to Seattle in exchange for two promising young players in Mike Fucito and Lamar Neagle.
For Johnson, seeing what his new team gave up to acquire him was a small step towards getting his erstwhile confidence back.
"As a player, you want to be at an organization that believes in you.....they gave up two really good young, up-and-coming players that I think are going to play major roles in the Montreal organization.
"You can relax more when you know the team has given up so much to acquire you."
Upon arriving in Seattle, Johnson had a one-on-one chat with head coach Sigi Schmid, who laid out his expectations, and reaffirmed the Sounders' belief that Johnson could be the missing piece to earn the franchise its first playoff series win after three straight first-round exits.
"If he (Schmid) believes in me, it's easier for me to believe in myself at this point in my career," Johnson said.
With a healthy injection of confidence, Seattle might be getting the steal of the offseason. Or it could all go haywire, as it has before. At 27 and in his 11th pro season, Johnson only has so many chances left to fulfill the promise that had major European clubs banging down MLS's door just a few years ago.