How it going Goal.com readers!
This is Jay DeMerit (
@D6MERIT
) back with more stories to tell. Major League Soccer is a little over a week away and I'm excited to get it going.
The United States win against Italy was great. These are the type of results that are important for our confidence as a national team. It always great that managers like Jurgen Klinsmann or Bob Bradley before him are trying to get these games and make these games happen. Winning in Italy can really build your confidence as a team.
Clint Dempsey's is a world-class player It's great not only for him but for U.S. Soccer, it's good for kids in America to look at someone who can go into the biggest league in the world, the Premier League, and have success. I'd be surprised if Clint doesn't have an opportunity to move to a bigger club this offseason. I think he deserves it, He has consistently been one of Fulham's best players over the past couple of seasons.
Clint's showing on the world level that he can compete with the best. So it's great for him. Not only is he a good guy but he deserves every success he's had so far. He has a certain humility about him and he keeps on working hard to get better. He's a great role model for kids who want to mirror their game off of. He's gone through some struggles, coming to Fulham and not always playing. Yet in those times, he really grew into a mature and professional player. It's showing right now, he's growing in confidence. I think it shows how much of a world-class player he's become.

The budding rivalry between Vancouver and Montreal is great for MLS
I think rivalries in MLS is what everyone wants.
Seeing the fans of Vancouver, Montreal, Toronto, Portland and Seattle, the more we can create rivalries, the better it will be for all of us. When people start getting behind rivalries, the more likely 25,000 people will show up at games. It brings us closer to other soccer leagues in the world. That's part of what soccer is all about. Having a chance to play in those environments, for example the U.S. and Mexico rivalry. Even in England as well, with all of the rivalries you get.
Those are things that give soccer its lifeblood to be honest. The more rivalries in MLS, the better.
Follow JAY DEMERIT on

I know both Montreal and Vancouver are trying to heat up the season-opening match for those reasons. It's creating a lot of excitement for the opening day. Whether or not it picks up is determined by what happens on the field. That's up to us the players.

How the rivalries in MLS compare to England with Watford
In England, rivalries are on another level. But that's not necessarily a good thing.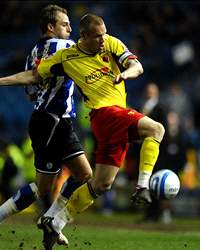 Watford's rival is Luton Town but since that team has been relegated down the leagues over the past couple of years, it's not as strong as when they are playing in the same division. When we would have league matches against Luton, the town center would be shut down on gamedays, that's how serious it is.
Usually bars are open before games so that fans can pregame before the match but not when Luton comes in. That shows how heated it used to get. Riots used to start so I'm definitely not trying to promote rivalries to that extent. However, it's nice to have a rivalry of intense competition.
In North America, our rivalries are great. Philly and New York or Green Bay and Chicago are good examples.
One thing I do miss about England is the travel
Don't get me wrong, I love having the opportunity to visit Chicago, which is my favorite city in the United States or Los Angeles, where a lot of my friends live. But traveling during the MLS season is extensive.
In England, the most you travel is four hours on a team charter. During that time, you're playing games with your buddies on the team. Most of the times, you're back in your own bed after a game.
In North America, there are different time zones involved and within most trips you only really have one day to fully experience things. Luckily, most MLS cities are enjoyable while spending time there.
In England, the most you get to experience is the history behind each unique stadiums. Over here, it's more about the cities and crowd atmosphere.
That's all I got for this week. Till next week, keep on rising and shining,
-Jay